Viewing Room
20.08 - 14.09.2020
Koo Jeong A
Watercolours





Koo Jeong A's series of watercolour paintings of rock formations were inspired by her exhibition Consciousness Dilatation, which was commissioned for the Real DMZ Project in 2013, a contemporary art project based in the demilitarised zone (DMZ) separating North and South Korea. Consciousness Dilatation was comprised of an installation of basalt rocks of varying sizes, which Koo had collected together with local residents from the fields surrounding Cheorwon, a small military town just South of the border. The rocks were then spread in a constellation-like form across the DMZ Peace Plaza. Koo hoped to use the internal energies of the volcanic rocks, like a connecting force field, as a means of re-connecting the two Koreas. Within a constellation there is no beginning or end, rather, it is all about how elements connect and relate to one another. It is the void, or the space in between the rocks, that contains the power. In these watercolour paintings, Koo returns again to the basalt rocks, capturing the smaller voids which exist between them, while also considering how they relate to the larger constellation.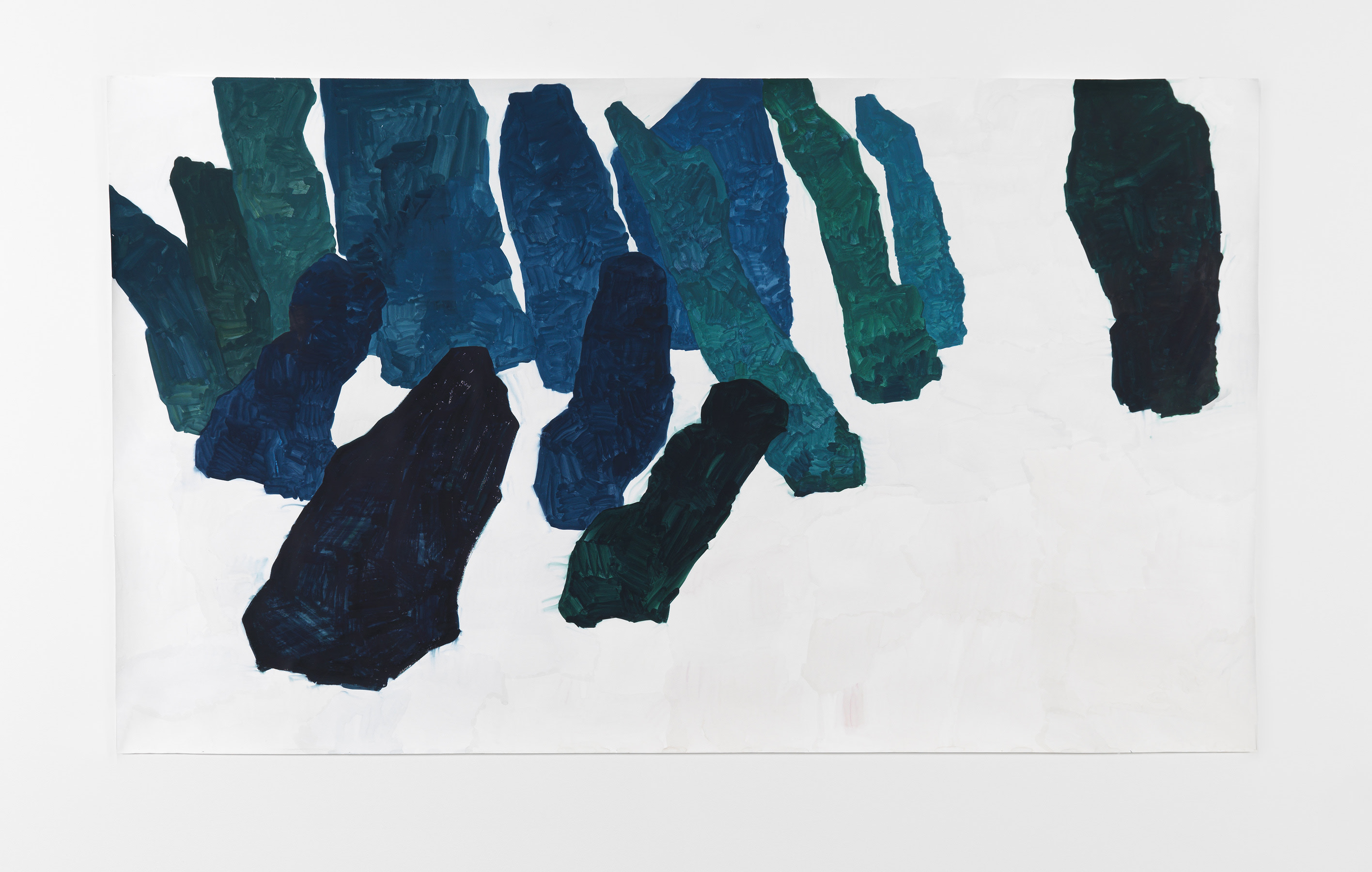 Since the early 1990s, Koo Jeong A has made works that are seemingly casual and commonplace, yet at the same time remarkably precise, deliberate, and considered. Her reflections on the senses and the body incorporate objects, still and moving images, audio elements, and aromas. Many of her works are conceived within site-specific environments that question the limits of fact and fiction, the imaginary and actuality of our world. Koo considers the connection of energies between a place and people, relying on chance to drive her encounters.
In realising her spaces and images, she draws from a wide spectrum of concerns which she developed over the years. Ranging from human cognition, to the philosophy of Taoism, from the science of Qi, to the interaction of natural elements such as earth, fire, metal, water, and wood. In her environments, nothing is merely ordinary; on the contrary, any material or phenomena—be it a mound of charcoal, a shaft of iron, or a glare of sunlight—is endowed with dignity and reverence and incites the surprise of a discovery. To venture near Koo's work is to travel unreservedly through a cosmos of unassuming large and small forms, mysterious dwarfed spaces, and perilous landscapes of memories.