Viewing Room
23 - 26.09.2020
It's Urgent
Art Basel OVR | September 2020





Pilar Corrias is delighted to participate in Art Basel's standalone Online Viewing Room Programme showcasing works that have been made in 2020.
This virtual booth presents the work of six artists, each of whom demonstrates a marked concern with the contemporary human condition, urgently seeking to address a number of society's most pressing issues.
Tschabalala Self, Christina Quarles and Sedrick Chisom are united in their exploration of cultural attitudes toward race, eschewing stereotypes and proposing new forms of representation that are empowered and celebratory; while Rachel Rose, Tala Madani and Philippe Parreno share an interest in mankind's complacency with regards to the global ecological crisis and the harsh reality of the world which we have created for ourselves.


At the centre of Chisom's practice is a commitment to confounding racial origin myths and pseudosciences toward creating apocalyptic fantasies in writing and painting. Appropriating imagery from Black Lives Matter demonstrations, medieval Christian iconography, and Greek mythology, Chisom questions who has the power to construct natural and social worlds, upending the authority of those worlds in the process.
In The Drunk Cooldown Rhythms Capitulated By a Deserter of The Southern Cross on Intimate Terms with Catastrophe, 2020, Chisom is using the trope of the drunken soldier laying under the tree. He is hopelessly resigned and irredeemable, yet yearning for some form of retreat, most probably from his immediately embodied circumstances. As Chisom states, "there is this uneasy atmosphere of fatalism (of heading towards anticipated doom) that I am always trying to capture within falsely quiet moments. What is referred to as a 'calm before a storm'."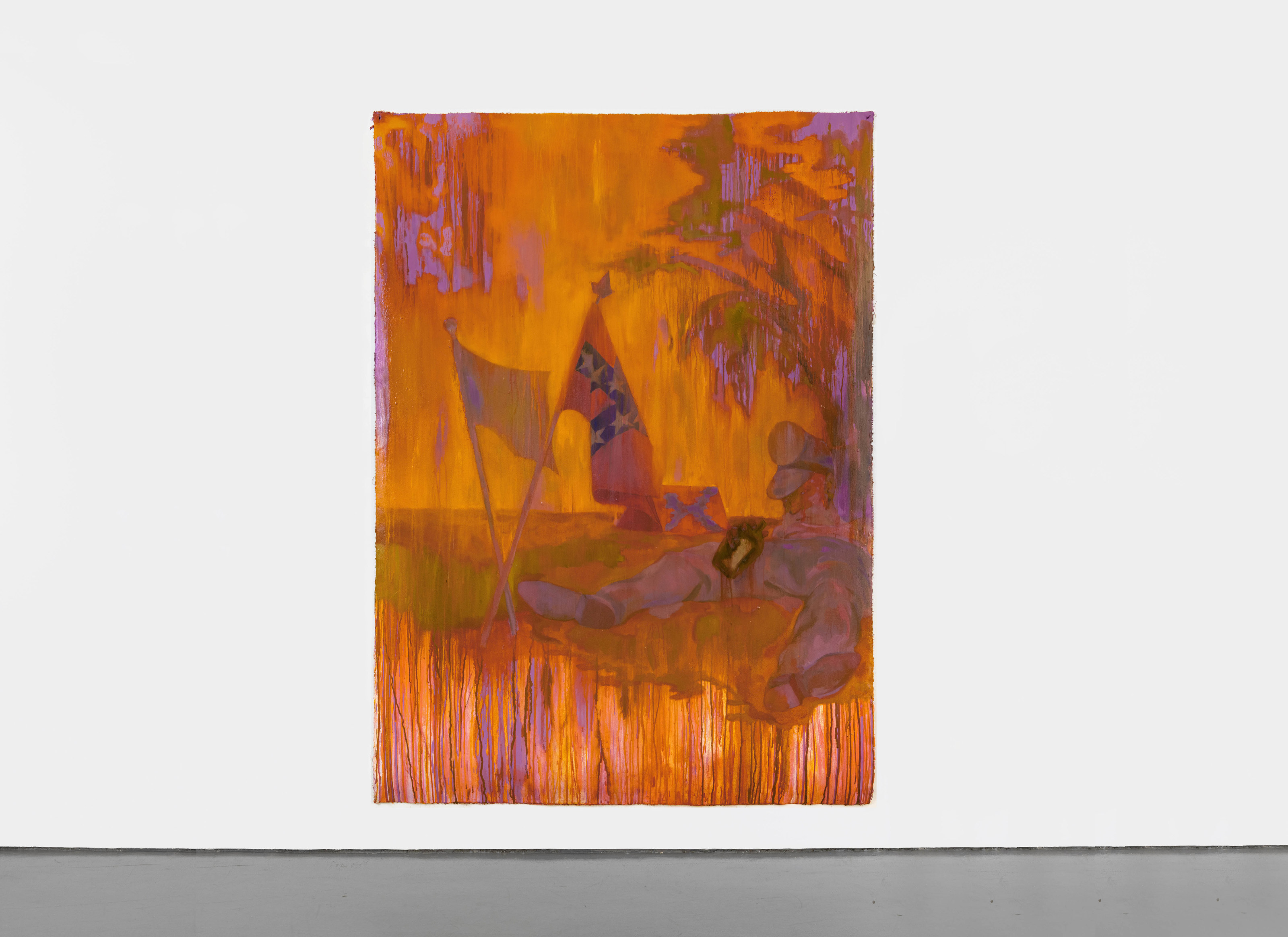 Tala Madani's Spectral Disco stages a metaphysical disco that questions visual perception and reveals the underbelly of human relationships. Fragmented dancing figures become lost in the rhythm of the collective, their bodies identifiable only by brief staccato-like strokes. These figures form a shadowy mass with indistinguishable features, despite the beams of bright, colourful light cast over them. Central to the work is an infant, more identifiable in form. As it crawls amongst the thumping horde, the floor threatens to disappear beneath it. Though the streams of light beckon clarity, infants are not able to process colour or distant objects, compounding its vulnerability. By lacking tangibility the dancers lack a connection to the infant fostering a narrative of displacement and broken vision.


Philippe Parreno's Clock case is entirely transparent, inviting the viewer to observe its various internal mechanisms, gears and cogs, which turn forwards and backwards, quietly and smoothly, at different intervals and speeds. Clock indicates time in an unconventional manner, telling the actual time only from time to time; it can be animated by its geographical position, the air pressure, the weather, or the seasonal migration of birds, for example. It connects the viewer to the world at large: encouraging her or him to consider time beyond the durational.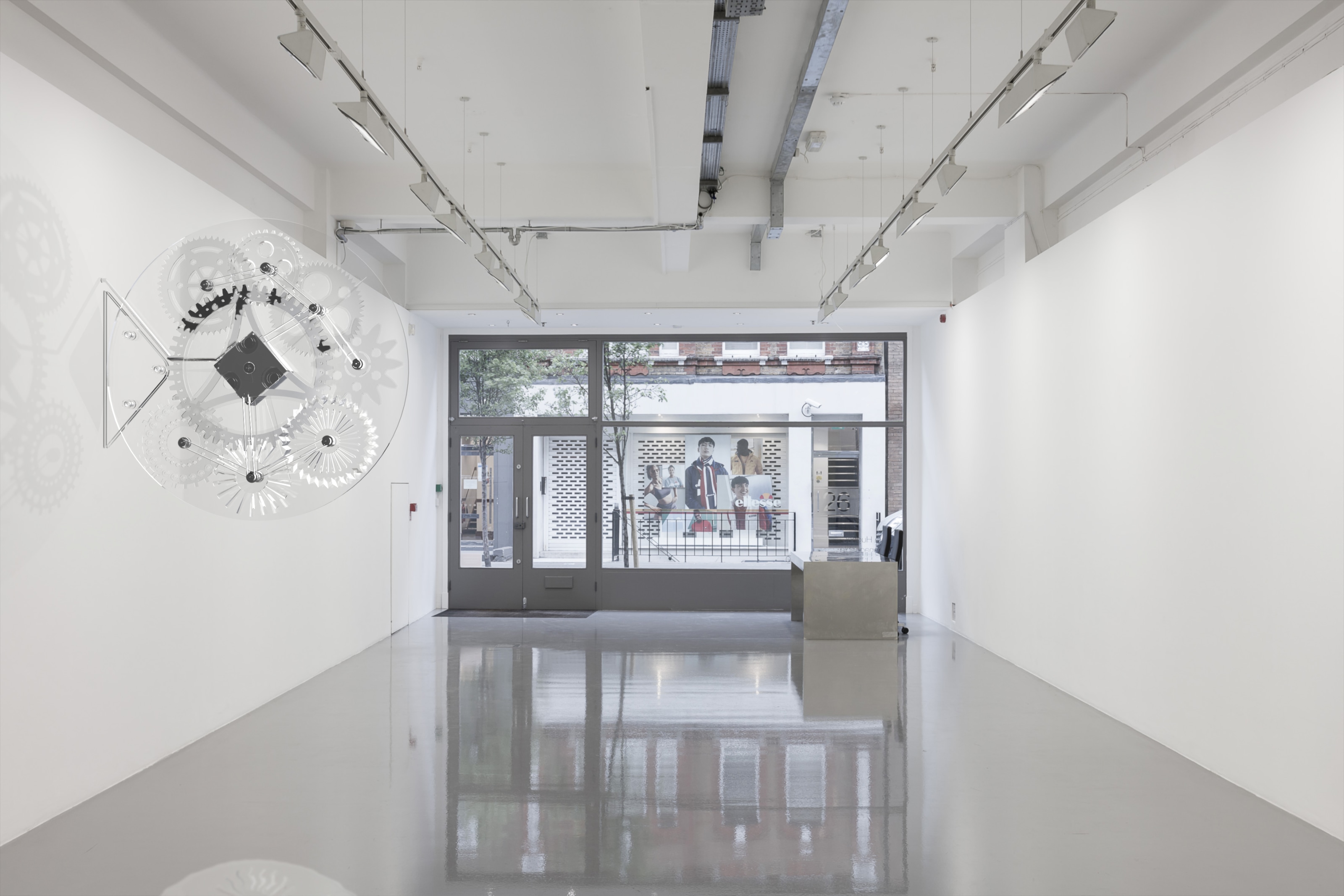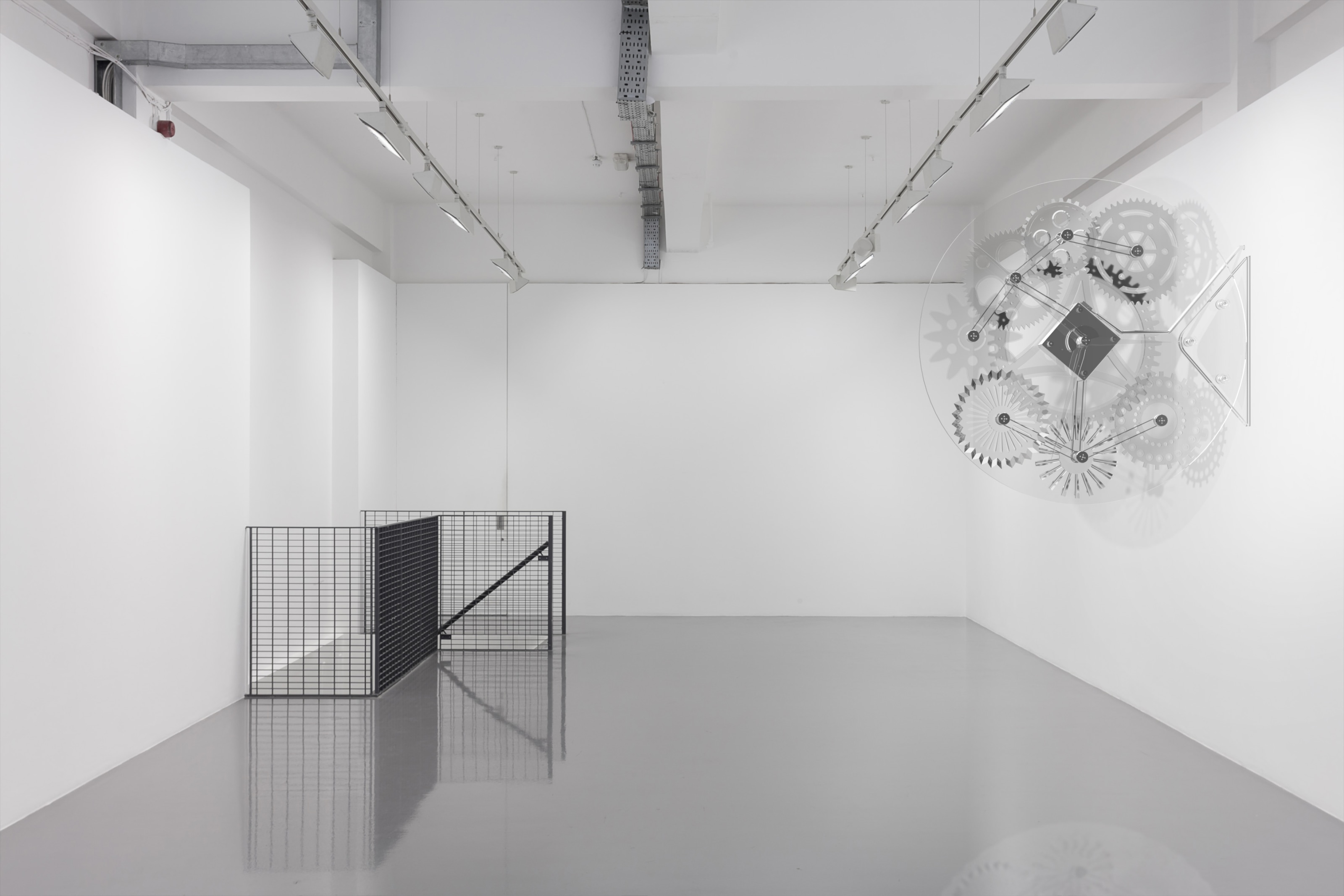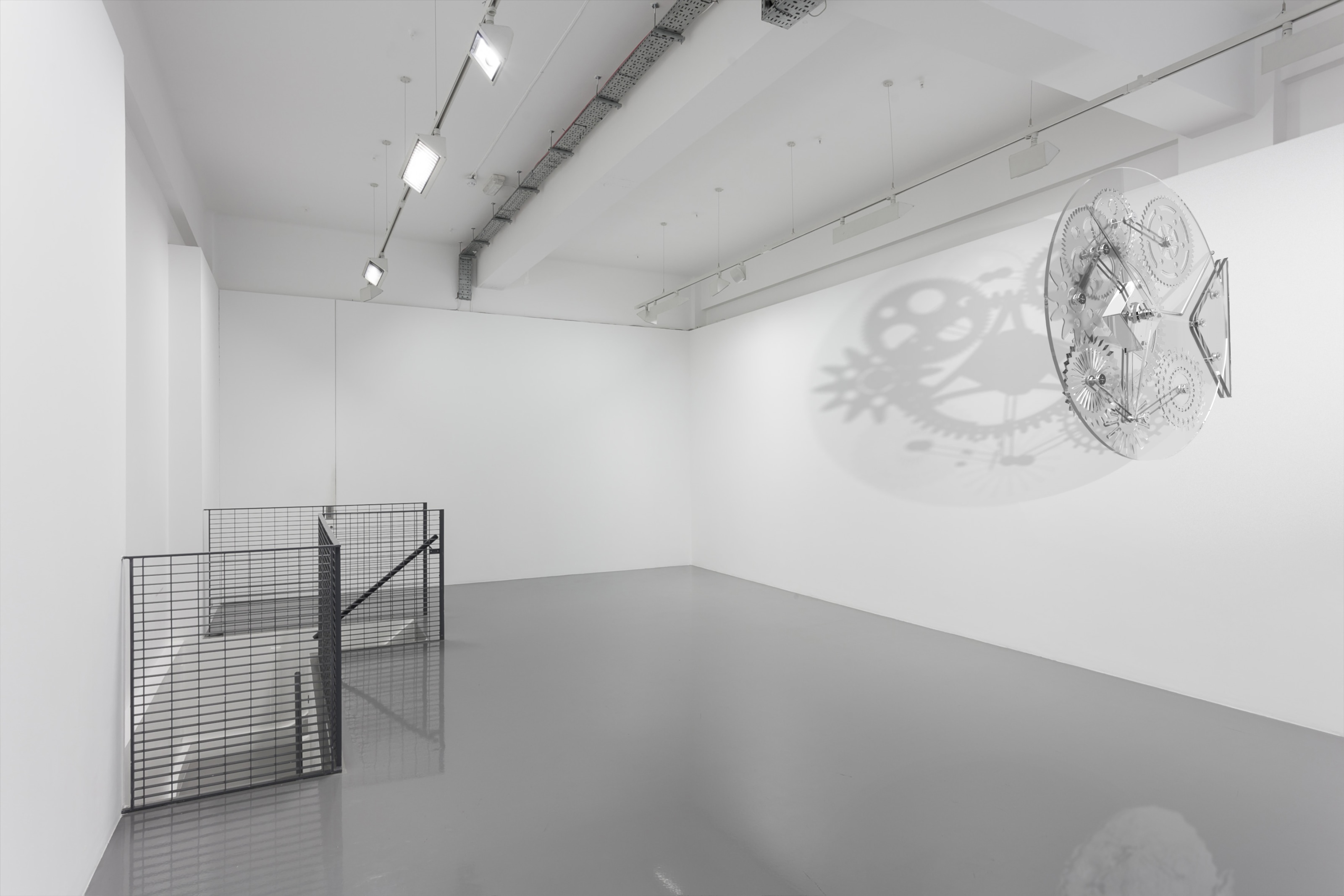 In Christina Quarles' work, bodies melt into one another, are turned inside out, resisting easy legibility and fixed definitions. These polymorphous figures are intensely contorted, elastic and attenuated. Traces of the same body parts appear more than once from different angles, as if to imply a sequence of movements, as well as the possibility of different, though concurrent, modes of existence and states of being: a fluid and dynamic multiplicity of potential selves and identities.
Darkness and light are at play with light-absorbing saturated colours, dark reverberating blues combine with effervescent pinks and yellows. Transparent light and disembodied reflectances suspend the tangle of fragmented bodies, pointing to a world askew.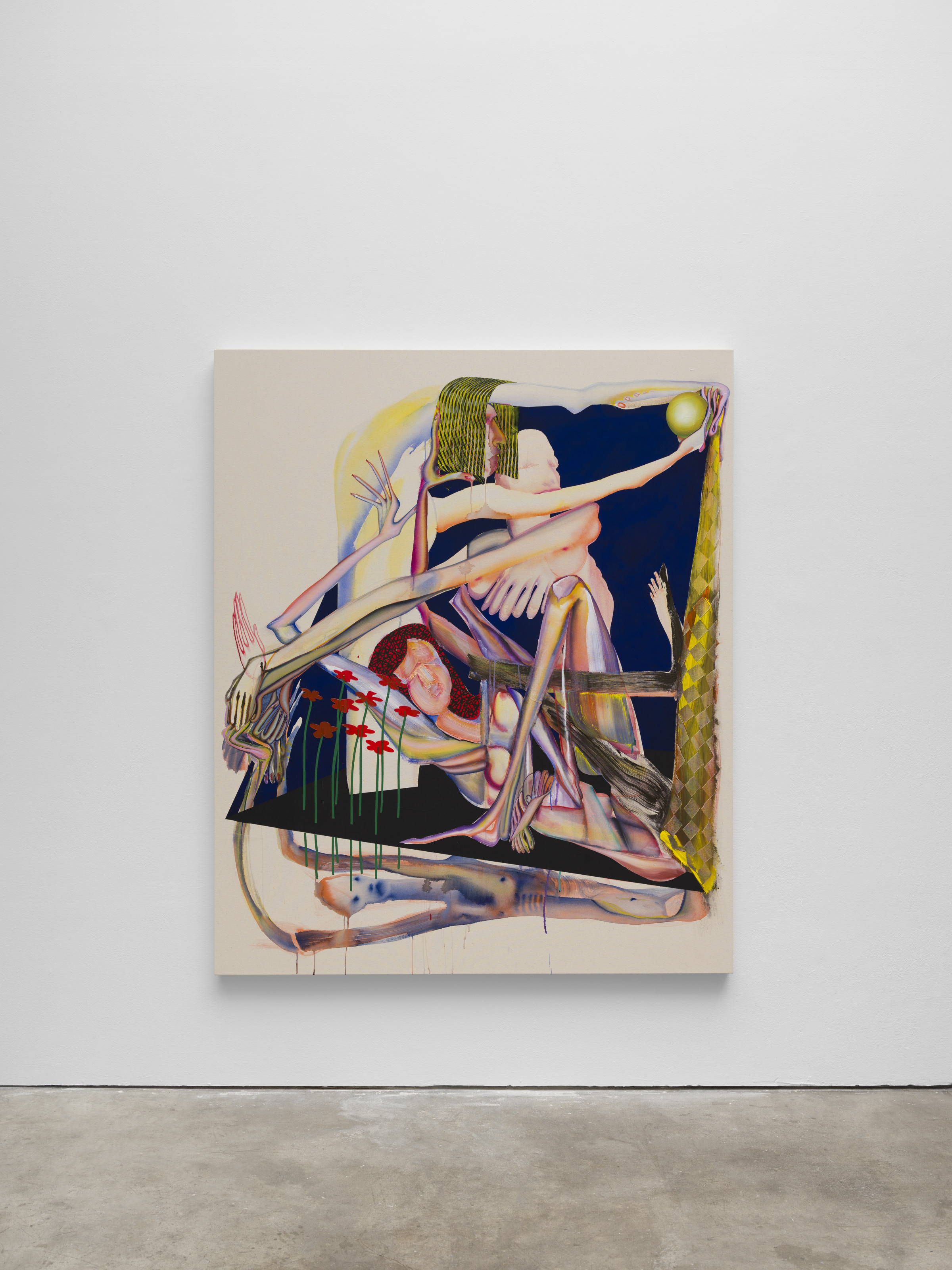 Rachel Rose's newest series, 'Signs', harks back to Rose's interest in imagined and constructed landscapes. The relationships between animate and inanimate, alive and pre-born, and fiction and reality coalesce in this world where animism suffuses the forest and magic is real.
Everglades Egret is a set of meditative imaginations of the natural world: a wild Great Egret stands in flooded grassland, seemingly undisturbed by the mysterious egg. Such scenes transport the viewer and offer glimpses of a fantastical dimension of a reality that is prescient beyond the everyday.
While the symbol of the egg is typically regarded as a sign of fertility, reproduction, and transformation, these works nevertheless demonstrate Rachel's concern with the creation of a world in which the circumstance of history meets the coincidence and magic of fate.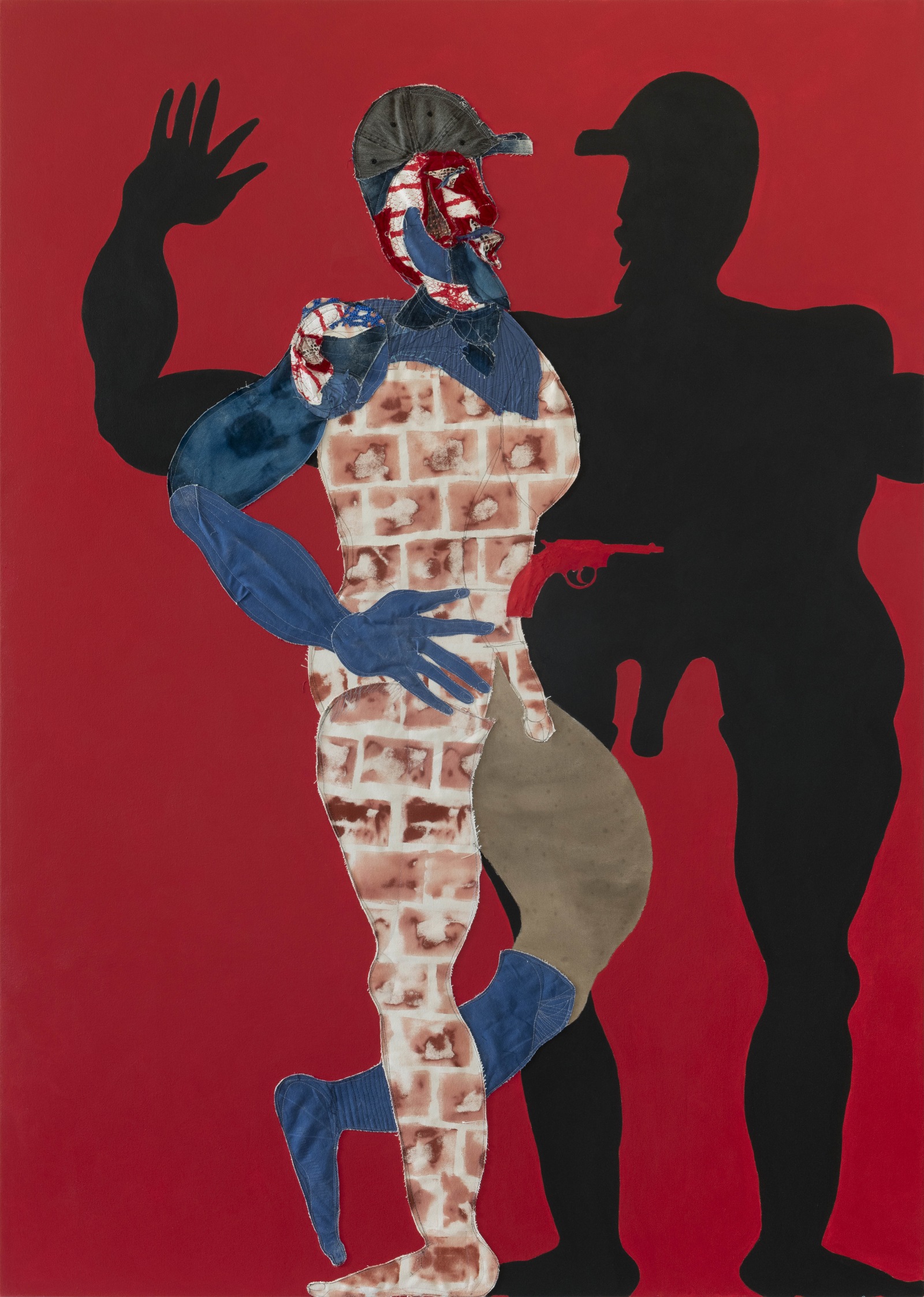 Tschabalala Self builds a singular style from the syncretic use of both painting and printmaking to explore ideas about the human body. She constructs exaggerated depictions of these characters using a combination of sewn, printed, and painted materials, traversing different artistic and craft traditions. The discordantly patterned fabrics combine into bodies that exaggerate curves and simplify features but ultimately resolve into figures with scale and presence.
Self likes to think of all of her paintings as existing within a larger pantheon, a larger universe. Friend Or, 2020 depicts a male figure who is at war with himself. Both the male and female subjects in her work play with notions around gender, either through heightened gender performativity or ambiguity. Self's characters are typically nude and often in intimate settings, finding power rather than vulnerability in the exposure of the human form.