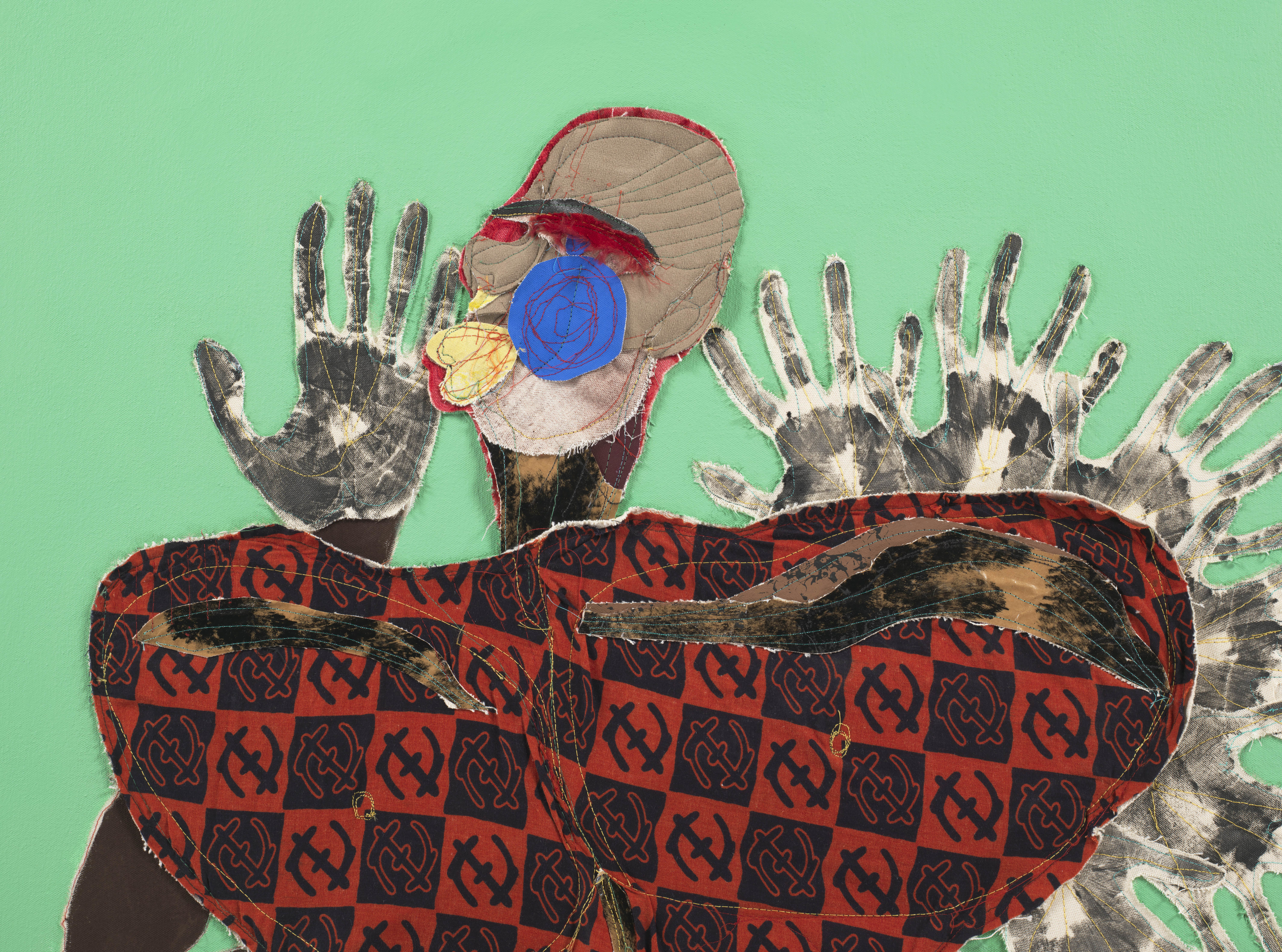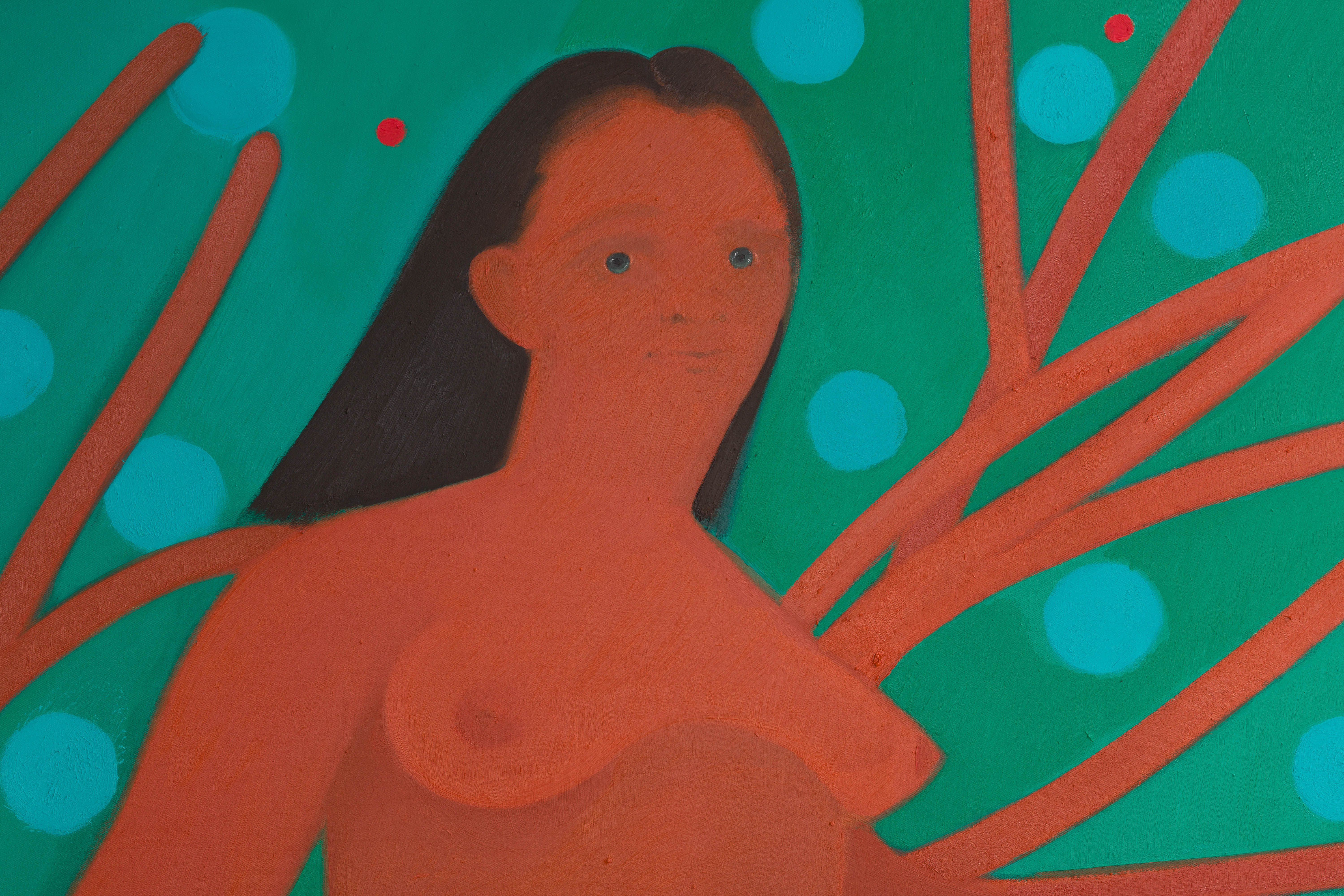 Viewing Room
17 - 26.06.2020
Pilar Corrias | Art Basel
2020
Cast in hyperreal detail, Fraught Times, UK 22–23rd March 2013, 2020, is a painted stainless steel sculpture representing an abandoned fir tree. The snowdrift at the base of the work is made entirely from glass.
Astonishing in its verisimilitude, the sculpture physically retains the delicacy of an actual tree, providing every sense that it is real, despite being entirely man-made. The viewer thus enters into an uncanny valley, wherein his or her expectations and understanding of nature are disrupted.

The title of the sculpture commemorates the March 2013 United Kingdom winter storm, an exceptional, nationwide weather event that took place on the night of 22–23rd March 2013. Described as 'the worst snowfall for 30 years', the storm brought chaos to many parts of the country. The work makes reference to the fraught times through which we are currently living. It addresses the human condition, our complacency with regards to the global ecological crisis and the harsh reality of the world which we have created for ourselves.
The sculpture constitutes a corruption of a western ritualistic icon: a Christmas tree devoid of its traditional meaning, an object of celebration gone awry.

Shara Hughes describes her lush, vibrantly chromatic images of hills, rivers, trees and shorelines, often framed by abstract patterning, as "invented landscapes." Full of gestural effect, surface tactility and possessing a fairytale mood of reverie, these paintings, as the New Yorker described them, "use every trick in the book to seduce, but still manage to come off as guileless visions of not-so-far-away worlds." Bold, clashing colours and shifting perspectives manifest into dream-like landscapes that push and pull the eye across the canvas, challenging conventions of space. Rather than depicting true to life landscapes, Hughes invites us into a fantastical world offered as a portal for psychological discovery and reflection.


Quarles paints without any sketches or predetermined compositions, each painting is very much a reflection of the moment in which it was painted. This painting entitled Innocence Lost/In a Sense, Lost was painted during the immediate aftermath of George Floyd's murder. Two of the figures in this work are burying their heads, which for Quarles is a gesture that encapsulates the guilt and the shame of her whiteness, as well as the exhaustion and the grief of her blackness.

"White America can no longer stay on the sidelines. A claim to innocence has been lost and a long road of learning must now begin; perhaps this is why the tile pattern is in baby pink and baby blue, to make this sort of nursery for the figures at hold. A vase of decaying tulips in my house was the inspiration for the flowers; though instead of painting them in naturalistic colours, I painted a black halo in each flower, which transforms them into torches which can hold vigil over the figure in this work."
- Christina Quarles, 2020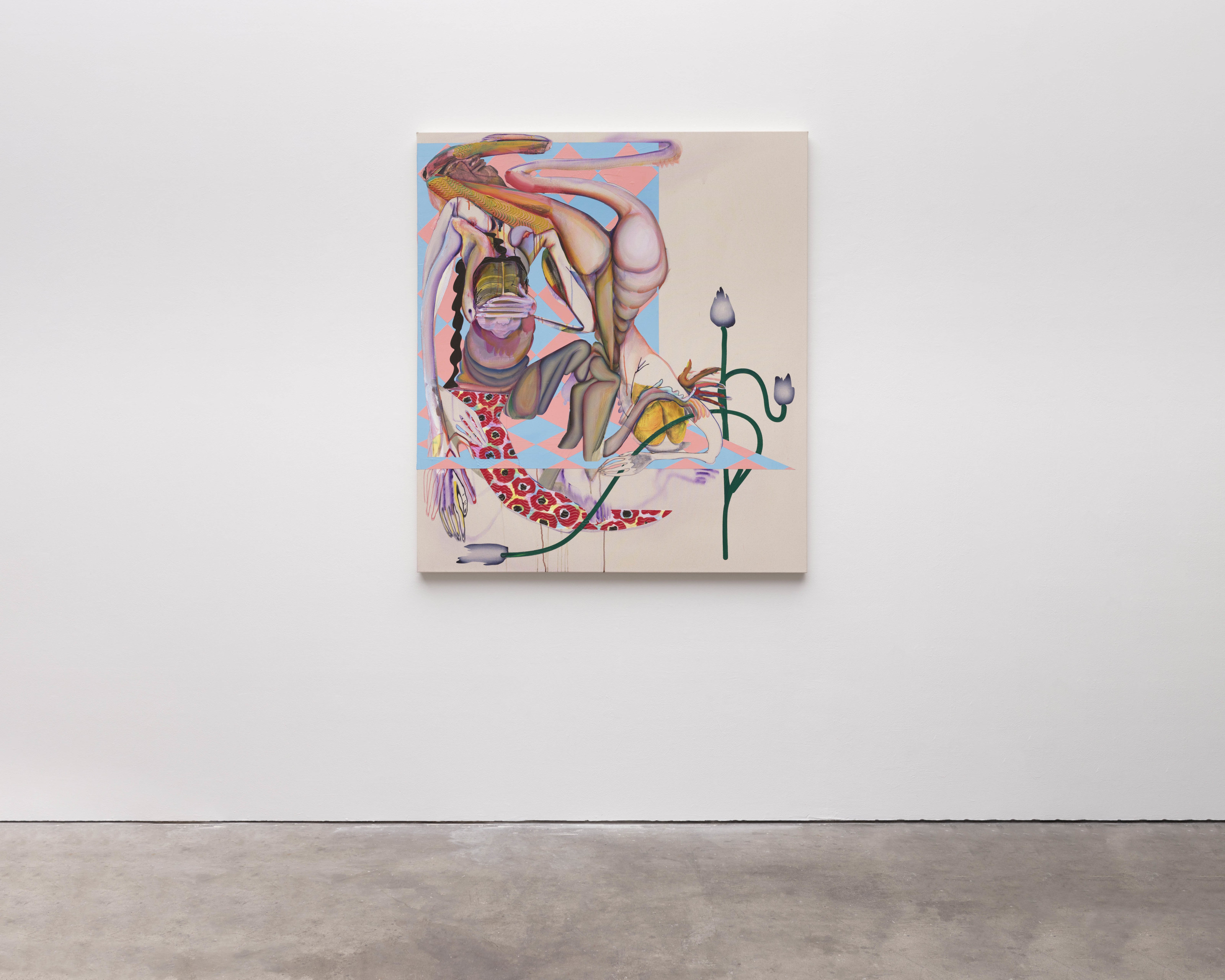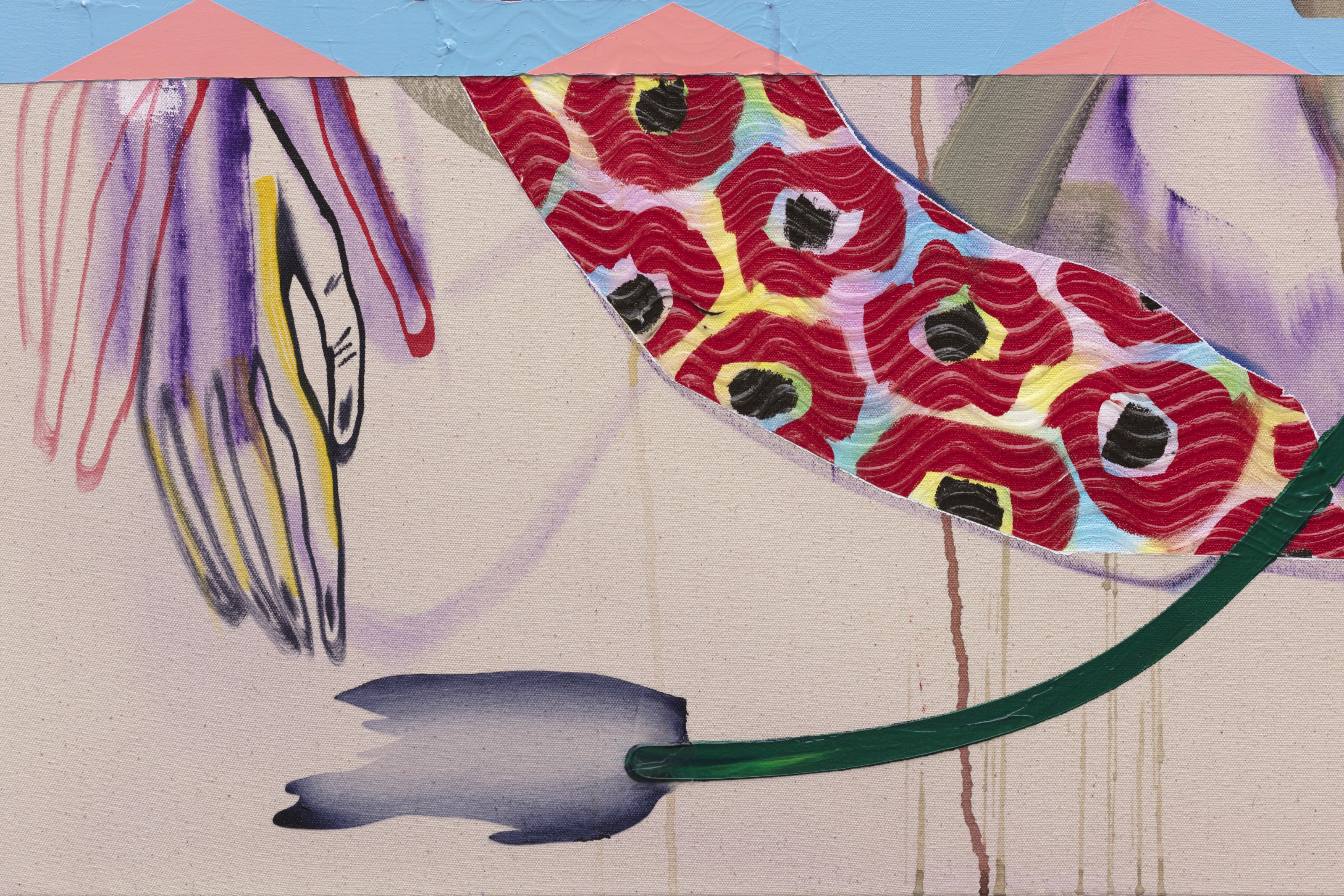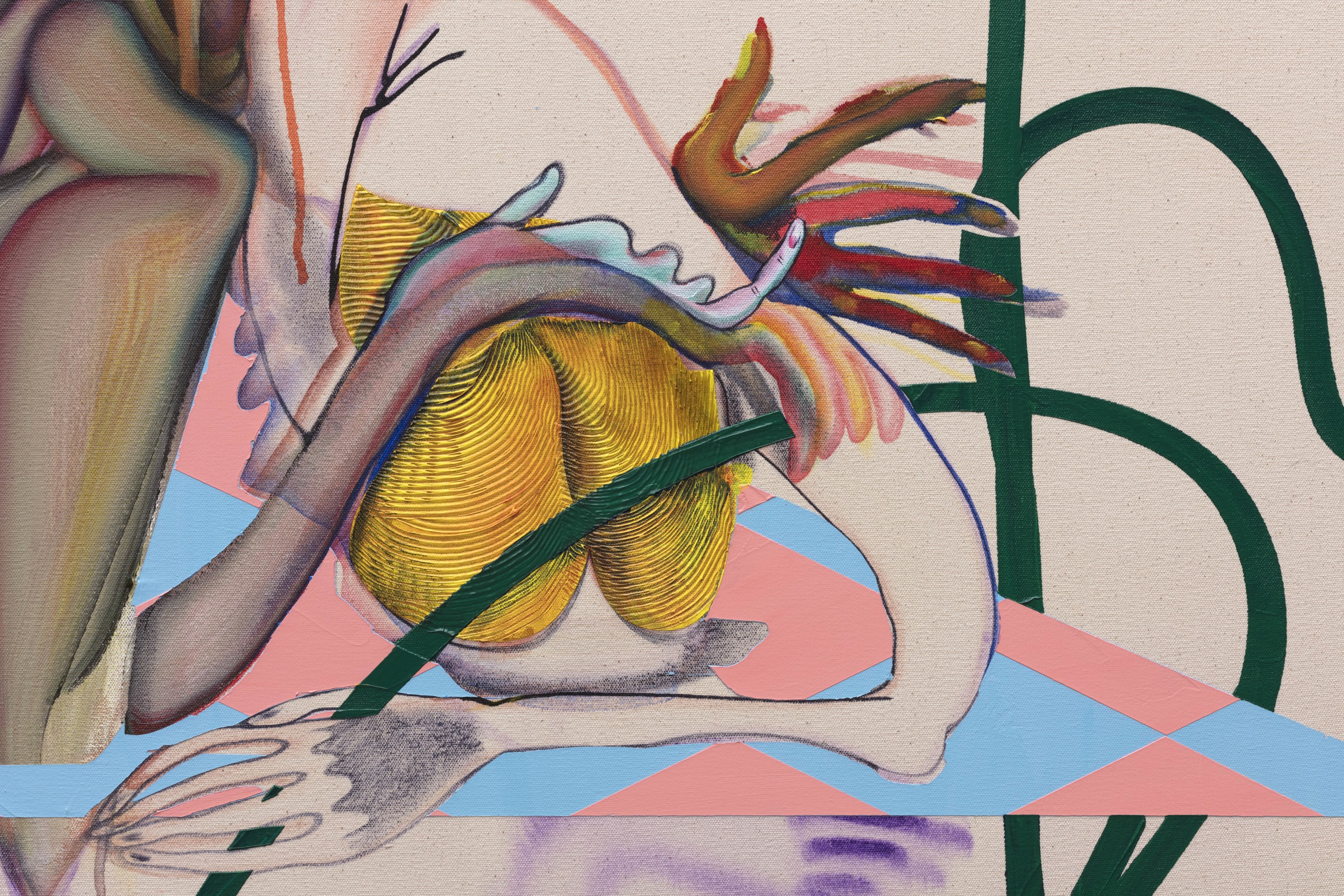 Christina Quarles' drawings are an essential part of her body of work, and are in fact the basis of her practice. She explores similar motifs as in her paintings, using only line and text. The titles of her drawings correspond to snippets and quotes derived from music, poems, conversations and life. Quarles collects these phrases and places them on her studio wall until they are matched with an image. Through the entanglement of bodies and the distorting of figures, Quarles examines what it feels like to be in a body and to create an identity, and about the complexity of both.

Self builds a singular style from the syncretic use of both painting and printmaking to explore ideas about the black female body. The artist constructs exaggerated depictions of female bodies using a combination of sewn, printed, and painted materials, traversing different artistic and craft traditions. The exaggerated biological characteristics of her figures reflect Self's own experiences and cultural attitudes toward race and gender. Through the depiction of characters with active histories, psychologies and desires, her practice functions as a subversion of ethno-cultural stereotyping.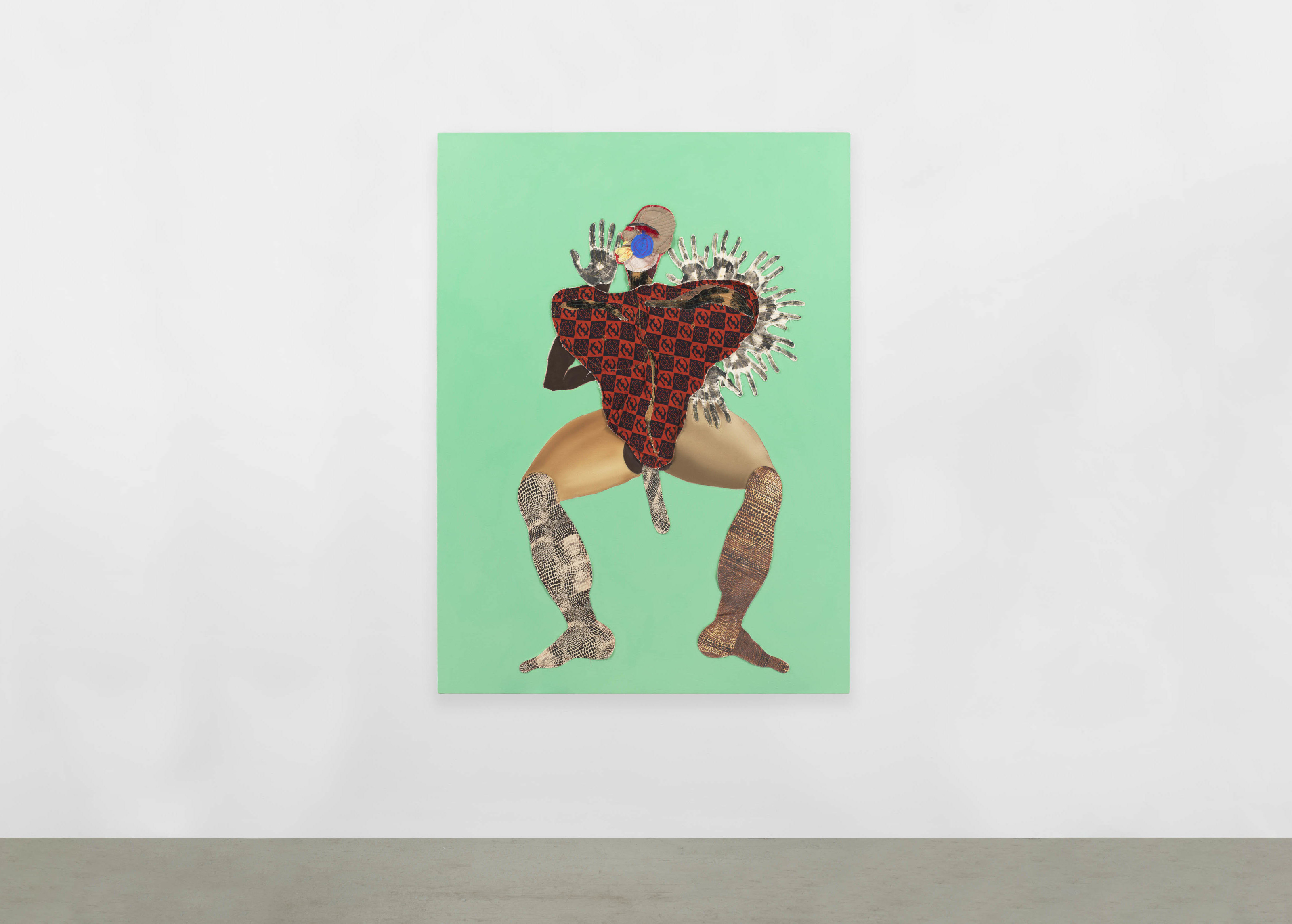 Out of Body, 2020 is a hand-quilted edition which takes its form from her 2015 painting of the same title.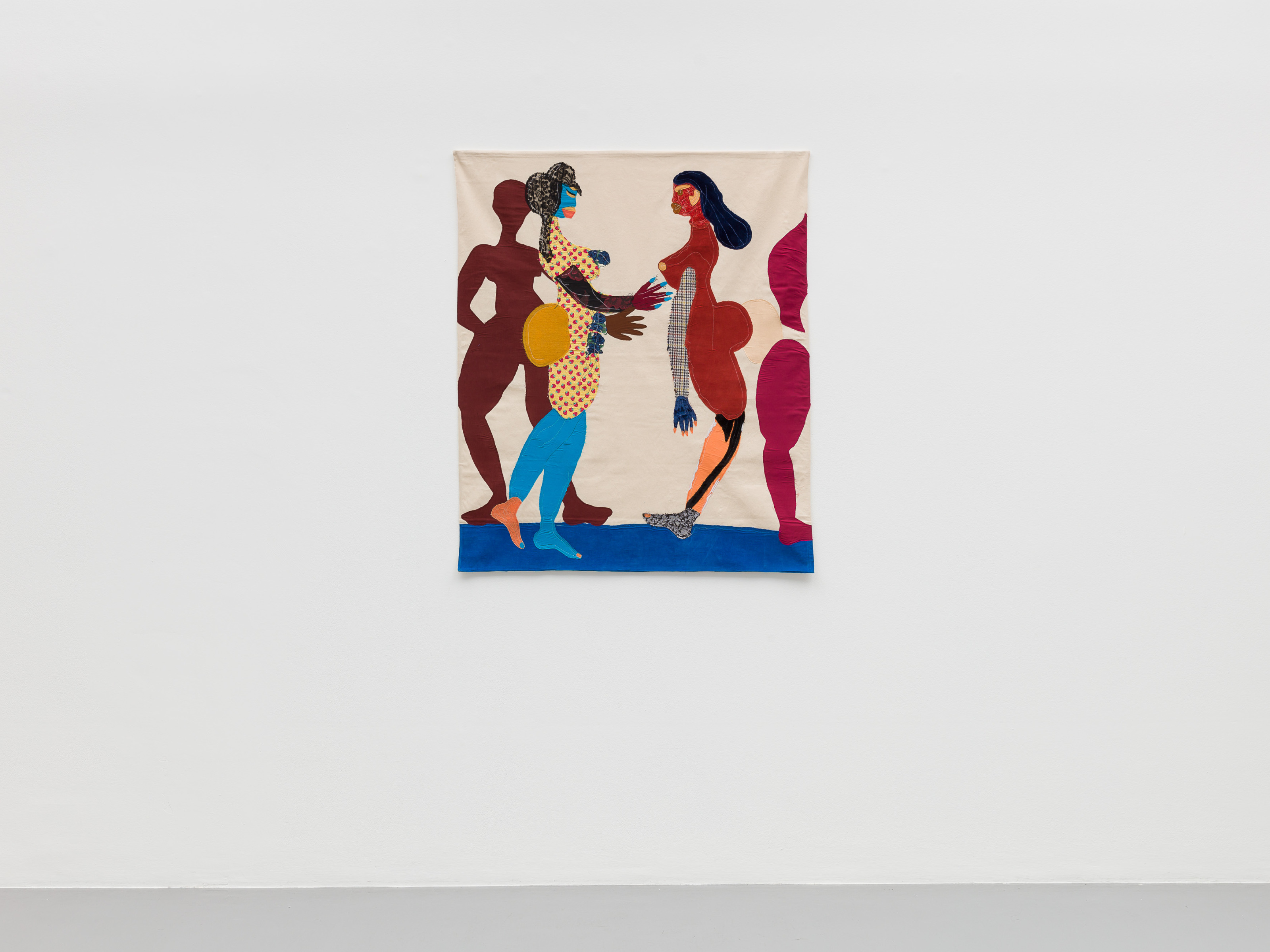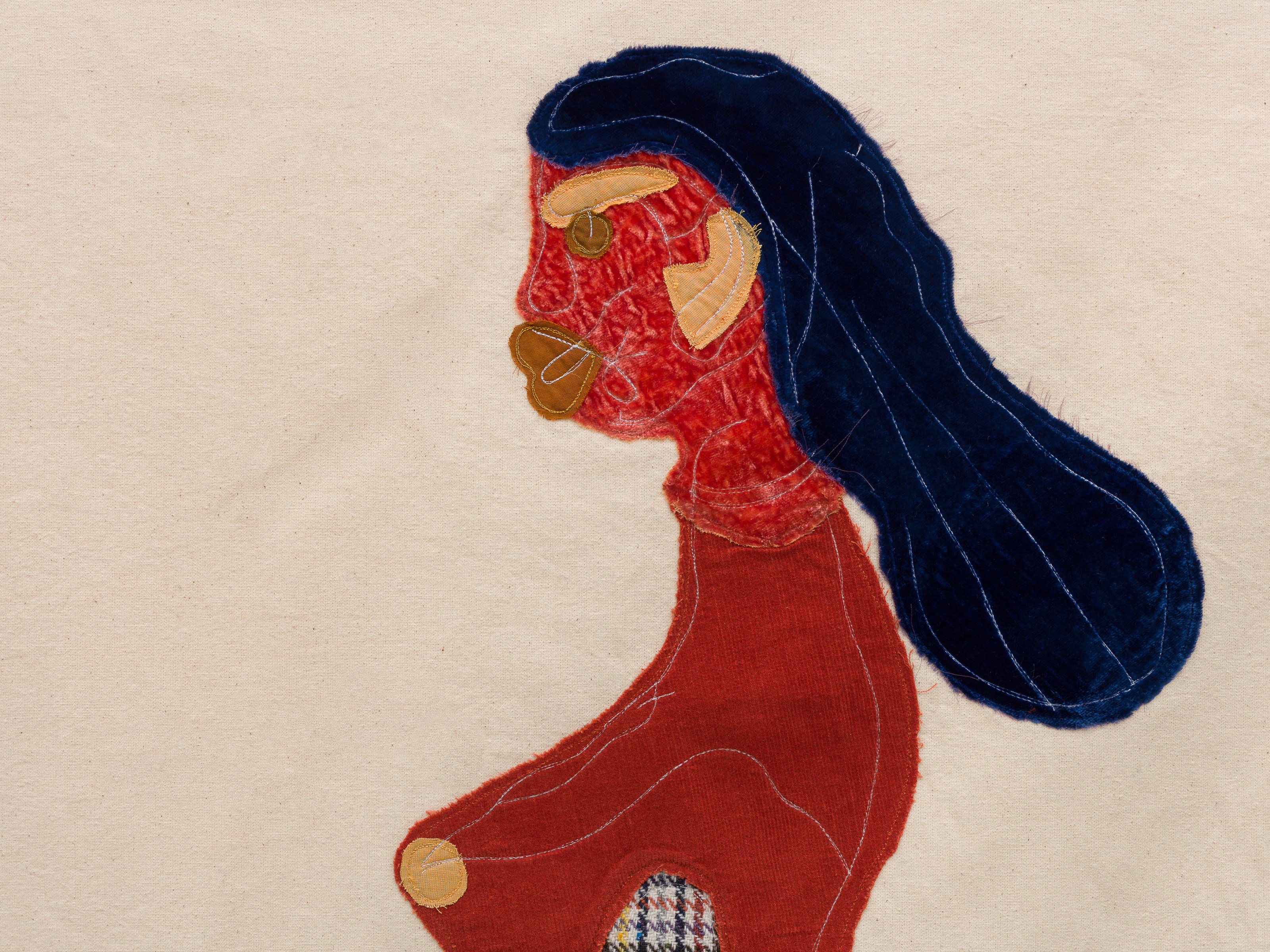 Tala Madani's 'Shit Mom' paintings attempt to conceive of a new way of representing the unidealised female figure. Madani's depiction of women is new and fresh; and that new and fresh way happens to be the shit way. The paintings contend with an immensely taboo idea: that of the less-than-perfect mother. Madani's 'Shit Moms' are made of a malleable viscous substance, to be formed and deformed by the infants who run amok in each of the paintings. Crucially, the children in the paintings do not merely represent children, but also whatever the current idea of 'new' is: new culture, new generation, the latest... the next. The series seeks to make manifest a power play between the old and the new.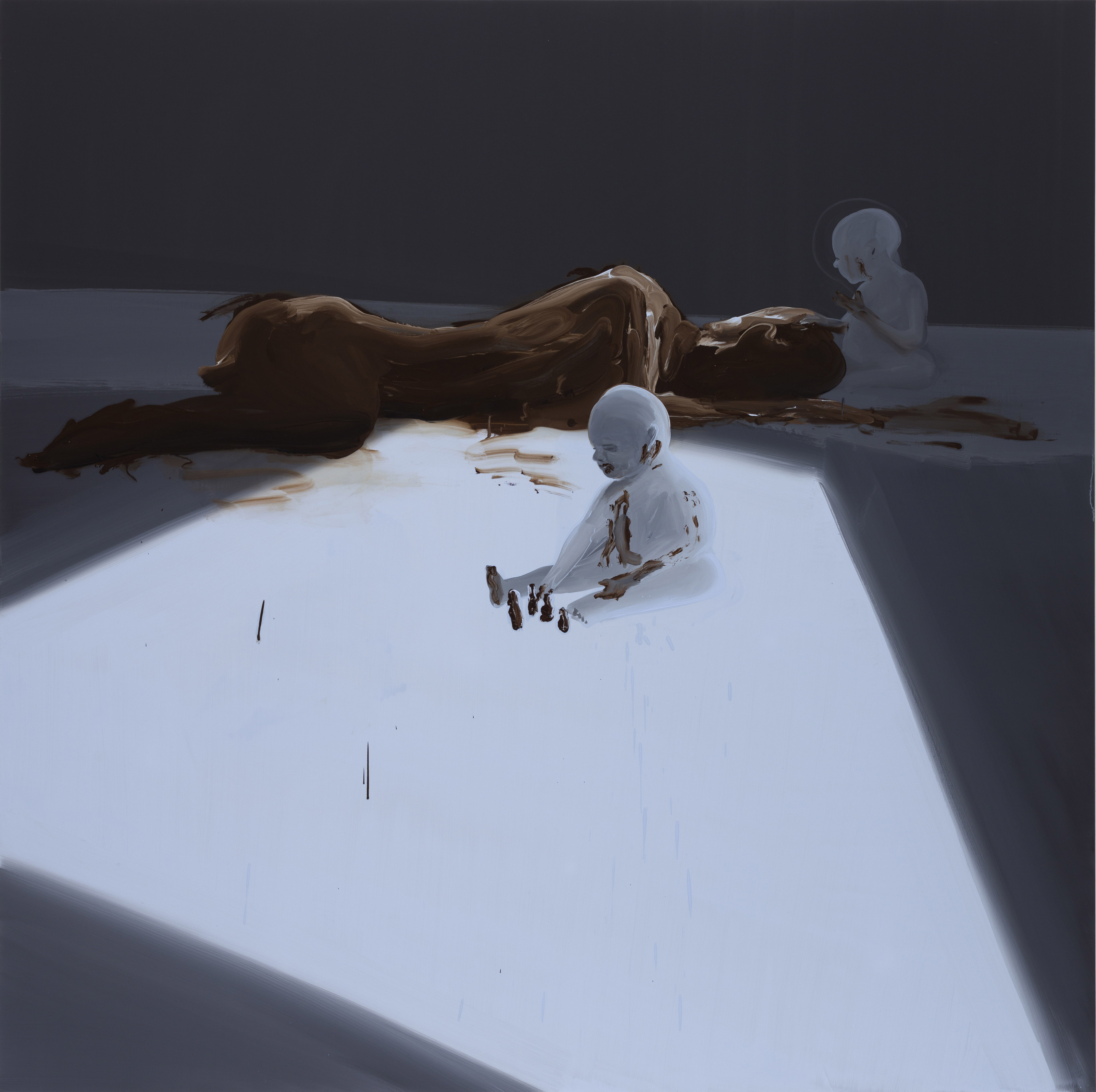 Madani's silent, stop-motion animation videos, which consist of over two thousand painted images per minute, are contemporary parables illustrating a repertoire of weakness and vice. The male protagonists in her works are both tragic and comical – primitive beings propelled by hubris and ignorance, rendered amorphously through a thick application of paint.
In The Audience (2018) four little men watch something like the little theatre of our minds, the one screening snippets of our day. We are director, actor, editor, and audience: viewing and reviewing footage from the day, letting it play out as it did, as it could have, or as it should have. A man smoothly moves up and down the three sets of escalators. A gang of identical men emerge at the top of the stairs, and start to push, chase, or trip our star. He tumbles and falls, losing a limb here and there, which travels up or down a few stairs ahead of him. He literally starts to fall apart. His decapitation is the last straw for the gang; having achieved their mission, they exit the scene. The front-row audience looks on, finishing off their popcorn. His own doubts have literally destroyed him, so he can finally fall into a deep sleep. The movie is over, and the screen goes black. By placing these figures in situations where they are subject to humiliation or violence, Madani performs a critique of patriarchal structures of power, fundamentalism and sexism.


Gisela McDaniel's work is based in healing from her own sexual trauma and reflecting the healing of womxn and non-binary people who have survived sexual trauma. Interweaving assemblages of audio and oil painting, she creates pieces that "come to life" and literally "talk back" to the viewer upon being triggered by observers. She intentionally incorporates survivor's voices in order to subvert traditional power relations and to enable both individual and collective healing. Working primarily with womxn who identify as indigenous, multiracial, immigrant, and of colour, her work deliberately disrupts and responds to historical and contemporary patterns of censorship as it relates to the display and exhibition of womxn's bodies, voices, and stories. She aims to heal those who have experienced gender-based sexual violence, giving a voice, space, as well as a confidential vehicle for survivors to not only share their experiences, but to also explore how those experiences have affected them long-term.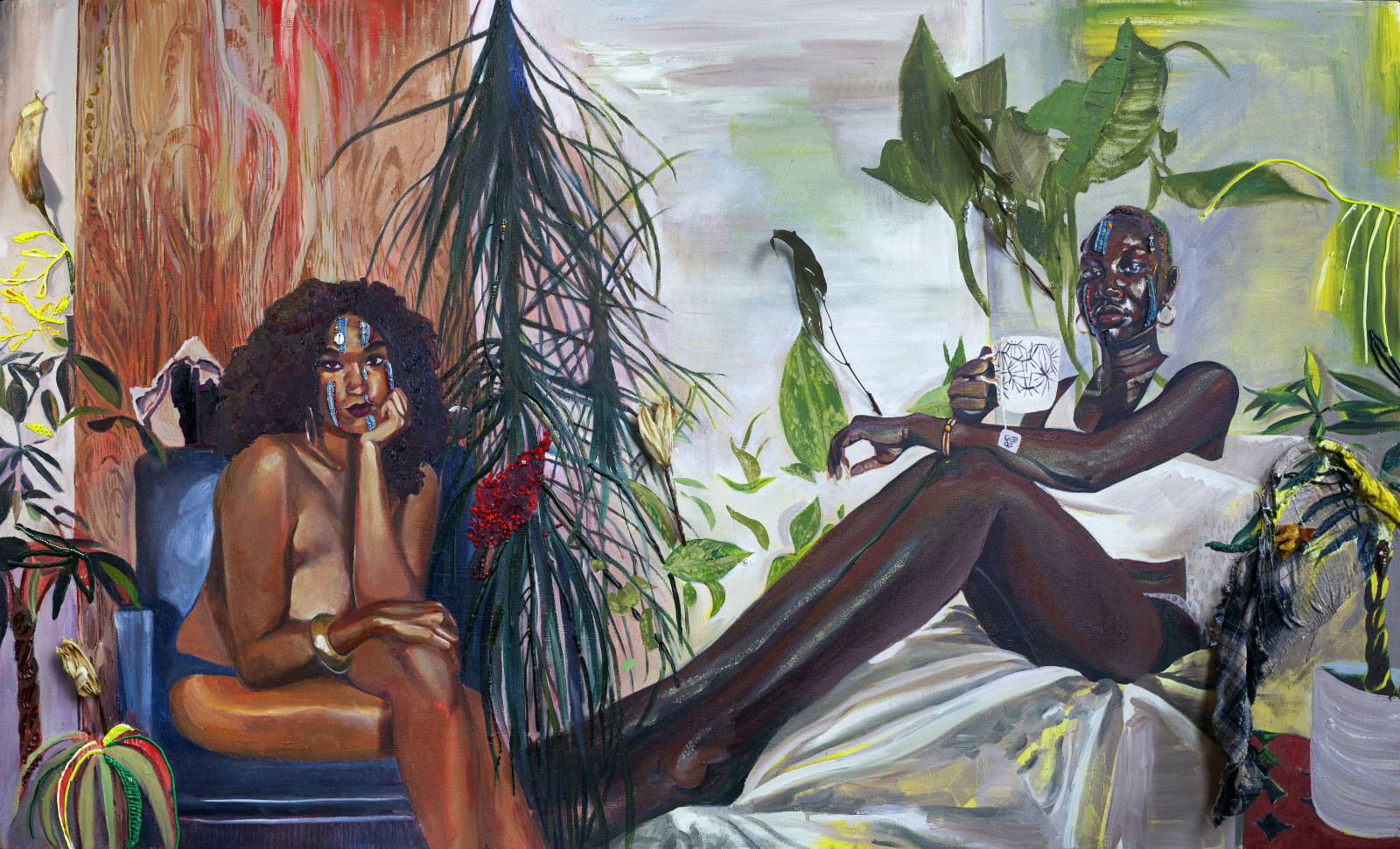 "There are so many things about society I'd like to see change. Using our voices, collectively, together, is powerful. It's my way of organising. I started this work a couple years before the 'Me Too' movement went 'viral'. I'd like to think at this point, most thoughtful people can agree this sexual violence happens everywhere, every day. I want to talk about it. I want others to HAVE to think about it, to consider it, to consider the experiences of the people you walk by everyday, especially those you don't really see or think about. Using audio is an immersive, unavoidable way to have people confront the humanity of these subjects. These images are about real stories, eyes that have wept and bodies that have survived violence. My hope is that viewers will, even for just one moment, stop and think about these stories, feel rage at the violence which our ancestors, our grandmothers, our mothers, our daughters, and our peers have lived through and are still experiencing."
– Gisela McDaniel, 2020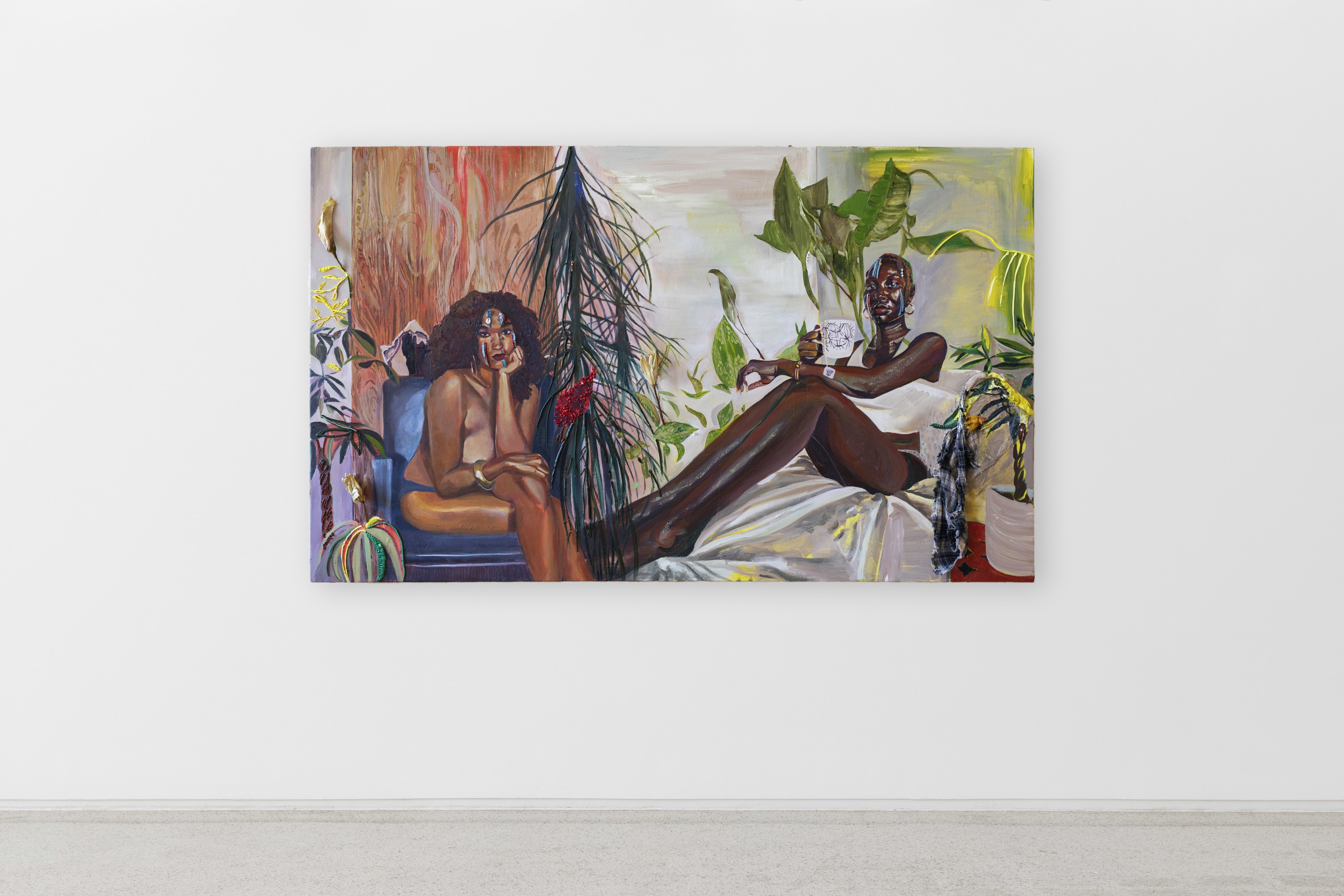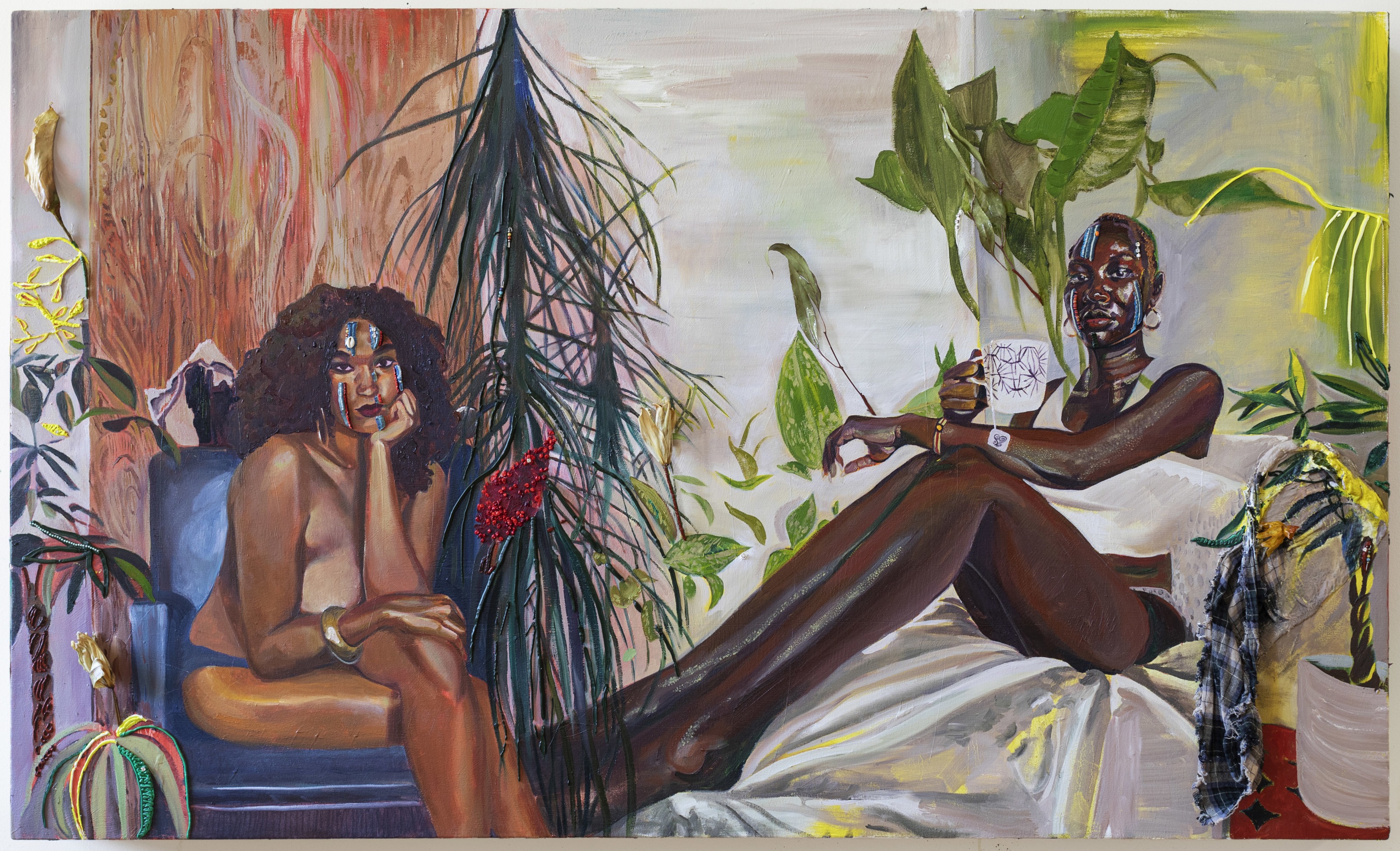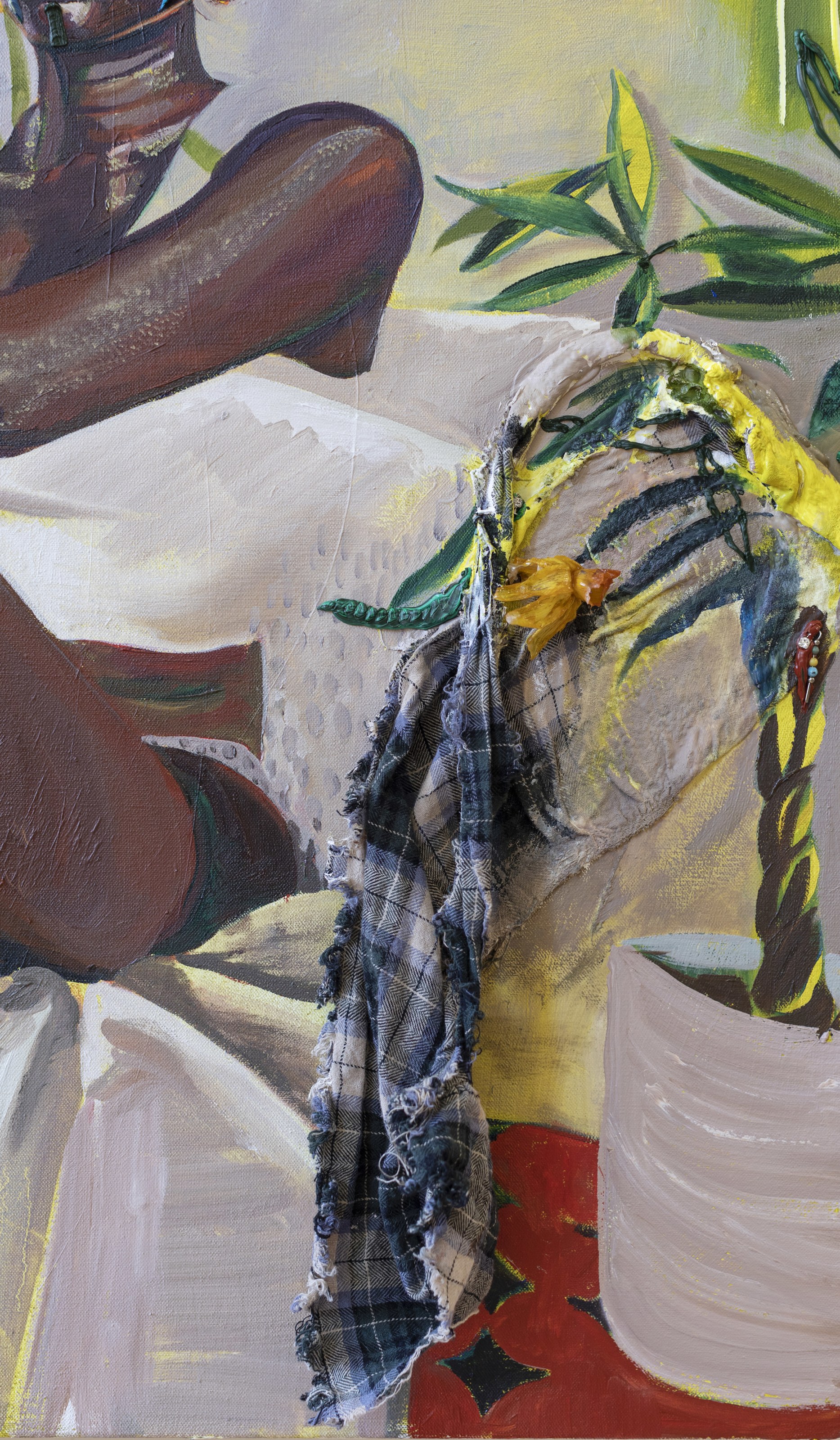 "Another arm of the work involves the telling of narratives of people of colour, particularly black bodies, black men and women and children, and other adults, who have been spirited away, and left deliberately the planet earth to explore the galaxy beyond the milky way. This painting is depicting these two figures. There is a sort of hierarchy of power based on the age and height of the figure, and the gestures and poses of the two figures."
- Sedrick Chisom, 2020

"There is an older black woman figure, kind of standing smiling, wearing these kind of funky pair of sunglasses, kind of standing confidently, kind of waiting for the viewer to begin a journey and, apprehensively behind her there is this smaller figure who is less confident and less sure of what is going on; what is taking place. I was thinking about the kinds of characters who don't typically appear in these narratives of science fiction - I don't think I've ever seen a movie about science fiction, for example, star a black grandmother, so I'm very conscious of the kinds of bodies that are included in these spaces; in these worlds."
- Sedrick Chisom, 2020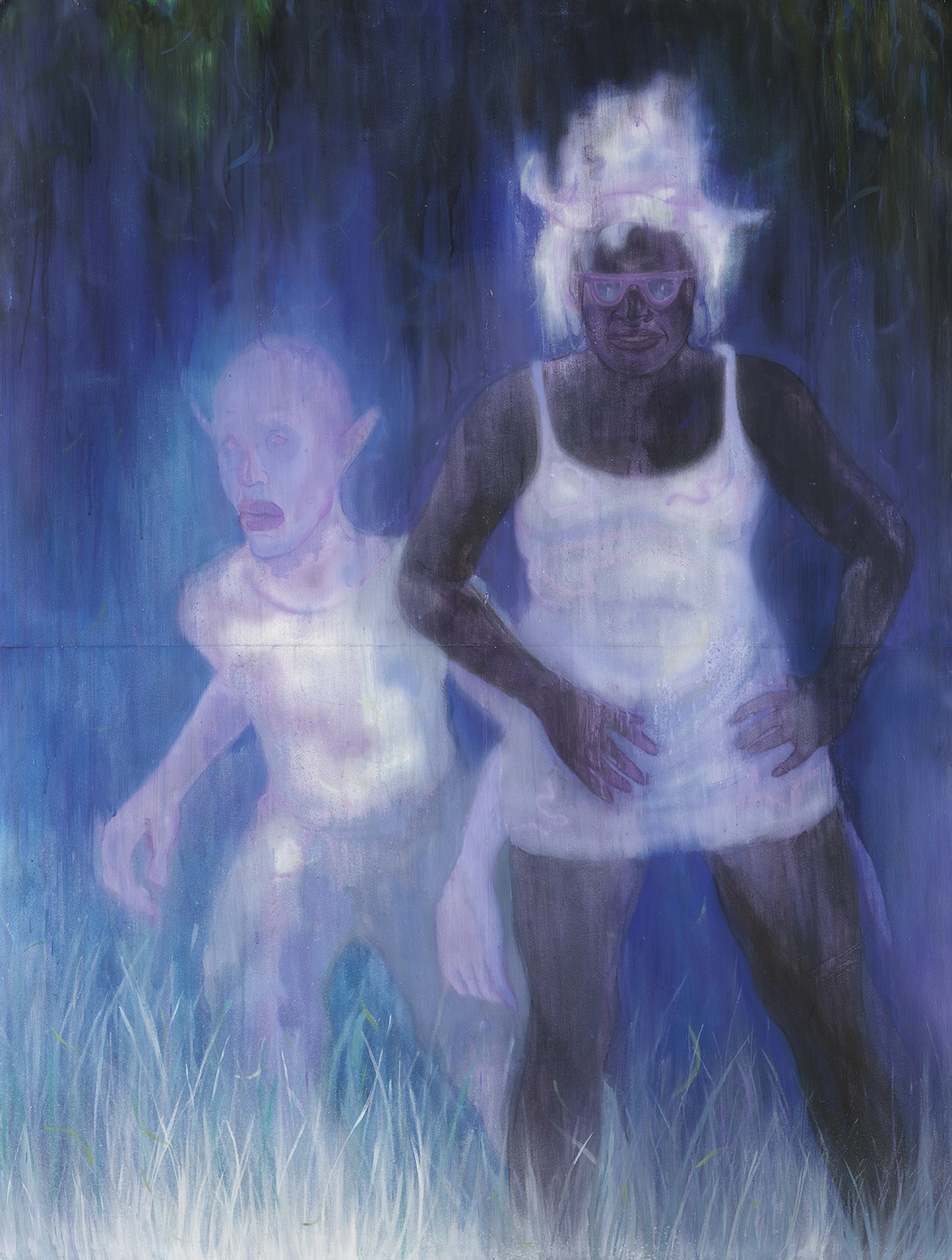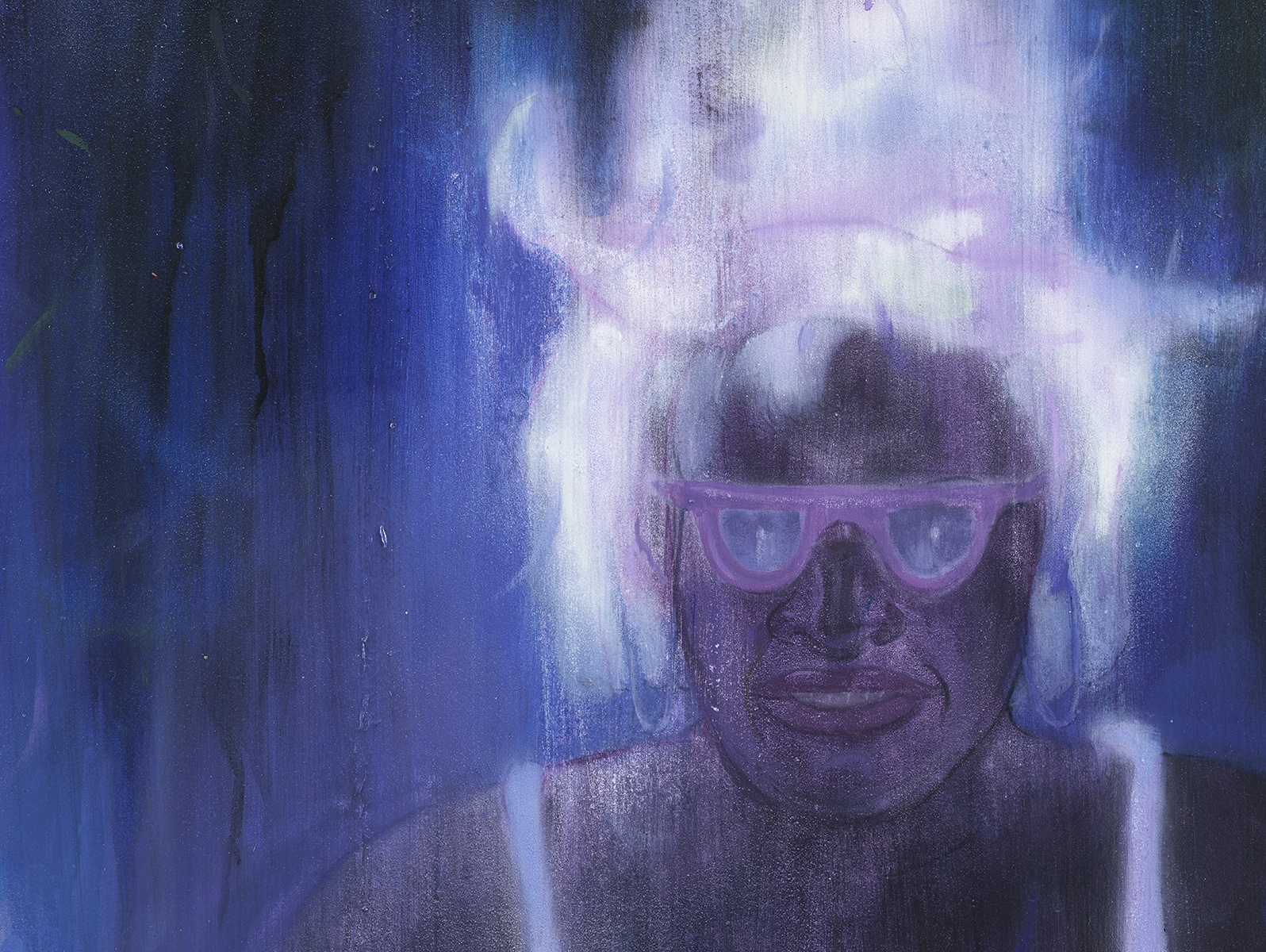 Mortiz's work explores the dynamics of how memory is constituted and the way in which it is subject to a continual process of deformation and reformation. Described by Hans Ulrich Obrist in 2013 as "memories made visual – the fleeting impulses of the past rendered concrete in art," Moritz's paintings, by turns abstract and figurative, activate an awareness of time. They are records of specific, highly personal experiences that open out onto the general horizon of a collective history, from the artist's childhood in the East German town of Jena, to the abstract notions of transience, decay and seriality. Mortiz's work may be interpreted, above all, as a protest against forgetting, while also stating in no uncertain terms the inherent fragility, mutability and immateriality of memory.

Sabine Mortiz's Ground, 2020, was devised without any preconceived empirical concept, or formal plan. Instead, it was developed by layering various shades and densities of oil paint to explore the possibilities of colour and bounds of pictorial space. The work's vivid palette and forms evoke a wide spectrum of visual and emotional associations.
Sofia Mitsola is working primarily with paintings in which she investigates the female form. Her invented characters are informed by ancient Greek and Egyptian sculptures, usually depictions of goddesses or mythical creatures. These are set in simple geometric backgrounds with intensely bright and almost flat colours and are depicted naked and larger than human scale. Through them, she is playing with ideas about voyeurism, confrontation, and power.

Pom Pom, Lady of the Sycamore, 2020 is a large two panel painting which was inspired by a small painting found on an ancient Egyptian shabti box. A shabti box is a small tomb where the shabti figurine was placed as a burial. The practice of using shabitis originated in the Old Kingdom of Egypt (c. 2600 to 2100 BCE). The scene depicts the mythical lady of the sycamore, the goddess of the tree that provided eternal life and knowledge of the divine plan in the afterlife. Mitsola's painting explores the divine and the out of body experience; the transition from the mortal world to the eternal world of light. Her figures are shown in the moment that they become aware of the viewer's presences and on looking gaze. The mortal woman is bathed in a warm golden light extending her arm to reach the falling tree. Her body is flushed and heavy and she wears only one object of clothing; a single Pom Pom slipper. The Deity takes its form in a five limbed body. This sculptural and toned figure appears weightless on Mitsola's canvas. Her arms are becoming branches yet she is separated from the tree.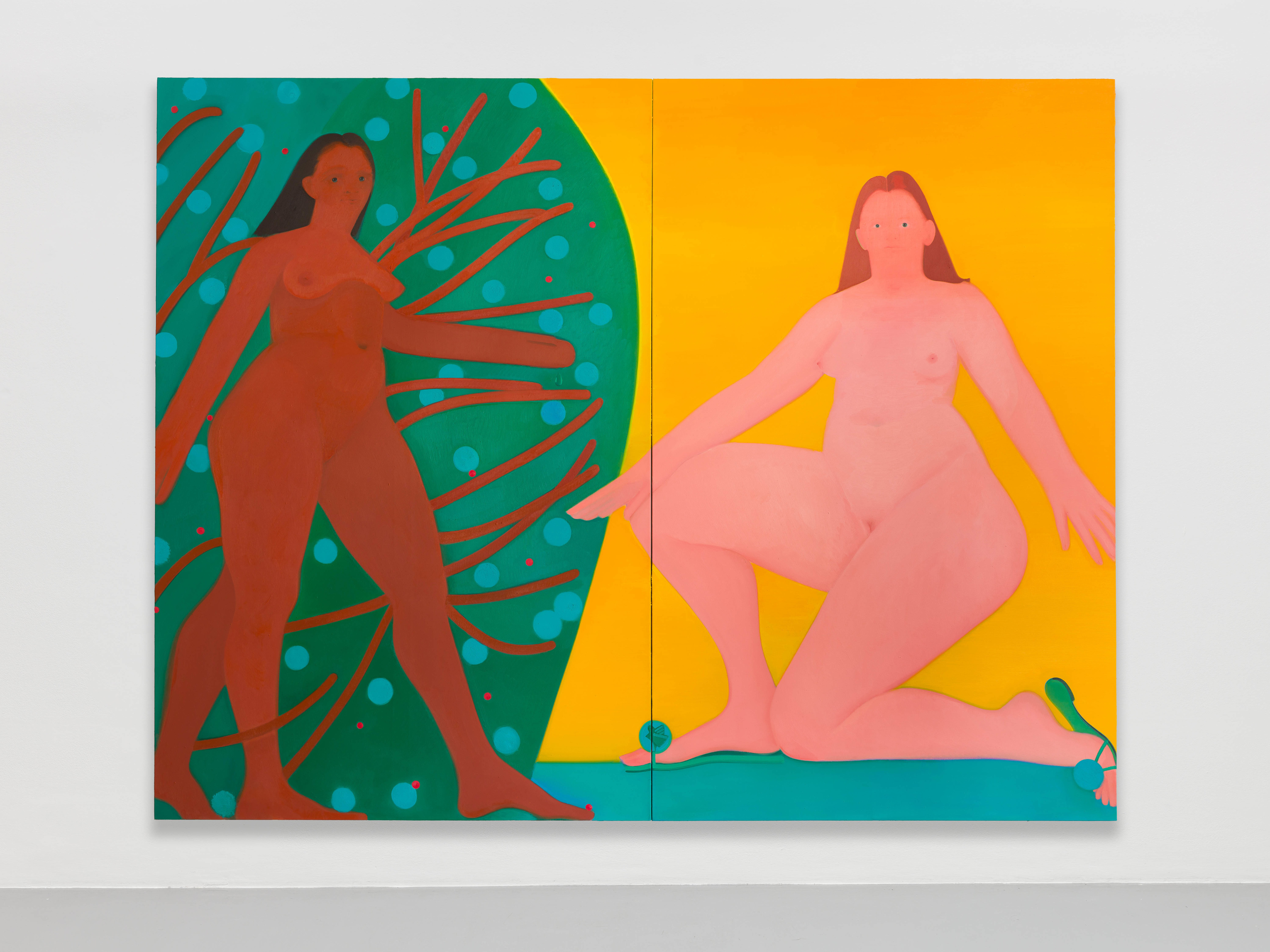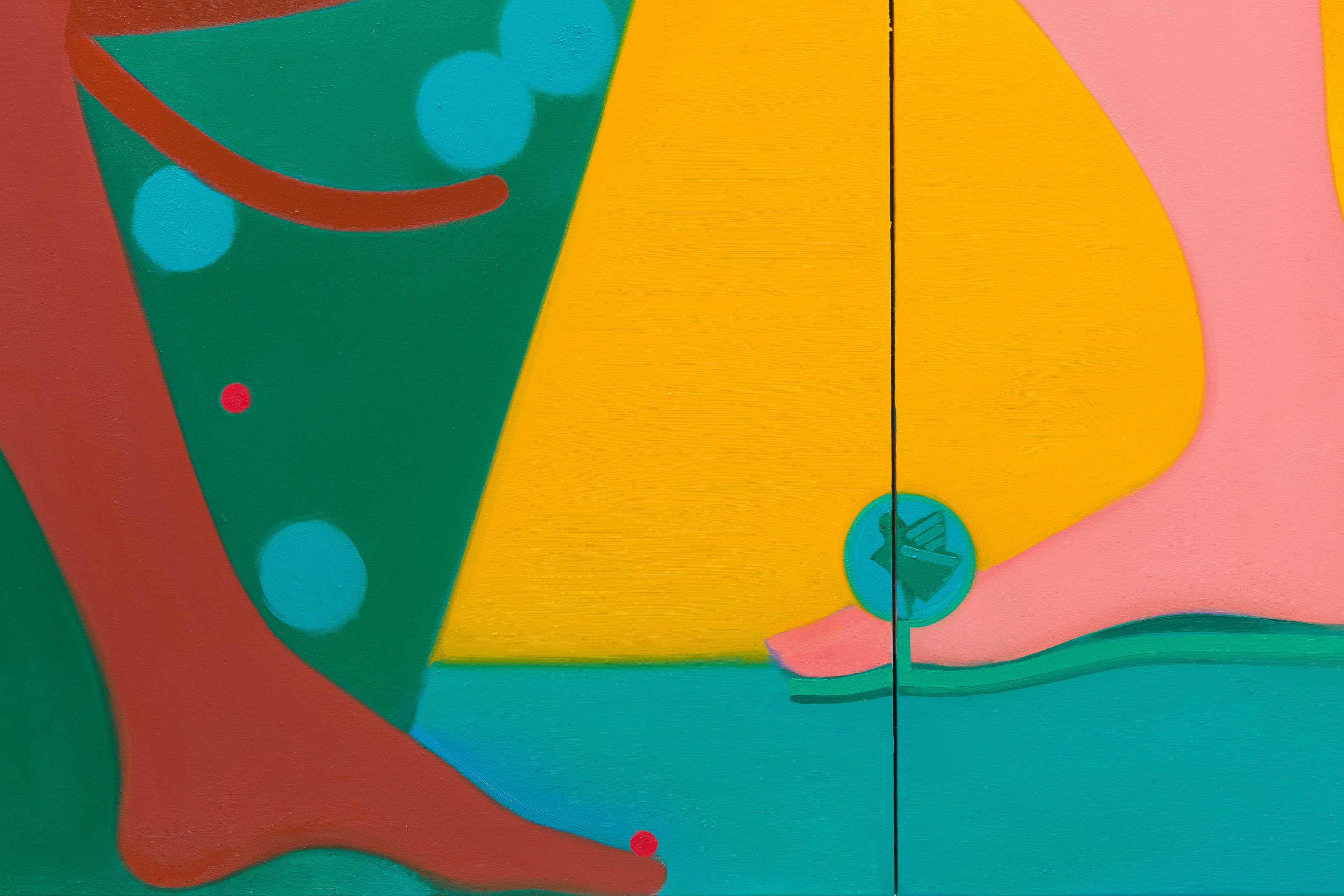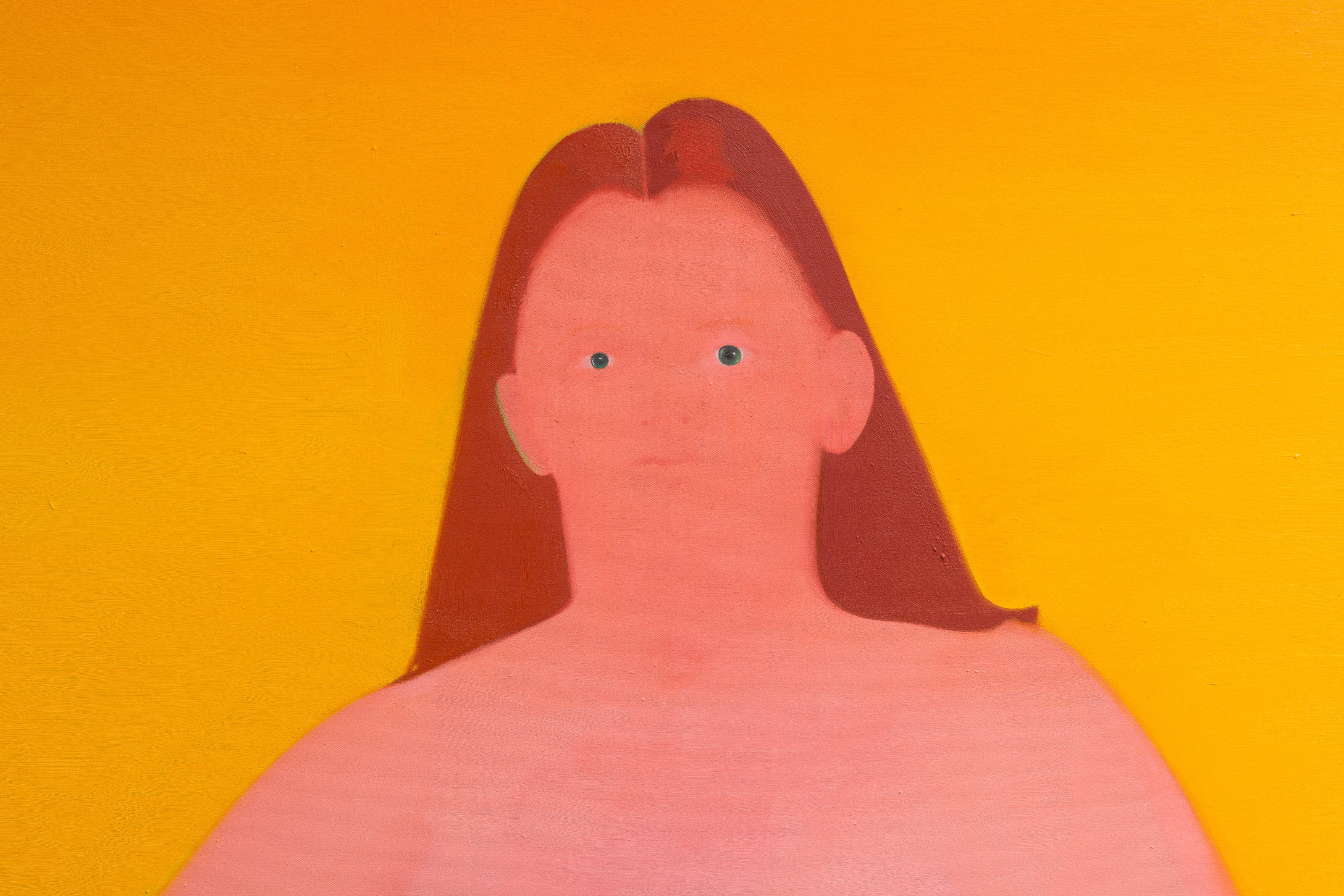 The Borns sculpture series explores Rachel Rose's interest in the egg as a form or shape, as well as an alchemical symbol. For each piece, which is numerically titled like progeny, the artist creates a new glass-blown form for various stones, many of which are a combination of minerals known for their healing properties. Made of rock and glass, they are made of one material that is in two different states and times. Blown hot glass sets and takes shape immediately; rocks form over thousands of years, though they are one material. The resulting Born is a meeting of materials, analogous with conception and birth biologically-speaking – a union embodied in the egg as an embryonic vessel from which life grows.

Rose created these Borns when she was pregnant and was feeling directly in growing an alchemy of long and fast time. For the artist, the meeting of materials in the Borns presents an analogy with conception embodied in the egg as an embryonic vessel from which life grows. This series is another continuation of the egg as both form as well as referring to its symbolism in alchemy – the 17th-century science that has magical connotations. Rose's choice of hybridising elemental substances from the earth links to her interest in how secret recipes were encoded in descriptions of scenery in alchemical literature, such as the 1616 Rosicrucian hero story, Chymical Wedding of Christian Rosenkreutz.
Rachel Rose's Second Born, 2019 is currenty on display in her solo show at Laffayette Anticipations, Paris.

Continuing from his previous newspaper series, Rirkrit Tiravanija has shifted from text to drawing with this military series. Amidst two parallel elections in the United States and Thailand, and across two different political systems, Tiravanija, who is based in both countries, felt that the situations were equally and similarly awful. The initial purpose of this painting was to exhibit it on the day of Thailand's first election after years of military junta. However, due to the sudden postponement of the election day, the work did not have a chance to exhibit on the expected date. The work is now kept in darkness, waiting for the perfect chance to shed its light.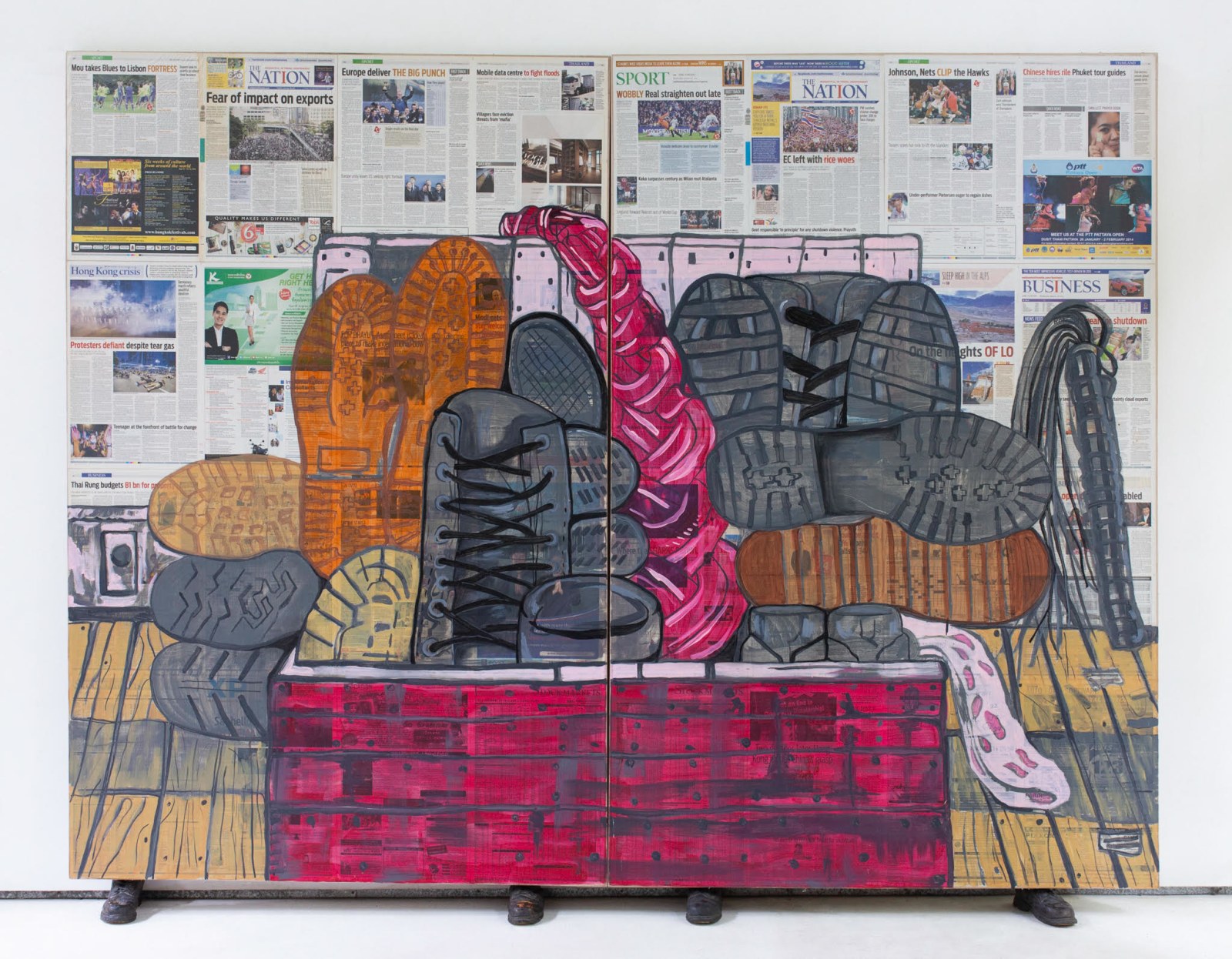 The wall dividing the United States and Mexico embodies the tyranny under Trump's rule, a form of dictatorship under democracy. It is considered the 'Berlin wall of the New Era' which separates not only nations, but families, leaving children stranded on their own. The newspapers in the background are collected on important days related to these political issues and history, then reassembled for this painting. The shoes and equipment seen in the painting are those that belong to the military force, symbolising the face of Thailand's situation under junta regime. The ceramic top boots supporting the canvases create an illusion as if two soldiers are holding the canvases in the back. To Tiravanija, dictatorship exudes its force not only in the front, but behind every single aspect of our daily lives, from business, sport, entertainment, to even general news.Tiravanija overlays Philip Gustons's comic symbolism, alluding to his alignment with Guston's notion of the impossibility of a 'pure' artwork or true abstraction, or more broadly, ideological absolutism. As observed by Tiravanija, "in Guston one finds an artist not just of craft and skill but of total commitment to doubt and criticality, an artist of possibilities and at the same time the confluence of impossibilities."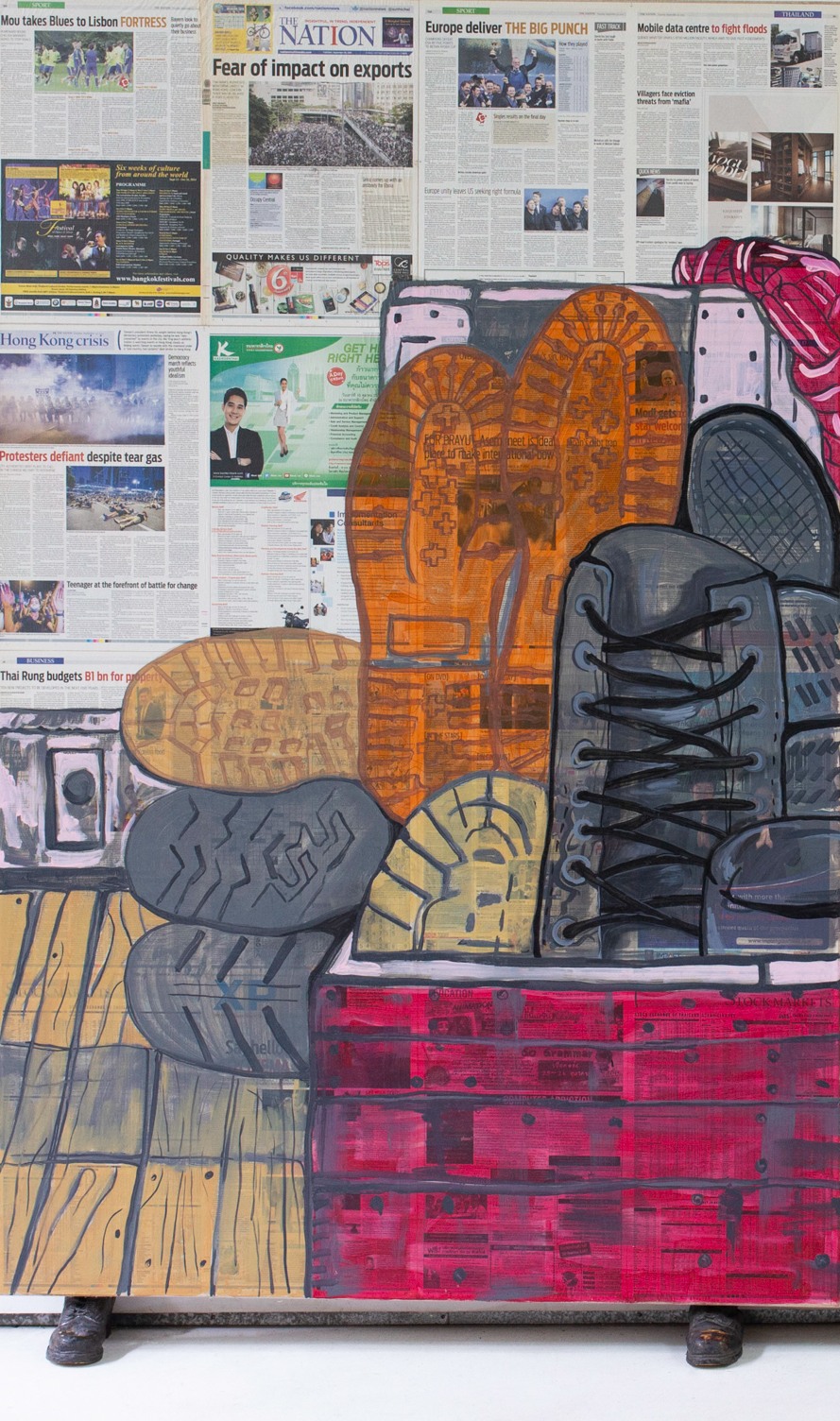 Painting serves as a critical departure point for Helen Johnson's practice, as a set of tools that work beyond language to encircle a range of contemporary issues. Her works engage a broad visual vernacular, including spasming stock market graphs, fragments of text from the bygone days of premechanised mining and logging, desert islands and the layout of the Australian Parliament House. Both loaded and contextually specific, the imagery is treated with an insistently aesthetic approach, with an implicit claim for the continuing possibility of critical engagement through reflective aesthetic experience. The building up of layered surfaces is not merely a technically-driven choice, but also serves as a metaphor for some of the complexities and interplay that operate in the ongoing formation of Australian identity—including 'the persistence of denialist accounts of colonisation, the relationship between personal and official histories, and more fleeting cultural trends that spike the mix, becoming ever present as we lean into the internet'.

This painting can be read in two different ways: it can be a field of flowers, or an array of arseholes arranged in accordance with a classic corporate hierarchy. On another register, two hands reach into the pictorial space from the edges, referencing the manicule, the small symbol of a hand that originated in the medieval period as a way to point out a mistake or something of note in a manuscript. If one gazes at the surface a little longer one can see two figures sucking at the teat as above them a cartoon figure clutches bags, chattels as his companions look jealously on. A selection of corporate wish-fulfilment statements have been scored into the textured surface: 'I am most fulfilled in my work when I have been able to integrate and manage the efforts of others; Security and stability are more important to me than freedom and autonomy; I dream of being in charge of a complex organization and making decisions that affect many people.' These were taken from a training module that Johnson was compelled to undertake as part of her teaching work.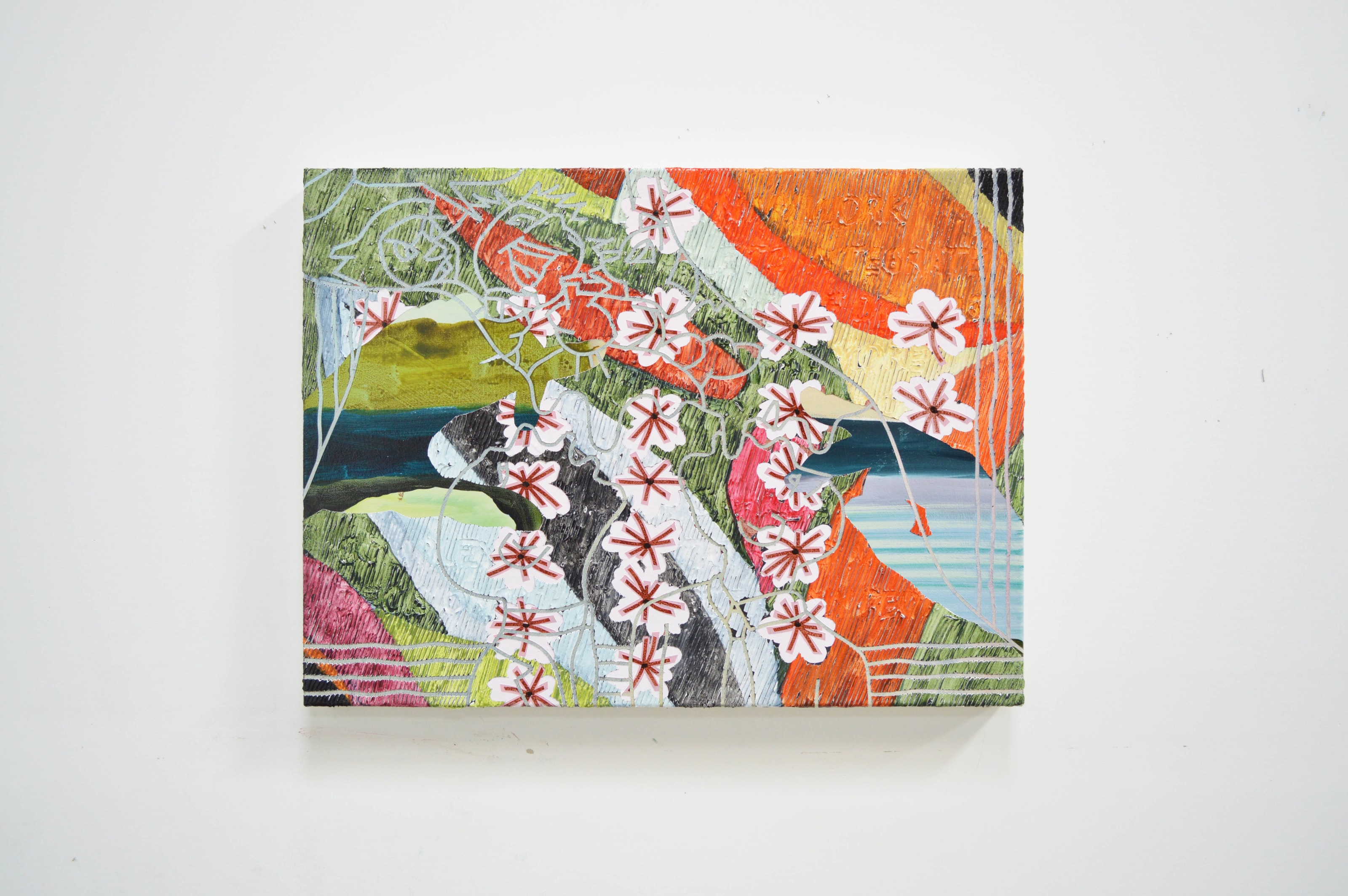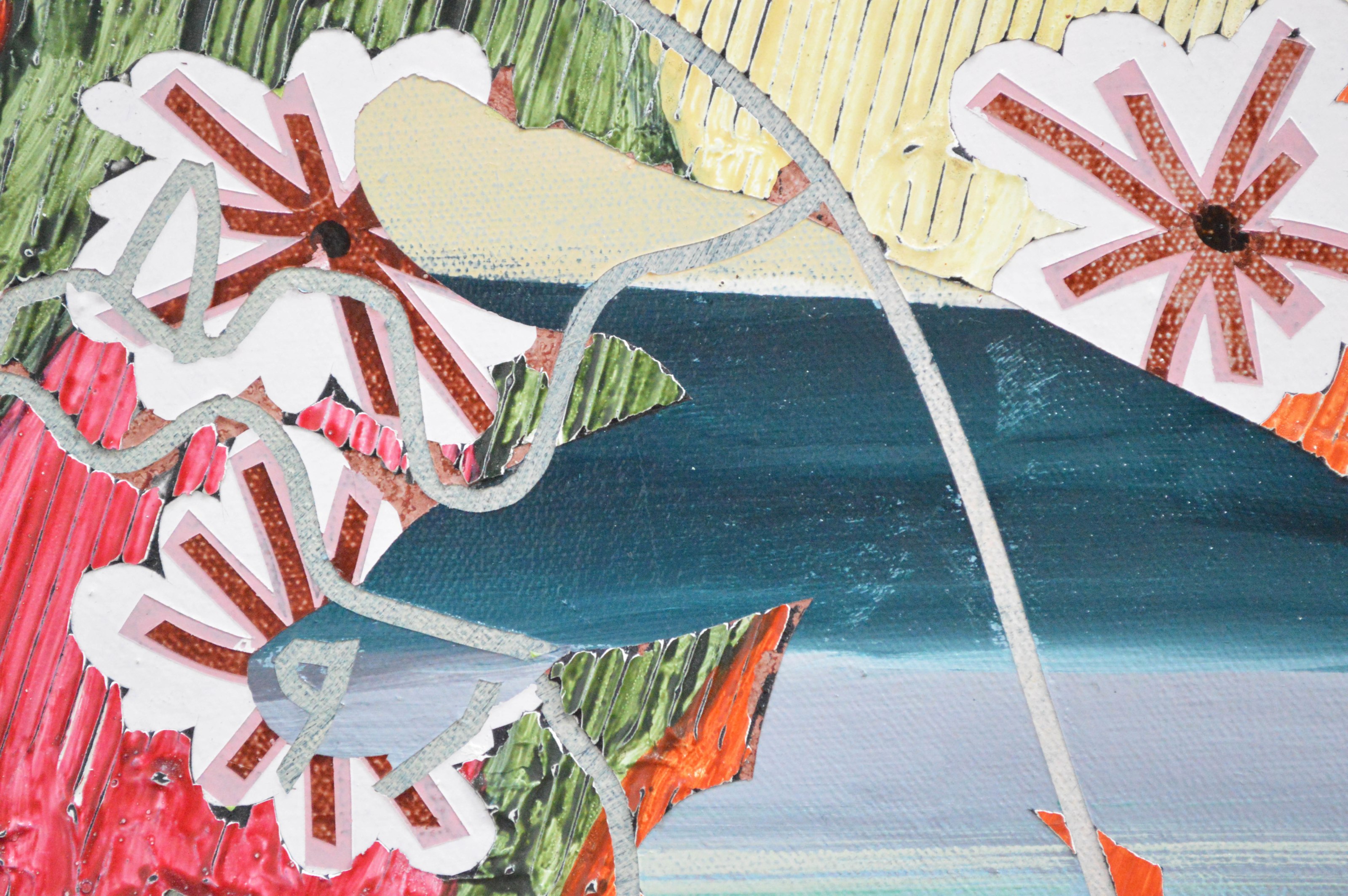 The first layer of this work is made up of fragments adapted from Richard Doyle's The Smoking Room at the Club (1849) along with figures drawn from an informal photograph of members of Australia's conservative National Party from 1974, a party that was formed to serve the needs of the farmer but increasingly serves only the needs of large-scale agribusiness and mining, and remains highly influential. The consistent thread being old white men using casual meetings to maintain their self-interest. Overlaid on this, two pairs of hands work to unravel a complex tangle. So on one register, a corrupt togetherness; on the other, a cooperative pulling-apart.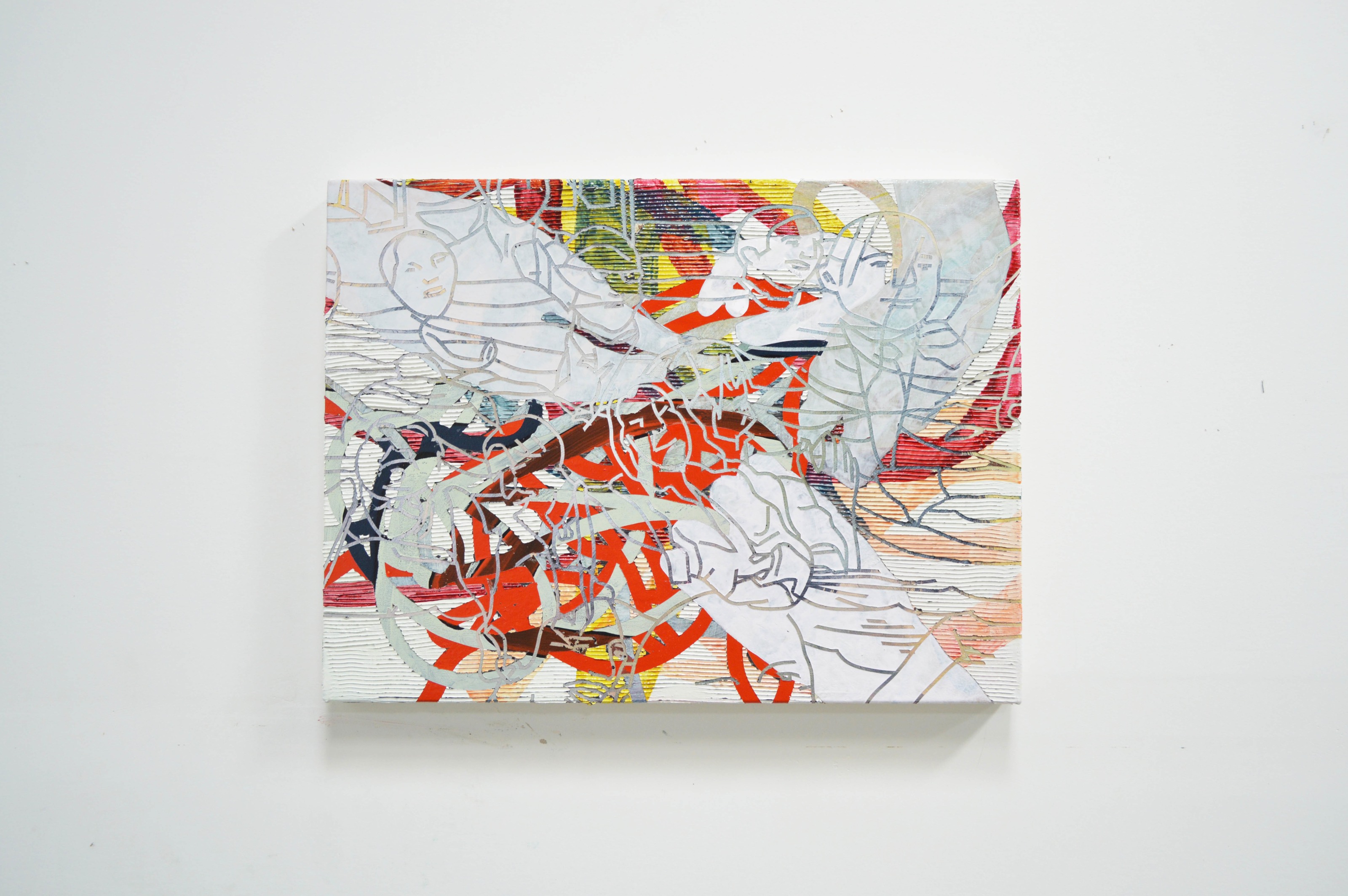 Peppi Bottrop paints in the spirit of a flâneur, utilising an idiosyncratic manner of mark marking which is sometimes frenetic, some-times meandering, and fundamentally exploratory. Bottrop treats the canvas as a privileged site to exorcise his memories of the cities in which he has lived and worked – from the rough industrial districts of the Ruhr, Germany, where he grew up, to Düsseldorf, Los Angeles and Mexico City – psychically mining his own past to create cartographic recollections, which, though profoundly personally, are open-ended enough to allow the viewer to project their own urban reminiscences.
In this new body of work, Kahraman explores the transition that happens between a normative human and the Other. Depicting contortionists, her figures are placed in seemingly impossible poses, attracting the voyeuristic gaze through an eroticisation and fetishisation of the Other.
The figures in Kahraman's work mirror each other, embodying an army of collective women who challenge sexual and racial confinements. Using their bodies as a vehicle to question systemic structures of power, they seek to redefine their Otherness in their own terms. Their faces are undeterred; the gaze is tolerated. This interplay allows for the subjects to be both looked at and to 'look back at', subverting the colonizer's power, and calling attention to the dehumanisation of the colonized. Kahraman practices a double vision, an interplay of returned gazes. She is voyeuristically prying into herself with the eyes of other people, yet also vindictively looks back disturbing the complacency of the same.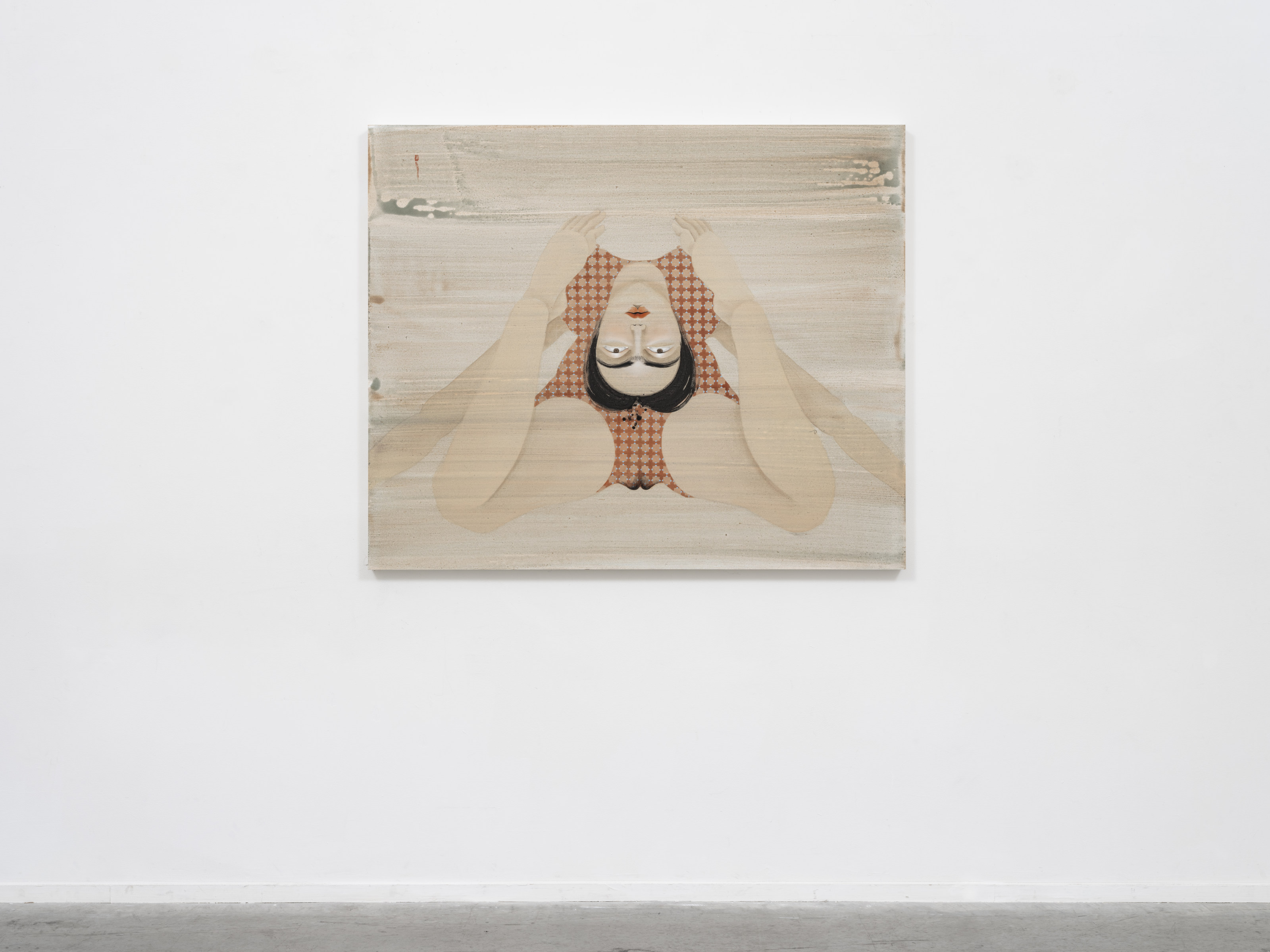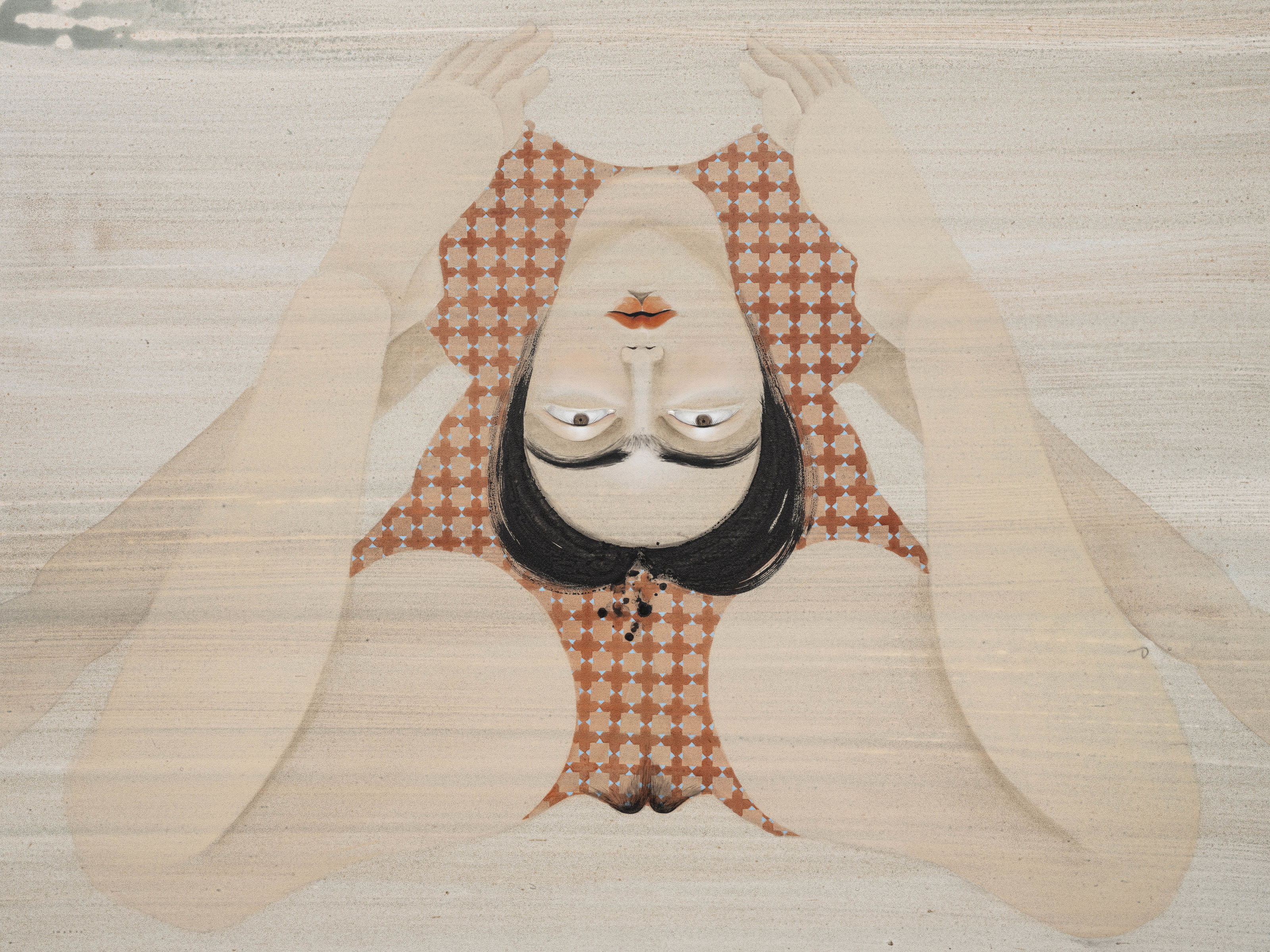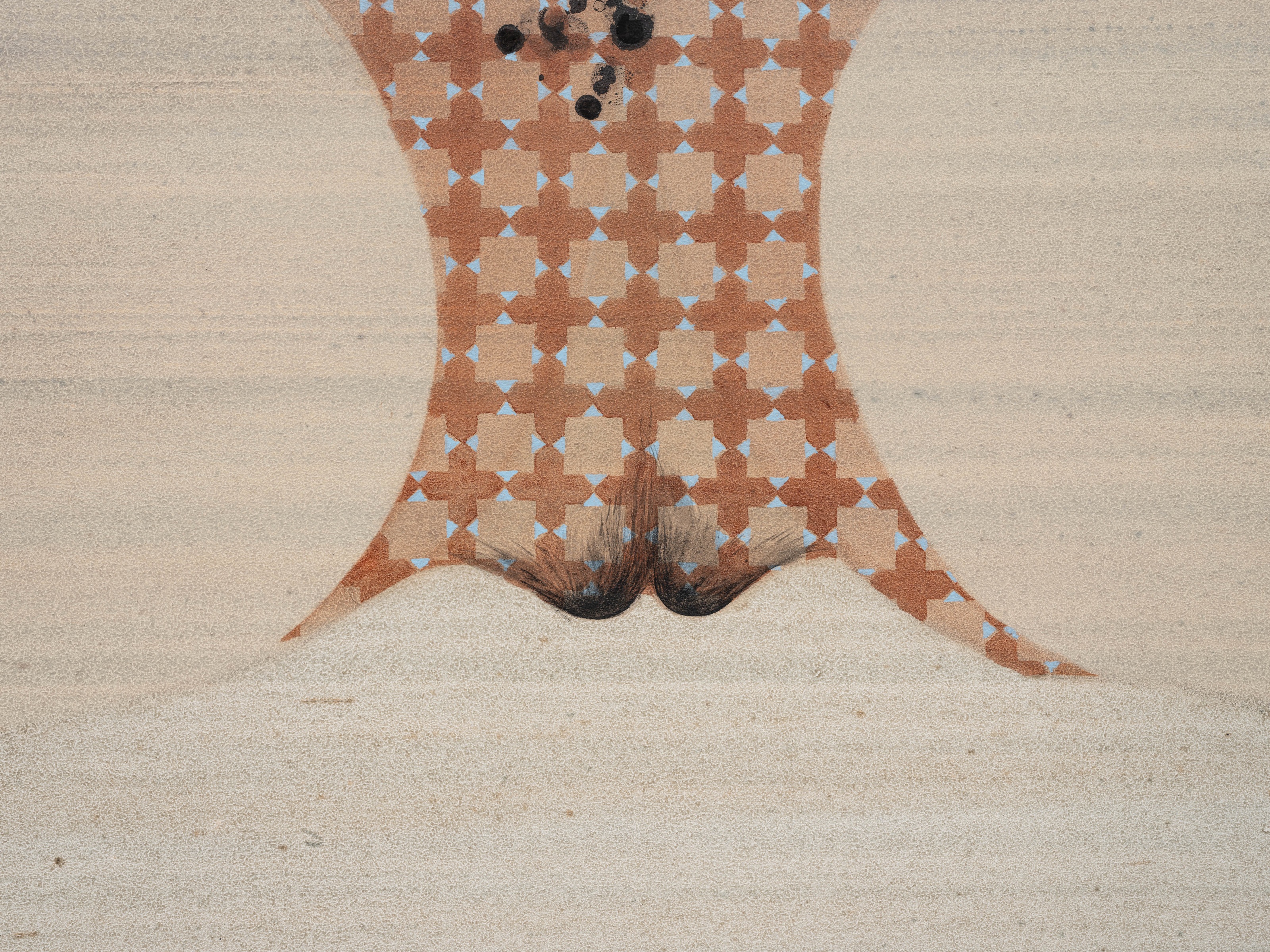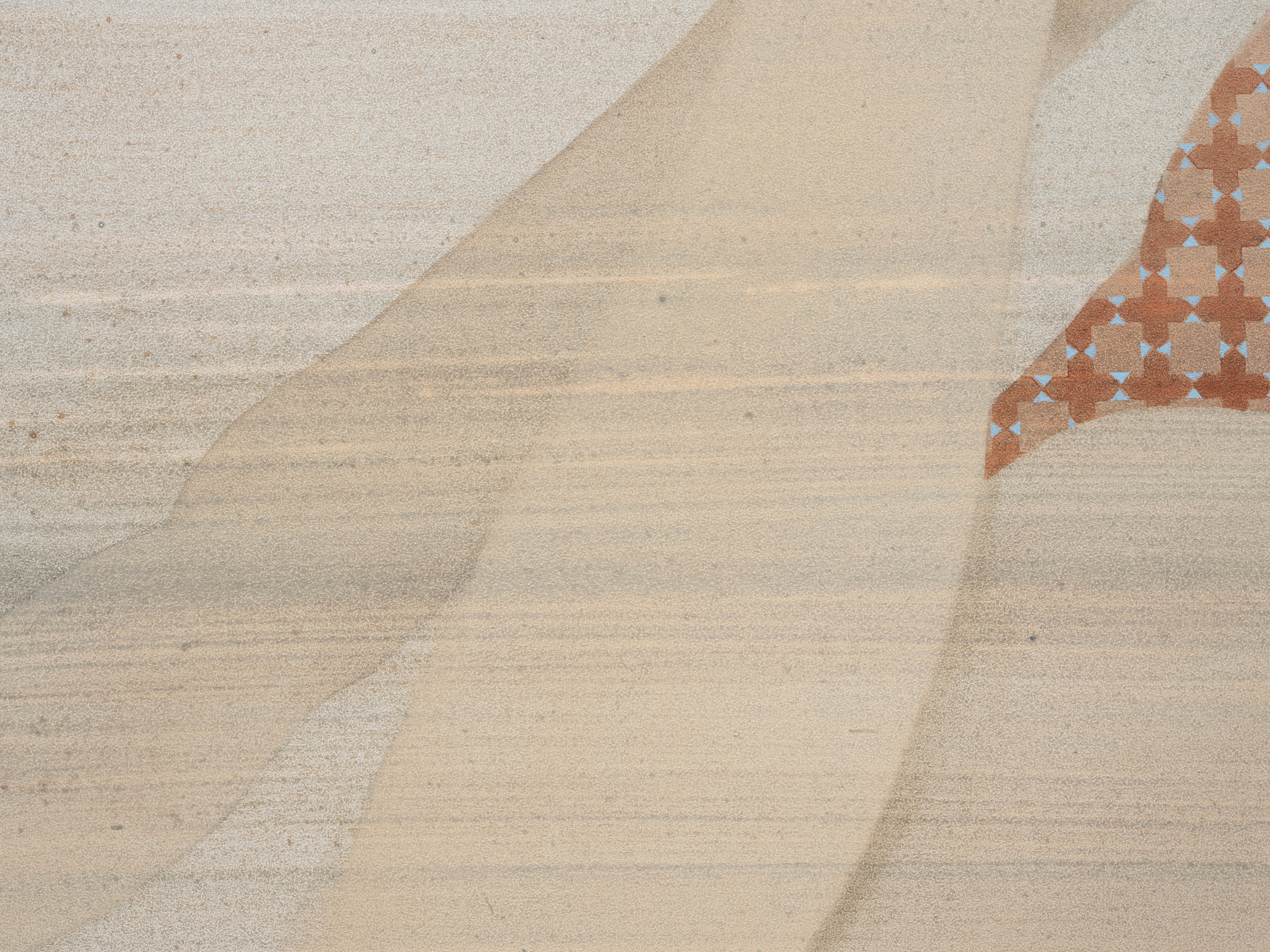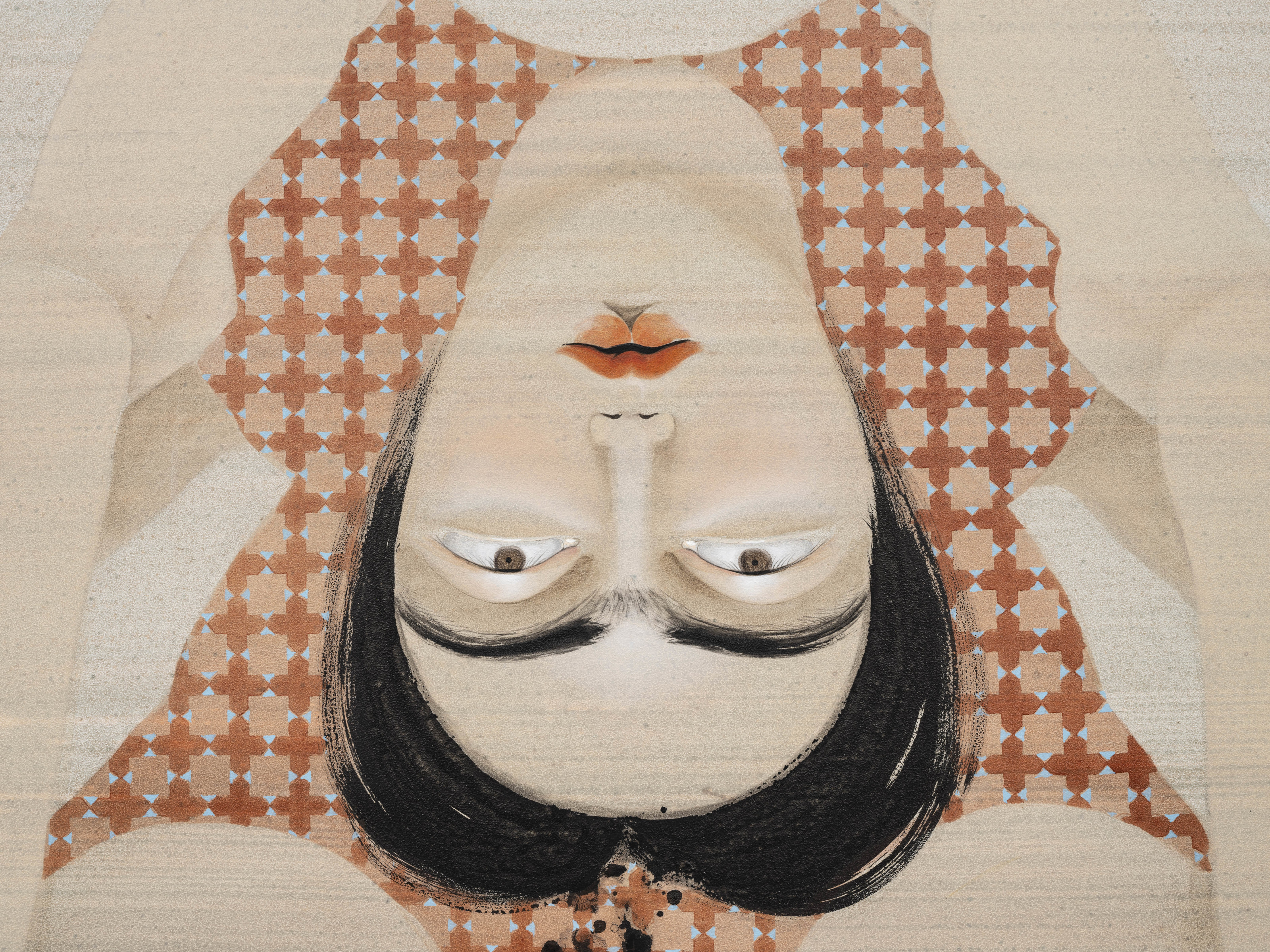 Articulated over a series of large canvases and smaller monotypes, drawings and collages, Robert Reed's Plum Nellie works, made in the early '70s, hold strict forms in playful counterpoint. In the imposing triangular painting Plum Nellie Split, November Reason #2 (1972), raw canvas is the grounds for a negotiation between hard-edged blank rectangles and roiling purple arcs. Arranged like posts and lintels, for all their geometric solidity, the rectangles are literally voids, portals for the canvas to body forth. They extend their presence across the surface through a subtle change of texture from matte to velvet, the ghost of a frame. When he began making the Plum Nellie works at the age of 31 in 1969, Reed was already associate professor of painting at the Yale School of Art, from which he had received his BFA in 1960 and MFA in 1962, and where he would continue to teach for nearly half a century until his passing in 2014. While he made the Plum Nellie works, he was also director of the Yale Summer School of Music and Art in Norfolk, CT, where he invited artists such as Philip Guston, Chuck Close, Sam Gilliam and Al Held to teach.




"Velvet Head is the name of a place that may or may nor exist, possibly a high point in land from which actions and events might be observed. The transparent modulating green washes intersected with meandering lines leave me to muse on the difference between a map and the palpable surface of the land."
– Elizabeth Neel, 2020
"Space and flatness can coexist in this place as ideas and associations pass by like weather. It is both an image of a place and a set of events at the same time. An imitation of reality and the literal record of my actions."
– Elizabeth Neel, 2020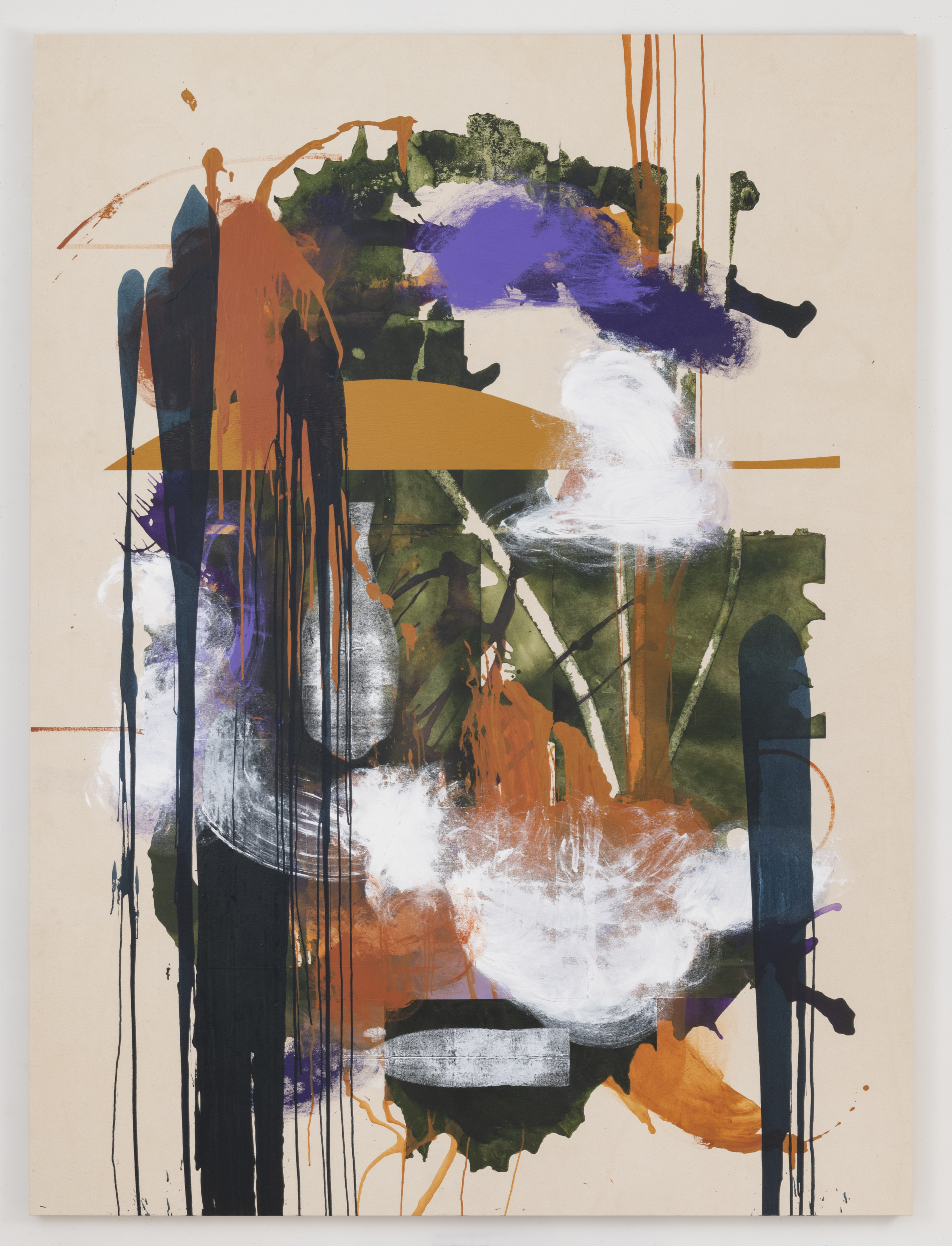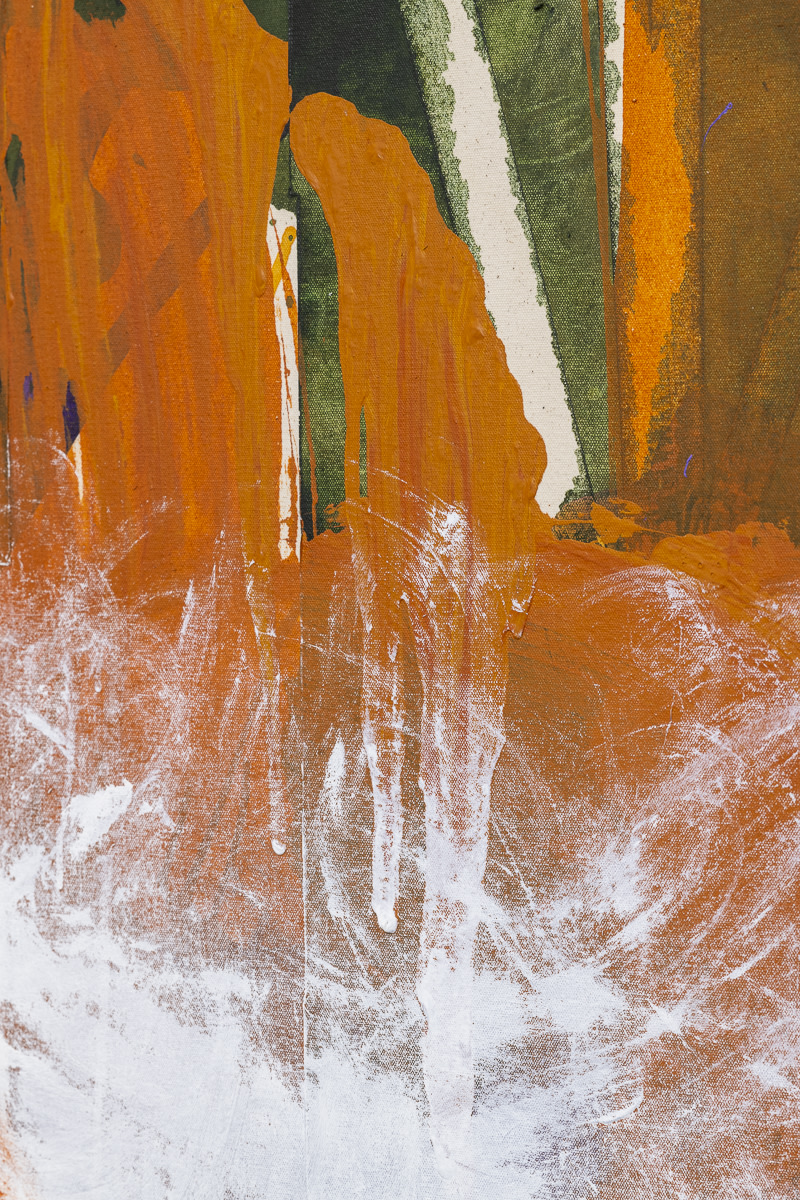 A first generation Greek American and native New Yorker, Gerasimos Floratos' paintings and sculptures play with the idea of site specificity and the notion of what it means to be 'rooted' in a single place. His works employ psycho-figurative bodies as mechanisms for charting space in many forms; psychogeography of the globalised world, societies or microcosms built through commonalities of practice, and the internal space of the mind. For the artist, the slouchy alter egos present throughout his work operate as sites for exploring the relationship between the material and psychological bodies. The coded visual language present throughout his practice is partnered with a unique lexicon from which he draws titles for the works and exhibitions.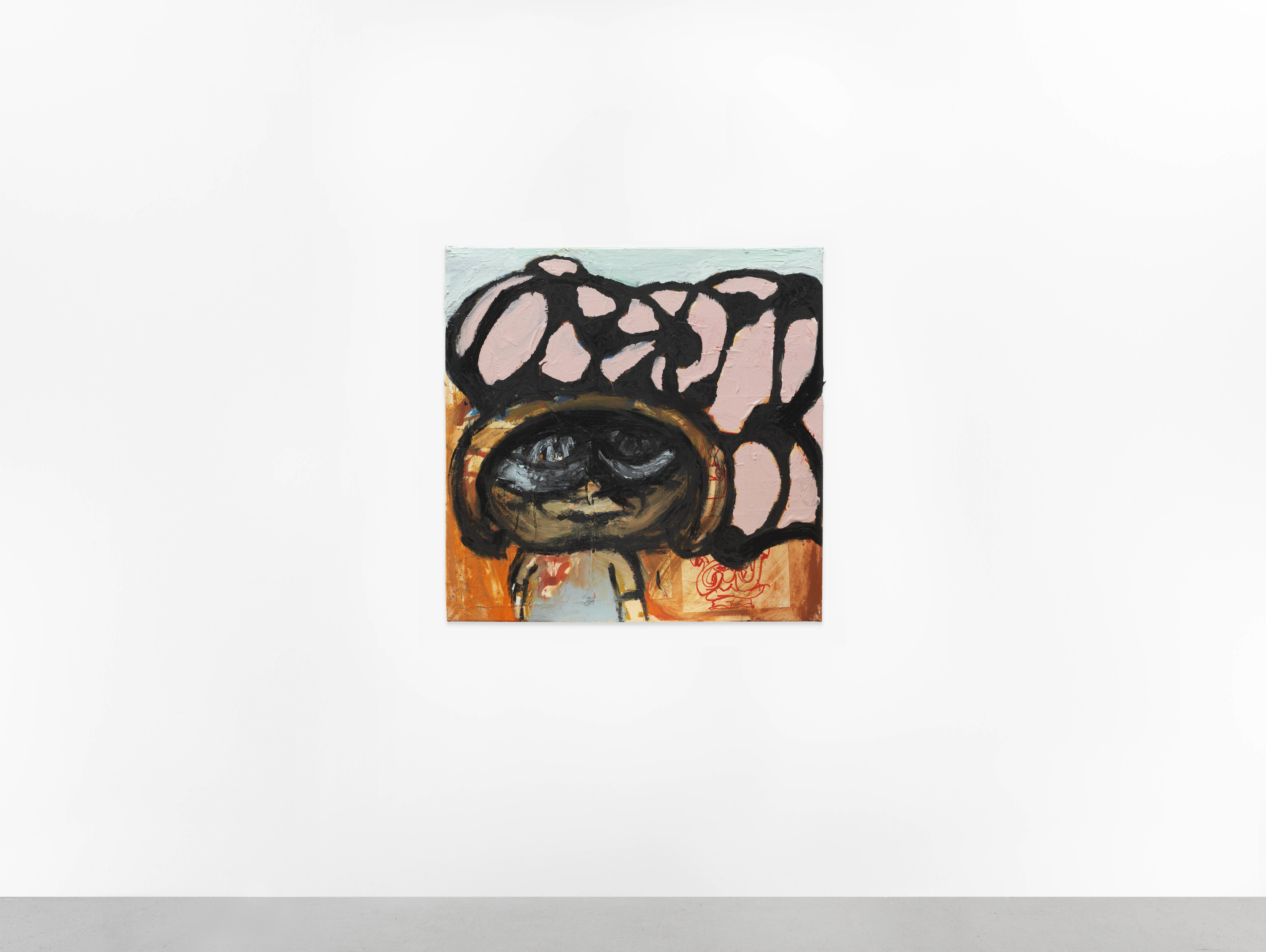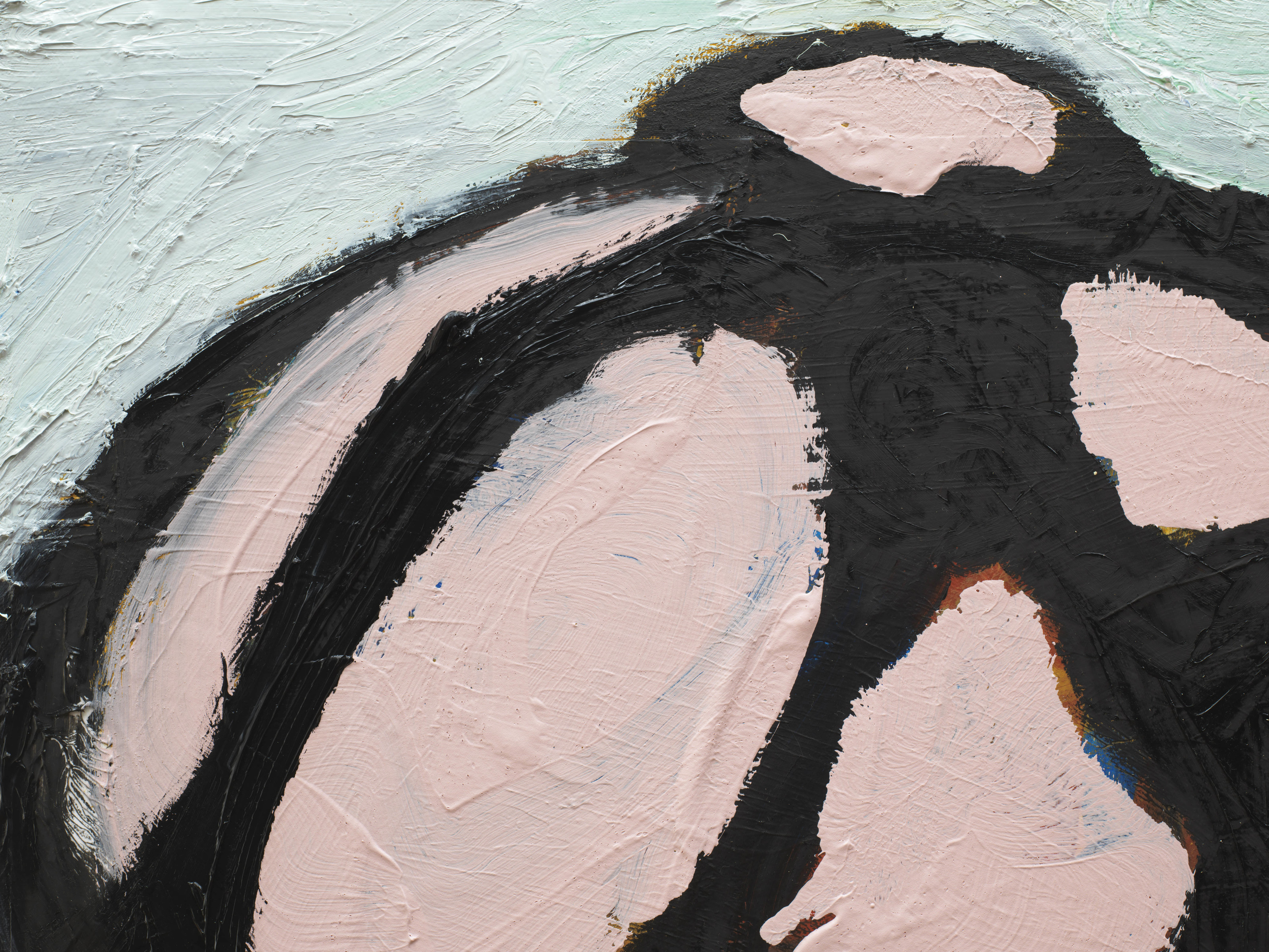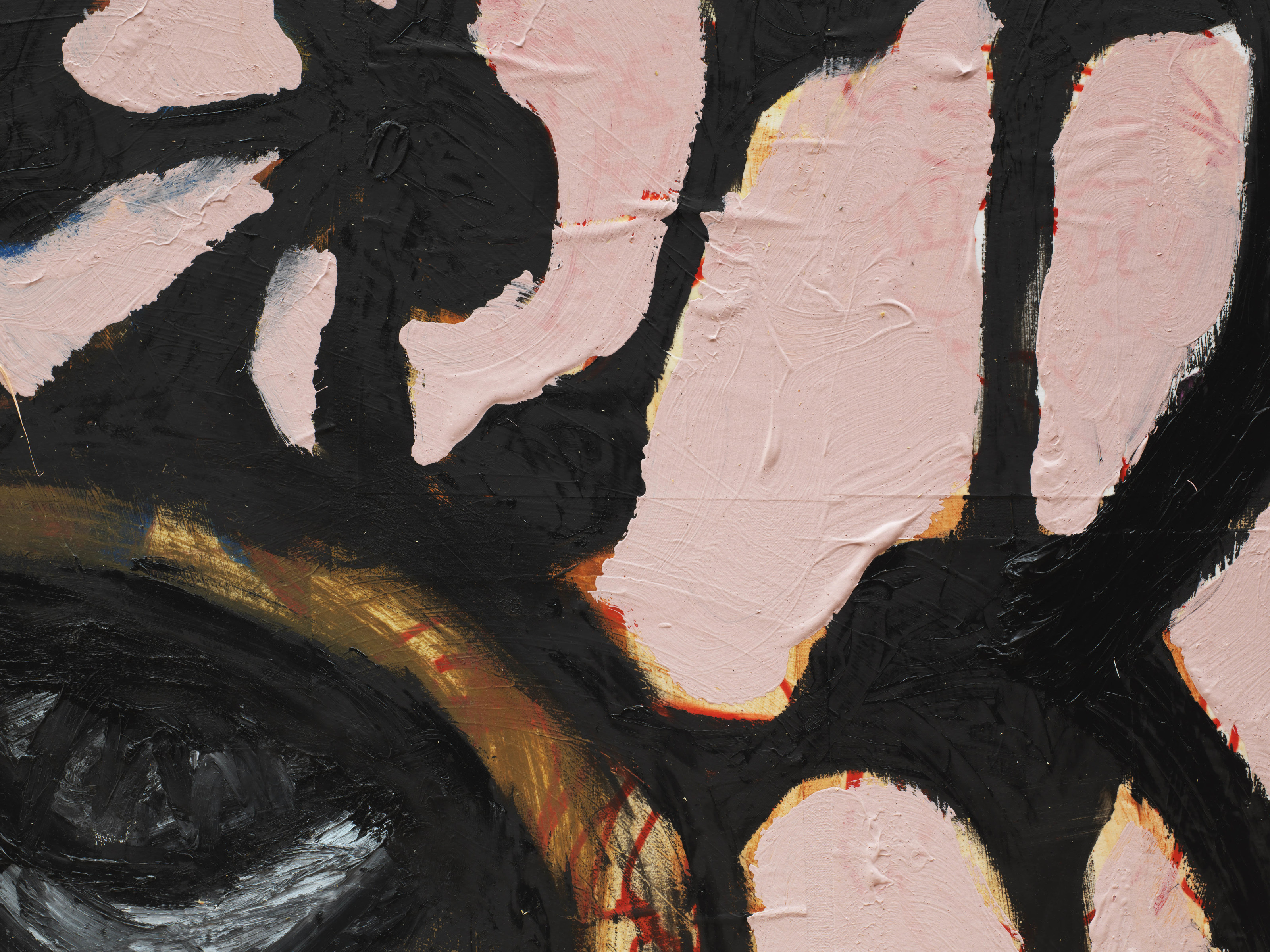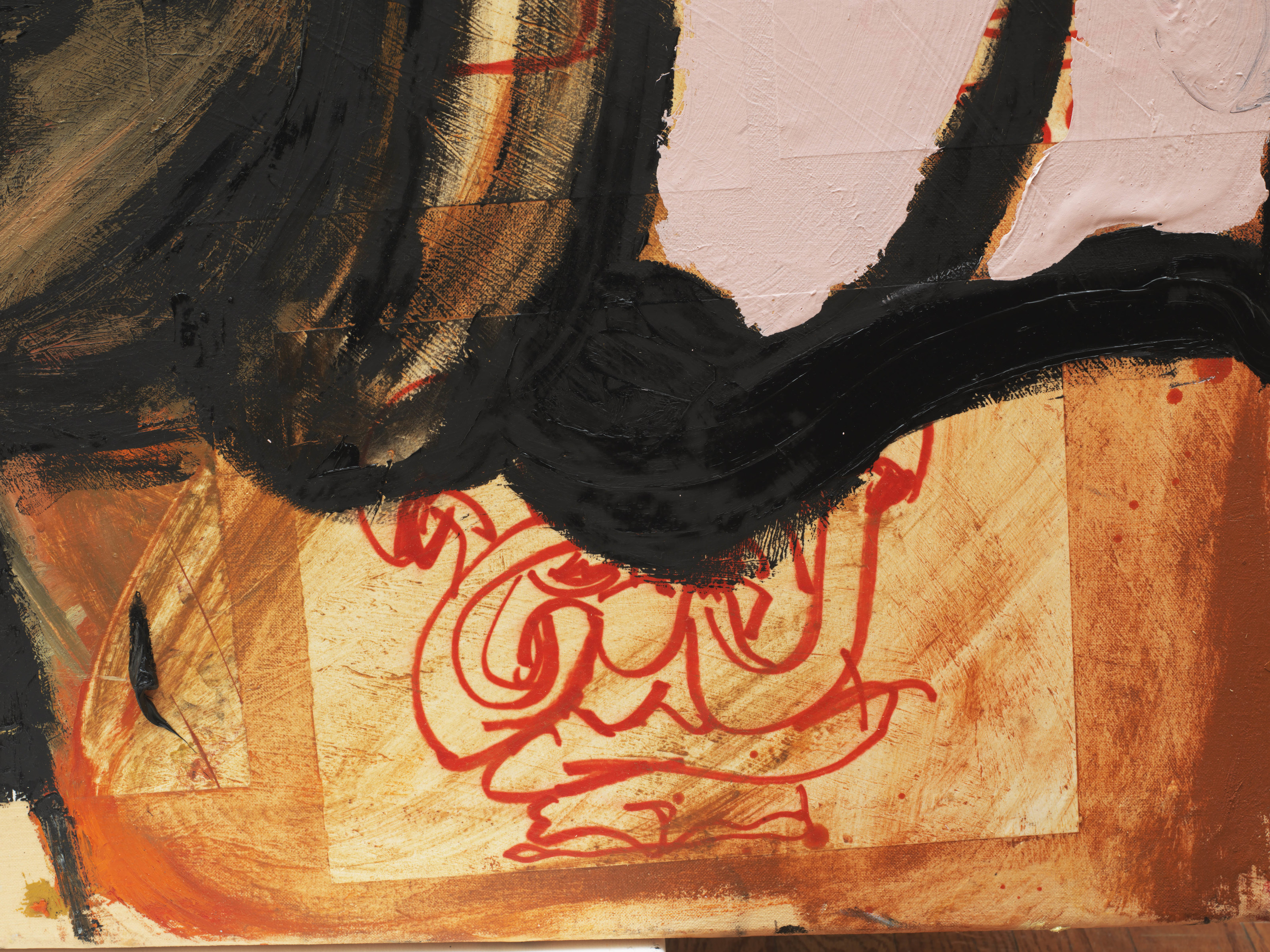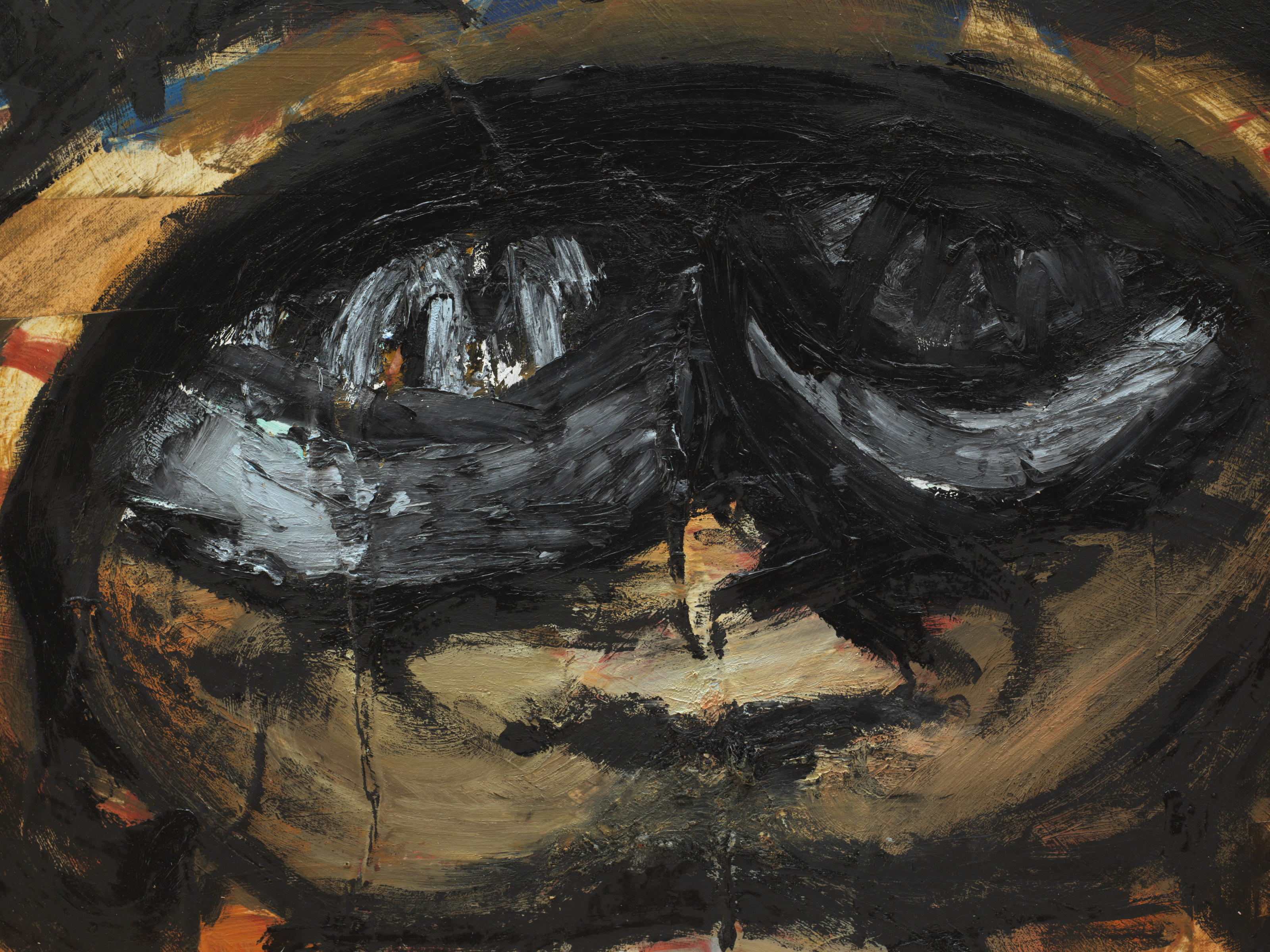 Sophie von Hellermann's paintings recall the look of fables, legends, and traditional stories that are imbued with the workings of her subconscious rather than the content of existing images. Her romantic, pastel-washed canvases are often installed to suggest complex narrative threads. Von Hellermann applies pure pigment directly onto unprimed canvas, her use of broad-brushed washes imbues a sense of weightlessness to her pictures. Von Hellermann's paintings draw upon current affairs as often and as fluidly as they borrow from the imagery of classical mythology and literature to create expansive imaginary places. In subject matter and style, von Hellermann tests imagination against reality.

Several of von Hellermann's recent works revolve around environmentalist themes. American Spirits (2020) was created following her reading of Richard Powers' The Overstory, in which nine Americans band together to address forest destruction. Von Hellermann depicts a crowd of protestors encircling an American Redwood tree to prevent it from being cut down. As opposed to a static scene, she illustrates a fleeting moment of human action punctuated with conflict; the feathers here signify 'birds in fight' rather than the usual 'birds in flight'. Contrasting the temporal nature of the scene, von Hellermann emphasises the enduring life of the tree, and the infinite space of the sky. These products of the earth existed long before the life of these youths, and hopefully will continue to long after.
Mary Reid Kelley and Patrick Kelley


In order to get the level of detail in these portraits that Patrick and Mary wanted, Patrick took 7 to 8 photos of Mary as she stood very still, and stitched the photos together so that the texture of the fabrics, the paint on the skin, can be seen in a way one cannot possibly see them in the films. It's important that the artifice is seen; see how things are constructed, since human beings are constructed through language and history and mythology, and it's the imperfect assemblage of these layers that makes humans interesting. The Hammer museum in Los Angeles commissioned these lightboxes in 2015 to accompany the premiere of the finished trilogy of films.

In this image Pasiphae is poised on the fence, at the point of no return, about to leap into the bull's field. Her costume exaggerates her sexual power. Mary Reid Kelley based the costume partly on Pamela Anderson, a California beach babe archetype. Although Pasipahe's desire destroys her in the end, this image captures the queen at her moment of greatest power, when the dream is at its peak.
One of the things which drove the artists into Greek Mythology is that ancient people seem to have a lot of fun at their gods expense. Gods could be ridiculous as well as powerful. Since the ancient Greeks loved athletic contests, we see Priapus in costume as a volleyball hero, with high top, sneakers and knee pads and sweatbands; lifting a volleyball that is a pun on another ancient god, Ba'al.

Cui Jie applies various layers of images – some realistic, some imaginary – on her canvases, exploring multiple perspectives of various locations simultaneously. Each layer is meticulously executed to represent the transformation of China's urbanscape. Painted with calculated and deadpan brushwork combined with a warm and affective palette, Cui's landscapes and interiors make comparative studies of cities as distinctive models or laboratories of China's open-and-reform policies. This is depicted as a personal history informed by the aesthetic madness in one time and place, ranging from the architectural confusion of Bauhaus, to Chinese propaganda, and to Soviet communist aesthetics. In essence, Cui Jie's painting is a time capsule that re-imagines the past and the present.

"I study architectural surfaces, architectural texture under sunlight, especially the reflection of exposed metallic structures. I carefully examine the texture within, but not with my eyes; the reflection is too strong. In that moment of reflection and moving my eyes away because of it, I feel something very strong, and in the blink of an eye it becomes possible to examine the texture acoustically or bodily."
- Cui Jie, 2020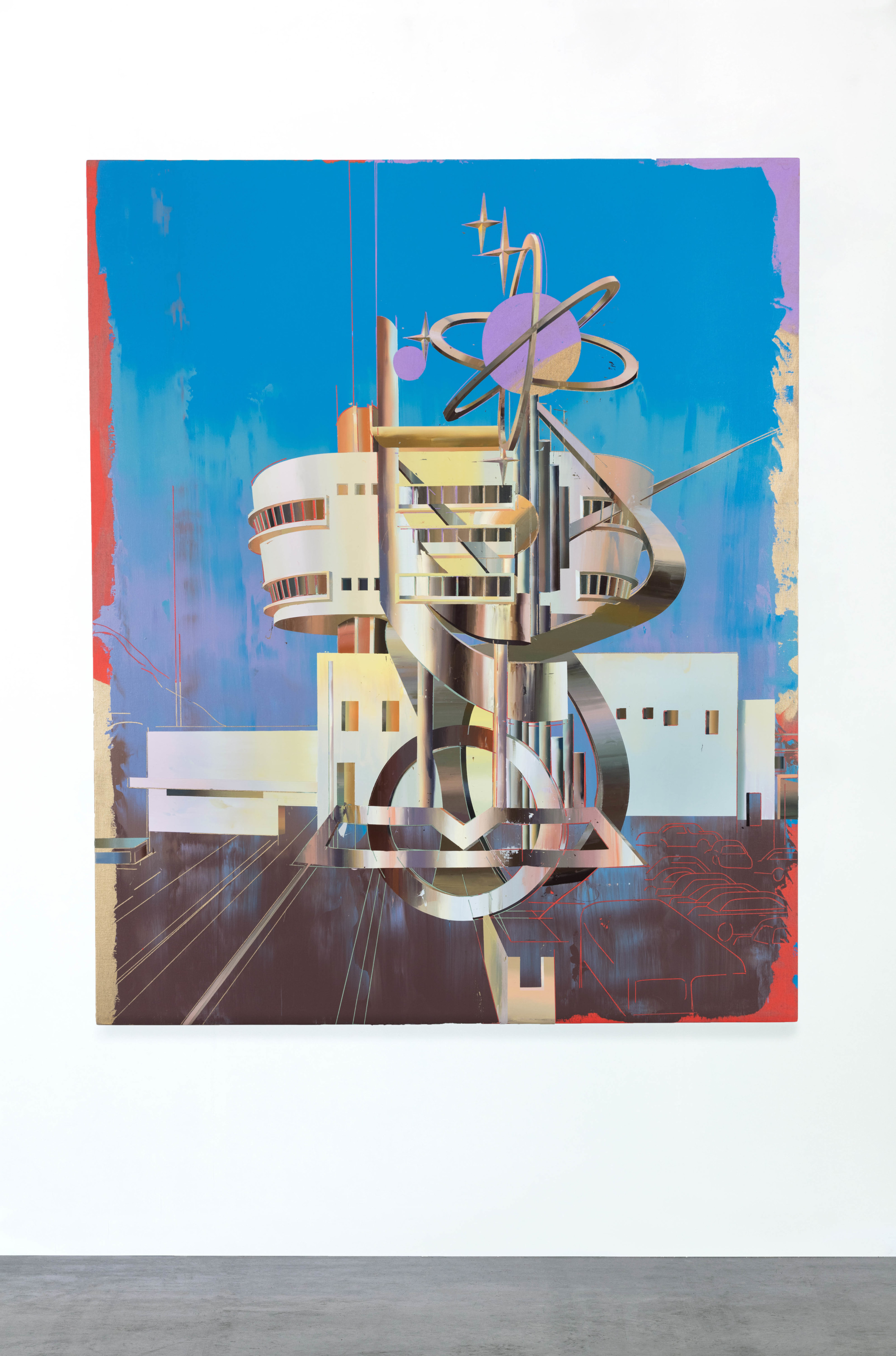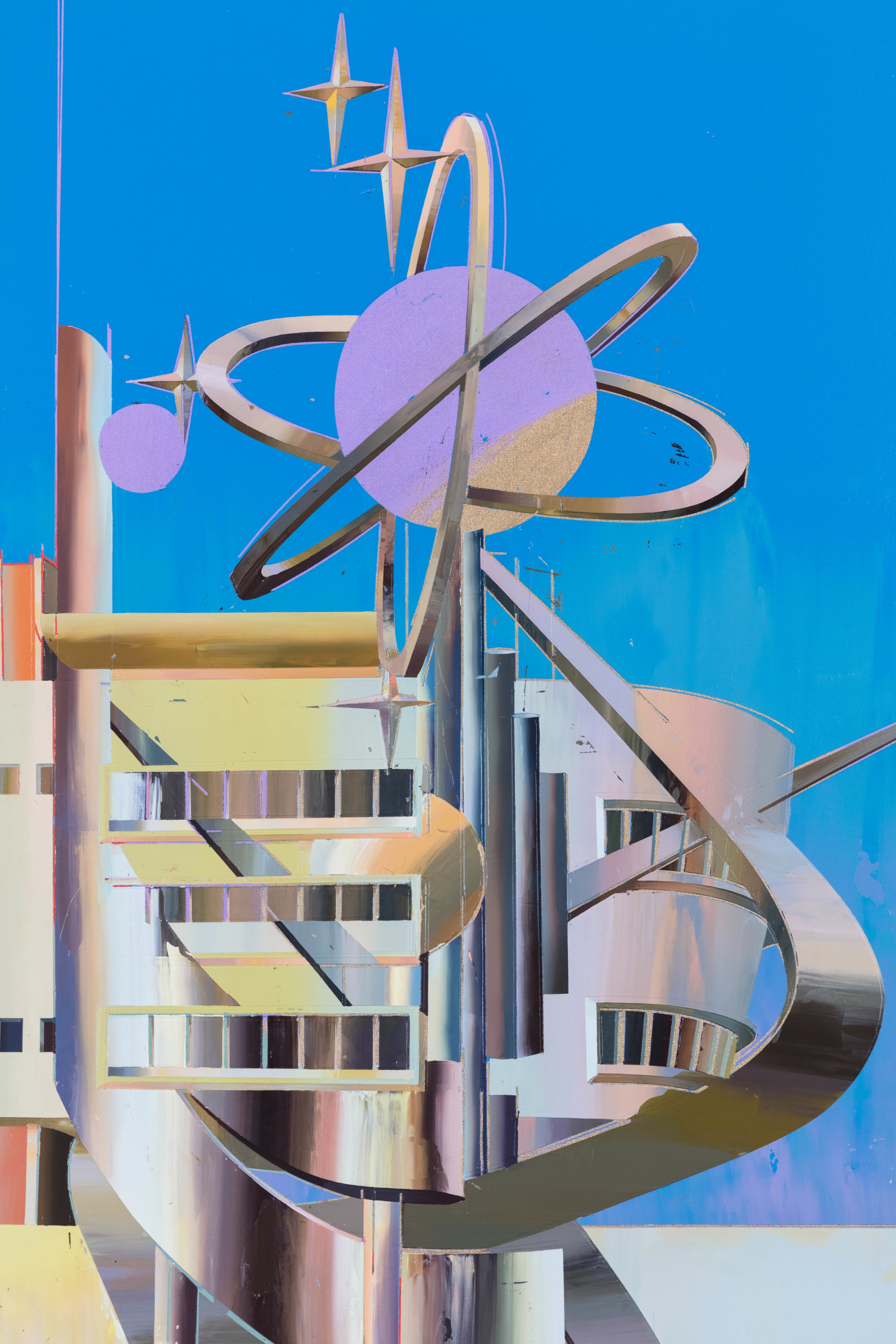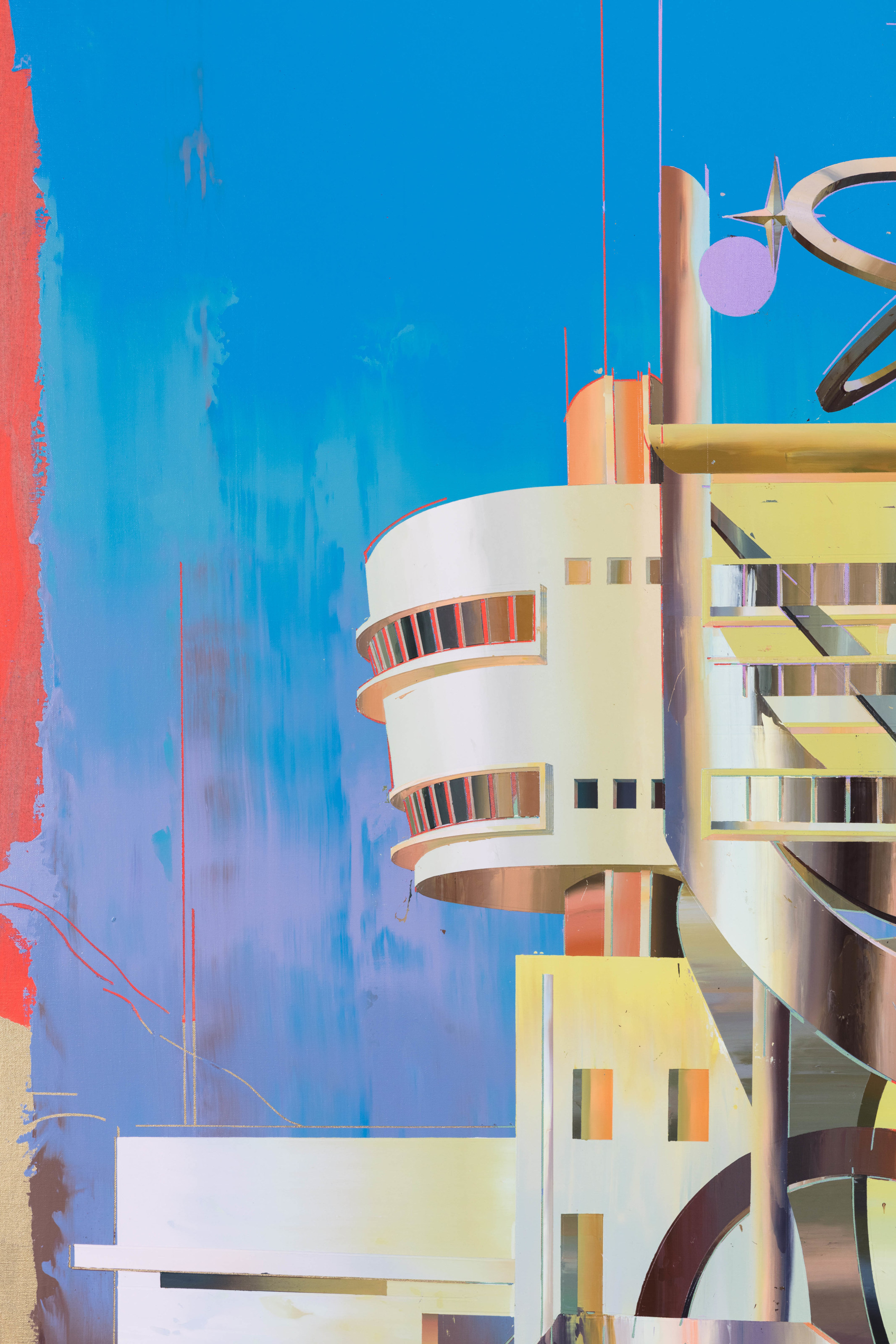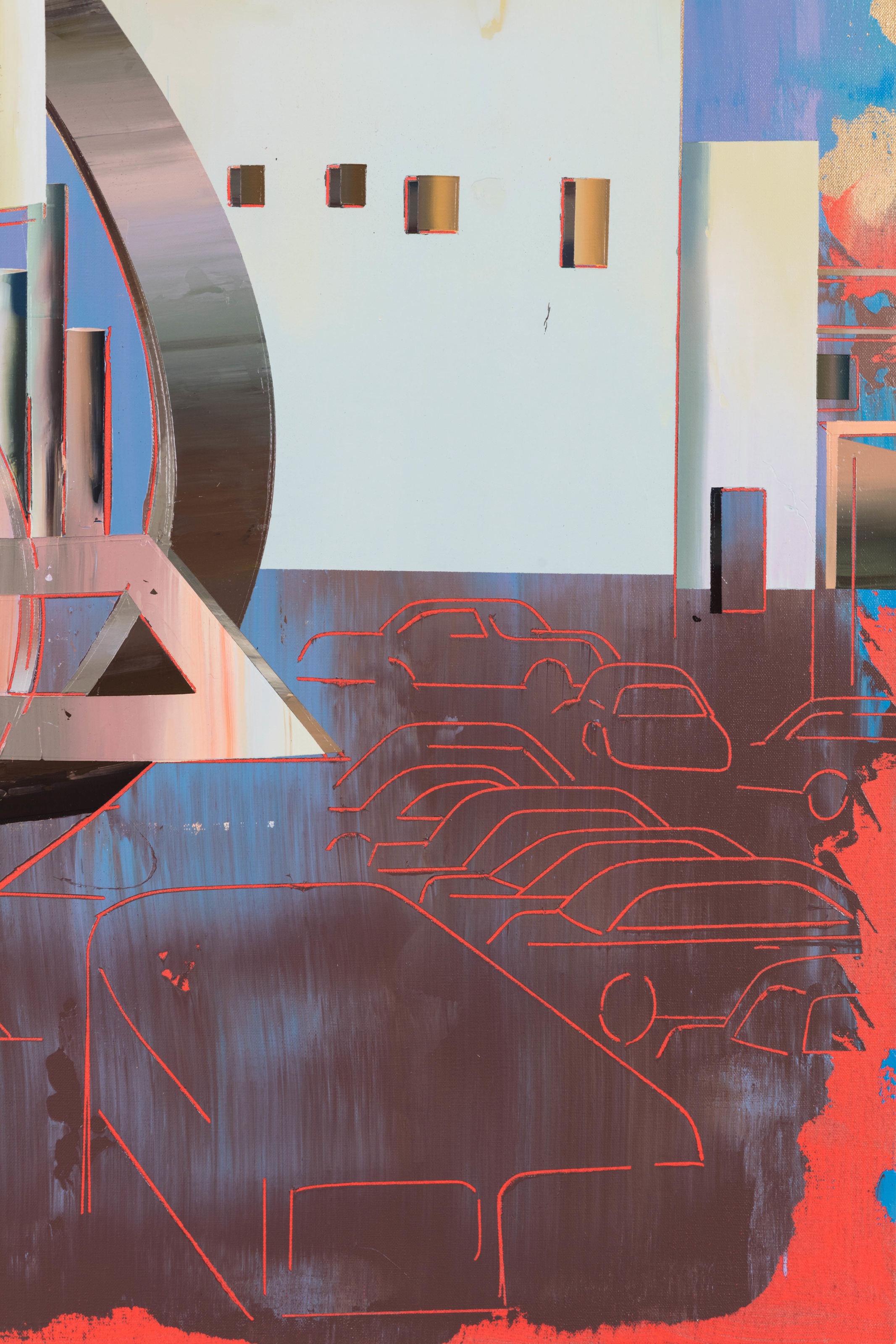 "Dance is the inner will and try of the human dream to wind's gravity. With dance as ritual we can repeat moments in our life and get them to consciousness. Rituals can help us understand the world, the time and our existence. Rituals make a connection with ourselves with the elements that have never changed. Dance is always an expression. We either dance or we don't dance. Dance is the only thing that is connecting us at the same time with time and space."
– Ulla von Brandenburg, 2020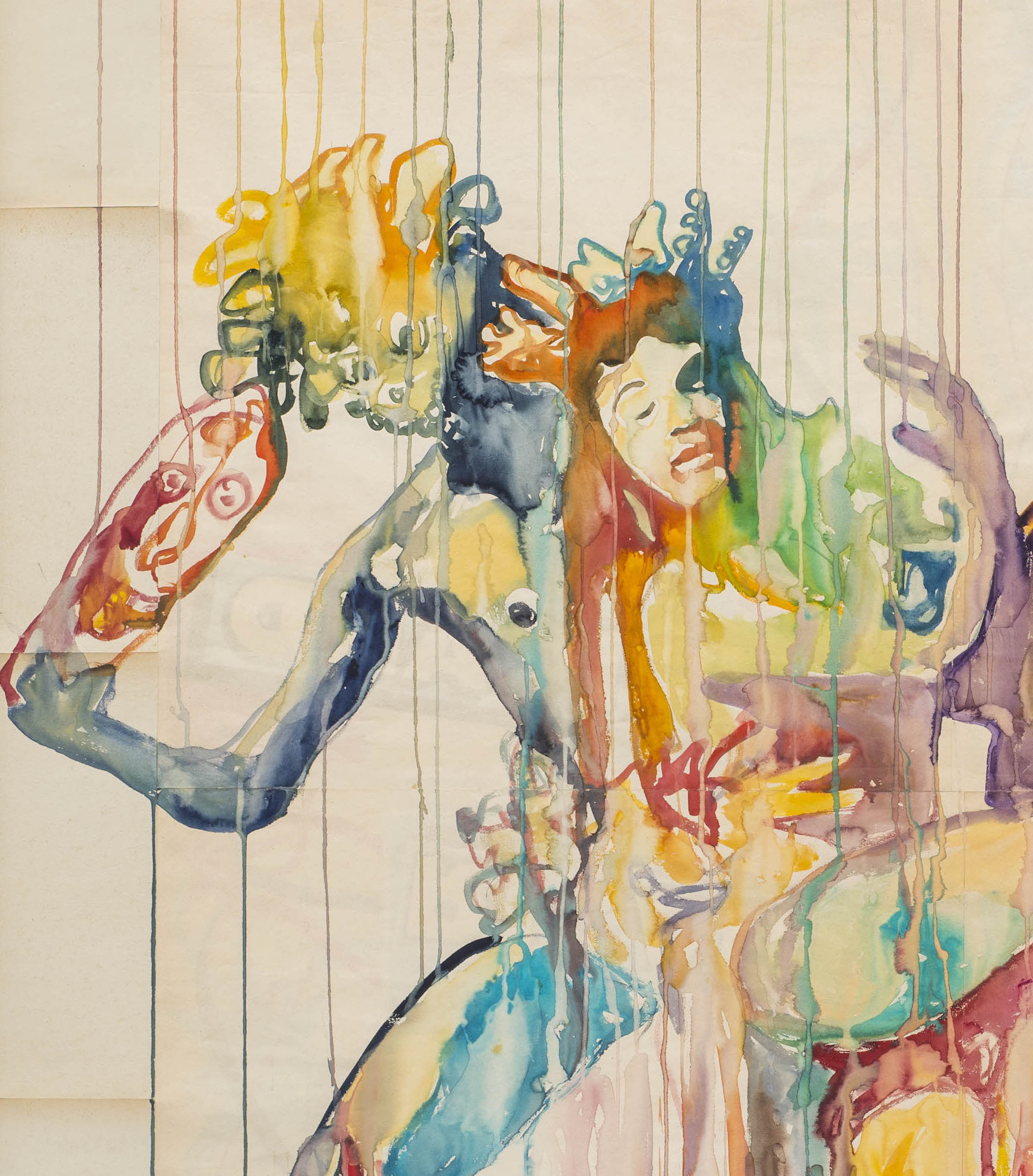 Cytter's films, video installations, and drawings depict social realities through experimental modes of storytelling. Her work explores the boundaries between reality and fiction. Cytter's drawings, which are filtered through different styles and themes sourced from her environment, retain the characteristics of her oeuvre. As with her films, she depicts familiar objects, which are dissected and distorted, while enhancing an awareness of the process.