Viewing Room
12.04 - 12.05.2021
Ken Okiishi
Revisiting: Being and/or Time (2013-2016)
"A cascade of images, uniting art and information, memories and documentation, the meaningful and the banal." –The New Yorker
Being and/or Time
Ken Okiishi, 2013-2016
Ken Okiishi's

Being and/or Time

consists of every photo and screenshot recorded on Okiishi's phone over a period of three years (2013-2016), flickering in chronological order at 24 images/frames per second, with over 25,000 images in total. The compression of existence in the digital/IRL era, when the body was required to be as if everywhere at once, finds its recorded time-image. The artist made the work in a period of total cognitive breakdown, in a process Okiishi has described as "attempting to re-enmesh externally stored image-memory with the internal experience-memory of the brain."

Why revisit this work now?
When Pilar and I were talking about what to show in this traumatised, new but also oddly archaic world we find ourselves in at this point in the pandemic, I started thinking about how the processes that so many people have been going through in relation to memory and experience were similar to processes I went through when making Being and/or Time, in 2016, when I was facing total cognitive burnout.
In the midst of the relentless travel requirements of being "successful" in a world where economic and technological expansions had managed to align all data streams at the speed of thought
—

and our bodies and political systems just had to magically catch up somehow

—

my brother suddenly died. It was the summer of 2016, and my reality shattered. He had been instrumental in developing the analytical and mobilisation capabilities of the surveillance state apparatus for the USA government

—

and you can imagine that we did not often agree on very much, although he was, obviously, extremely brilliant. And as I tried to mourn his death, I found that I also had to deal with ways in which the technological, political and psychological were intimately entangled in my family, as what was happening in a world that was clearly spinning out of control, in general, was directly affected by what he did on a daily basis when he died suddenly and tragically and with a brain that was clearly more than overloaded, that physically could not take it anymore.

I was finding that I could not even readily recall what had happened the week before
—

literally, where I had been and what I had been doing. And I also could not put into sequential order anything

—

like, you could hand me a list of places I had traveled to in the last month, and I would fail a basic test of putting them in order. Now, I know this can sound like an individual psychological and/or neurological problem, but the more I talked to other people, the more I found that everyone was having the exact same experience, whether or not they had had a localisable recent psychological trauma. Being alive in our contemporary world, it seemed, had taken on aspects of being traumatised and needing to "recover," over and over, for everyone I spoke to.
There is something about how Being and/or Time functions like descriptions of what the brain does right before death
—

this flashing of a totality of life. I remember a lecture by psychoanalyst and artist Bracha Ettinger, where she described suicide as an inability to find the appropriate passageway between the necessary death of a harmful life situation and a different life situation. I was suddenly reminded of this as these portal/tunnel/maternal/matrixial metaphors started circulating to describe the processing of the ruptures incited in 2020 via the pandemic

—

most notably in the widely read and circulated essay from April by Arundhati Roy that I first saw on those amazing "ICA daily" posts. "But the rupture exists. And in the midst of this terrible despair, it offers us a chance to rethink the doomsday machine we have built for ourselves. Nothing could be worse than a return to normality. Historically, pandemics have forced humans to break with the past and imagine their world anew. This one is no different. It is a portal, a gateway between one world and the next."
The experience of the digital/image/internet/self-optimizing/neo-liberal economy time-space, was one where all aspects of being tried to reach the speed and efficiency of non-being: where electronic signals in cables, through illuminated screens emitting light rays, syncing billions of brains together, tapping the screen with the haptic memory of a drum, into the constant re-wiring of our brains, yearning for faces and bodies to appear, to instantaneous speaking and the touch of skin to skin, the kiss of hello, with the immediacy of breath from across the room, at all times everywhere. And the total breakdown of that world, via the brain hacking facilitated by the "social" media of the behemoth economic engines and propaganda/advertising regimes, and a viral attack of natural systems gone haywire in these new proximities, climate emergencies and outmoded political orders and systems of governance.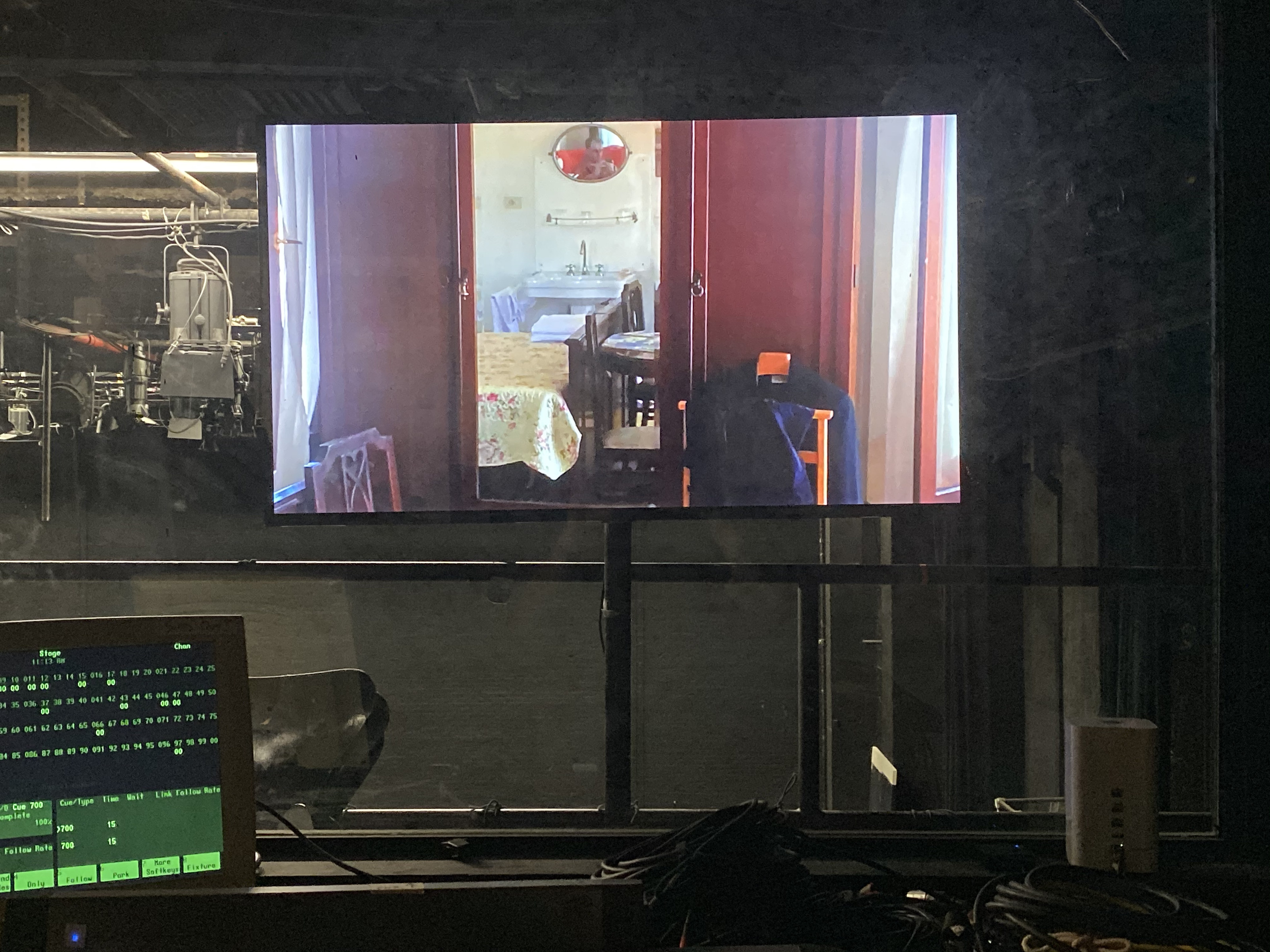 I know you don't like to talk about the technical aspects of making your work, but with this work, that process seems highly significant
—

like in a cognitive neuroscience experiment.
I started with a small batch of images from my own phone
—

something like 700 (the final work is made from more than 25,000 single images). And I placed them, in chronological order, in a video editing program. I then experimented with different speeds-and found that transferring files between a few different programs was necessary in order to process this quantity of data in a way that played visually at this speed as if nothing had been done to the images.

As I watched the playback, I noticed that my mind started to feel like it was sewing together something
—

that the present experience of my life was getting rebuilt together somehow, a bit like what dreaming feels like when it works in a restorative way.
In relation to the formal properties of cinema, I kept trying out different numbers of images per second
—

but kept coming back to the standard 24 frames a second used in film and animation. This number seemed to produce the most uncanny sensation in my mind

—

or like it activated borders between processes in the most generative or even reconstructive way. It caused my brain to do the most pleasurable kind of work of any of the image speeds

—

something like the way stretching feels good but also hurts a bit when you haven't done it in a while. And I was reminded that this frame-rate number had been arrived at, in the early days of cinema, as a compromise between what the brain will perceive as motion versus still images, ideas of human biorhythms and practical technical considerations for projectors and cameras. So, by now, it is culturally learned as the flicker of "old" animation and celluloid film

—

but is also rooted on various thresholds of the brain's hardware.

The speed of 24 frames a second worked, in Being and/or Time, with these sequences of still images because some of them photographed the same place/objects/people in multiple, closely proximate framing (producing a sense of animated motion) while others flickered between wildly disparate scales and places, such as Hong Kong/Milan/Vienna/NYC/Vienna, in a few seconds. Both time spaces and dimensions would happen in the same sequence of images, so the forward motion of animation would have this interference pattern of other data appear in the same visual thought.
When I first showed the work in NY (in January of 2017), I was interested in hearing how people responded to viewing it
—

what they saw, when, obviously, the images are not from their life! Many people commented that the work activated memories of their own image streams, that they knew exactly what "that" felt like. Some said they were unable to process this quantity of specific images, but also could not look away, since they were transfixed by the density and the way it brought to mind their own external (phone) image-memory, and a certain kind of ordering or tunneling process happened when they looked at the work. It was as if their own individual, externally-stored image-memory was re-enmeshing with the internal experience-memory of the brain. For some, viewing the work generated sensations in the brain like it had with me, and it became something like the way dreams process life experiences, but as if viewing that processing in dreams externally from the body and in a state entirely different from being either fully awake, dreaming or even half-dreaming.

Where does this way of working come from?

This way of thinking the time-image comes out of studying with Robert Breer at Cooper Union
—

who, in his own work and thinking, brought a continuum of sequential aspects into simultaneous fields of jarring heterogenous elements, as if a film can produce mental image events in multiple tracks and dimensions at the same time, and the rapid flicker of difference must process, in the brain, up against and at the same time as continuous, smooth space. Blazes (1961) is still my favorite of his films.
He would make his films shooting index cards onto film shot one frame at a time
—
and then, when the print was run through the projector, this intricately constructed counterpoint also had the flurry of the unconscious and aleatory. This is also where thinking the construction of film as still images imagined in connecting nodes that leap in differential sequences, gaps, rhythms across the time of one continuum of fractured experience has its roots.



These eight seconds demonstrate some of the ways time functions in

Being and/or Time

(2013-2016)

.
The beat of the frame, like the forward movement of time as measured in the equal beats of the clock, is the first level of time. This kind of time moves forward in exactly the same way without regard to experience or events or the distinction between existence and non-existence. The dates locate the stream of images in the time-space of the subjective experiences that occurred at the time of recording the image, in a second, irregular and sometimes distended notion of time. This is the time of experience that becomes filtered through the irregular beat of memory/recall/playback. The place names locate the third level of time, where time was being short-circuited "live" via the rapid travel schedule of a fall art opening season, and the necessity of appearing in multiple parts of the globe at the same time. This was the new level of time
—

where the body attempted to travel like images on the screens of social media posts, which were attempting to move at the speed of thought. Throughout Being and/or Time (2013-2016), screenshots of newsfeeds appear as an interference pattern on the recording of existence

—

in a time-image held in a perpetual state of crisis.
The title references Heidegger's 20th century philosophical tome, Being and Time (Sein und Zeit, 1927). Can you talk about the relationship to this?

The relationship to Heidegger is not exegetic in the traditional sense of extending ideas, or reading sections and commenting and critiquing, but by inserting a flippant "and/or" points to the non-philosophical, or unhinged, nature of existence in the period in which I made the artwork. It was as if you could exist, or not exist, or be half a zombie, or whatever, as long as the body and face were present, and the flows kept liquifying and discovering new situations to liquify, and the actors in the necessary scenarios produced the right amount of froth, and we all had to align with the images and sensations that appear on the screen of continuously refreshed minds and bodies instantly, anywhere. Being and/or Time, as if any term could replace another or become another term in the sense of "it doesn't matter, whatever works." The expendability and interchangeability of everything in systems where flows and consolidations of power rely on rapid elimination and optimisation, as a promoted "happy look" of a desirable life shell to inhabit for the actors needed to activate and maintain these systems of value aggregation.

The operation I do on the title, while flippant, also echoes the violence of the flippancy of the world in which we lived: to insert an and/or is also to engage in something that would destroy the possibility of thinking. What would happen if terms could slide and substitute for one another arbitrarily, at convenience or in a fit of rage? Or if discourse obeyed entirely other matrices of desire disentangled from all shared forms, in a constantly shifted terrain of power grabs?
Or, as we have experienced very specifically in the USA recently: what if all terms/bodies/systems were ripped from any intelligible context in order to support forced narratives designed to positively affect an increasingly limited number of people with a totalised disregard for the distinction between life and death for anyone else?
Being and/or Time recorded the old new world as it happened. I'm curious to watch it now, like watching a dream outside a body we no longer have access to.










About the artist
Ken Okiishi takes up and troubles the vocabulary of the media that he uses. His works hover over and within relationships between matter and memory, perception and action, image-networks and media systems. He generates moments when language and images begin to fall apart, inciting glitches that illuminate spaces for the production of something other than what has already been.
Learn more about the artist here.