Viewing Room
24.06 - 13.07.2021
Tschabalala Self
Repetition and Community in the Work of Tschabalala Self by Claire Gillman, Chief Curator at The Drawing Center, June 2021
Repetition, long considered the purview of artistic mediums like printmaking, photography, film and video, is less typically associated with drawing, the art form that, more than any other, is synonymous with the unique, personal impression registered in the moment, and once and for all. And yet, this view is predicated on a particular notion of repetition, one that equates repetition with simulation and stasis, and that fails to grasp the movement and change that any attempt at manual reproduction necessarily implies. In the words of French philosopher Gilles Deleuze, to repeat is not to generate a series of empty signs that undo singularity. Rather, "repetition as a conduct and as a point of view concerns non-exchangeable and non-substitutable singularities" that reject the very notion of a "perfect" model or essential rendition or meaning. According to Deleuze, repetition is, in this sense, a "transgression." It introduces "disequilibrium" in a process that is predicated on real movement and that understands repetition's assault on originality as the precondition for true collectivity.
It is in this spirit that I approach Tschabalala Self's recent body of work, a series of drawings and videos—as well as a work in sculpture and neon—inspired by the publication of Angela Davis's landmark essay "Art on the Frontline: Mandate for a People's Culture" by Afterall books for which Self was asked to provide the illustrations. In the essay, Davis asks how we create true social consciousness to which Self responded with a series of portraits of three individuals repeated multiple times with slight variation. Writing about this series, Self observes: "The series entitled 'Black Faces' shows the various expressions of 3 individual subjects. These subjects stare inquisitively out of the picture plane at the viewer and perhaps one another. Collectively the works emerge as something greater than their individual parts. Together this grouping becomes a community of sorts with a shared social consciousness. Their gazes shift in moments from disdain, to joy and even mockery -- mimicking the various ebbs and flows of any philosophical didactic."
Self produced this series by first enlarging original drawings as ink jet prints and then adding colored pencil, acrylic paint, gouache, and charcoal to the resultant surface so that it is unclear which marks are first and which second-hand. Neither do the marks stay "in place," migrating as they seem to do from one face to the next. Here, a thin, loose, looping line defines the tangle of a female figure's top-knot as well as the contours of her cheeks and chin. There, it articulates a male figure's facial hair as well as his round apple cheeks. As these figures repeat with varied hues and expressions, we become cognizant of a group of individuals who are inextricably connected and ever-changing. Identity, Self's portraits suggest, is not a stable, self-enclosed phenomenon. Rather, it fluctuates and grows. It is a process of accumulation and layers. And it is also dependent on self-presentation. In Black Face with Rainbow Swirl Vivid, the male face appears on a lime-green-painted piece of paper "collaged" on a rainbow ground. With his yellow-and-pink spiral cheeks, rosy lips and fuchsia hair, he is exuberantly present. And yet, his presence is cosmetic, refusing penetration as his washy face sits atop his transparent green plane superimposed on a similarly washy ground. As titles like Black Face with Rainbow Swirl Vivid, Black Face Lil Pink and Black Face Gemstone indicate, these subjects form a community distinguished by external display and fashioning. They are "in common" even as they show their individual colors.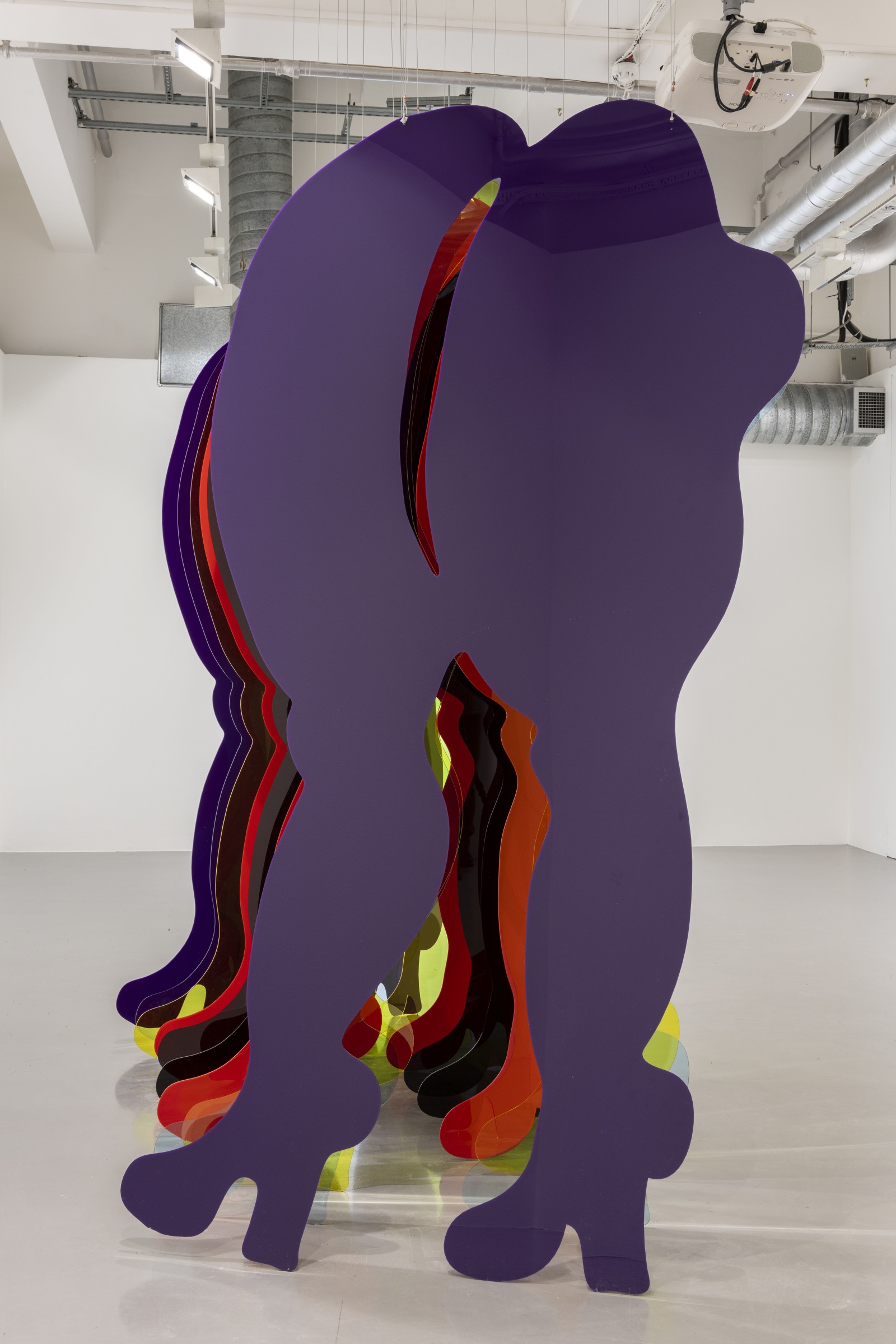 And these individual colors both do and do not represent the subjects they define. This is pointedly evident in the stop-motion animations Self made to accompany these drawings, one in bold color and the other comprised of a sequence of simple black-and-white contour drawings. In My Black Ass, a nude figure executed in pen outline with bright color accents gyrates and twerks through a sequence of pulsing frames, turning her smiling face forwards and backwards her behind proudly splayed. Twisting and turning, this dancing figure projects uncontainability, self- confidence and joy as she assumes control of her flickering, metronome-like presentation. It is as though one of the five figures featured in the black-and-white animation Okay has come to life, now zoomed-in on and in vivid technicolor and we perceive the individual within the collective and the collective within the individual.

Repetition and imitation are productive forces here just as they are in the world wherein true collectivity is grounded in inheritance and exchange. Hers is an endless dance hardly confined by the video's short duration. Like the iterative figures in the drawings, she is both open to us and protected beneath her make-up and shifting frames; at once wholly present and uncontained by her animated incarnation. The constant movement forwards and backwards that Self articulates in this series—the circular motion that resists absorption and resolution—is the stuff and substance of social life.


Tschabalala Self
Tschabalala Self builds a singular style from the syncretic use of both painting and printmaking to explore ideas about the black female body. The artist constructs exaggerated depictions of female bodies using a combination of sewn, printed, and painted materials, traversing different artistic and craft traditions. The exaggerated biological characteristics of her figures reflect Self's own experiences and cultural attitudes toward race and gender.
Find out more here.