24 - 27.03.2021
Art Basel Pioneers 2021
Hayv Kahraman: The touch of Otherness (second iteration)
Pilar Corrias is pleased to present 'The touch of Otherness (second iteration)' a new body of work which continues the artist's exploration of the parallels between the politics of the individual and the rhetoric of immunology. Through her recent research on the human immune system, Kahraman found a less dystopian and more holistic approach to the current global situation. The presence of an antibody indicates the past presence of a disease, yet it is also a symbol of renewal. This juxtaposition suggests that the colonised body, while representing contact with trauma, can also represent a site of convalescence. In Kahraman's new paintings, antibodies serve as a bridge between the self and the other.
Kahraman was inspired by Donna Harraway who said: "Our immune system is everywhere and nowhere". The idea of being in constant flux is approached by the artist in her work Green AntiBody (2020), in which body borders are intertwined with each other and overlap. The artist's rendering of the figures, through lines that intersect, speaks to the permeability of the skin. Though these references are evident, the protagonists are moving forward, in a direction led by the overlaid antibody symbols, suggesting a shift towards healing.
In her work Lethal injection (2021), Kahraman mocks and critiques the militaristic metaphors of illness and western biomedicine. This work speaks to an attempt to ridicule the conflation between literal war, as the figure cradles a mortar (a weapon the artist frequently encountered in her youth growing up in Iraq) and a pathogen raging war against our body. The semantics connected to epidemiology in particular, are problematic and tend to foster xenophobia whereas bodies are perceived as self-enclosed fortresses and the pathological "Foreigner" being a virus needs to be eradicated. The yearning to investigate an alternative way of speaking about chronic illness is the catalyst in this work.
Concepts of visibility and invisibility are at the forefront of how Kahraman approaches her work. The artist captures invisibility as a state of dehumanisation, but also as a nearing of an end. The figures dissolve so naturally into the background, it seems as if the process of assimilation has been successful – the erasure of someone's self. By inventing a new species of women in her paintings, such as in the work Red AntiBody (2020), Kahraman is creating a collective of superwomen contorting their multiple limbs in abnormal ways. They resemble extraterrestrial beings or organisms that clearly do not belong here and provoke thoughts of fetishisation and eroticisation.
The paintings depict figures with confronting gazes and their emphasised corporeality is a declaration of visibility and a refusal to assimilate. By exposing the power structures that render some people invisible, Kahraman's works present ways of defiance coupled with healing as it paves the way for a re-existence in the world. The artist has said that "these works come from a yearning to repair. I started making them after the pandemic hit. I was in a state of despair as the world was collapsing. Antibodies became some sort of silver lining for me. They are these messengers that interact with the foreign and the self and they are essential for the survival of the human species. Antibodies and what they stand for become a vehicle to question and resist various hegemonic power dynamics and most importantly shift the focus towards a radical praxis of care.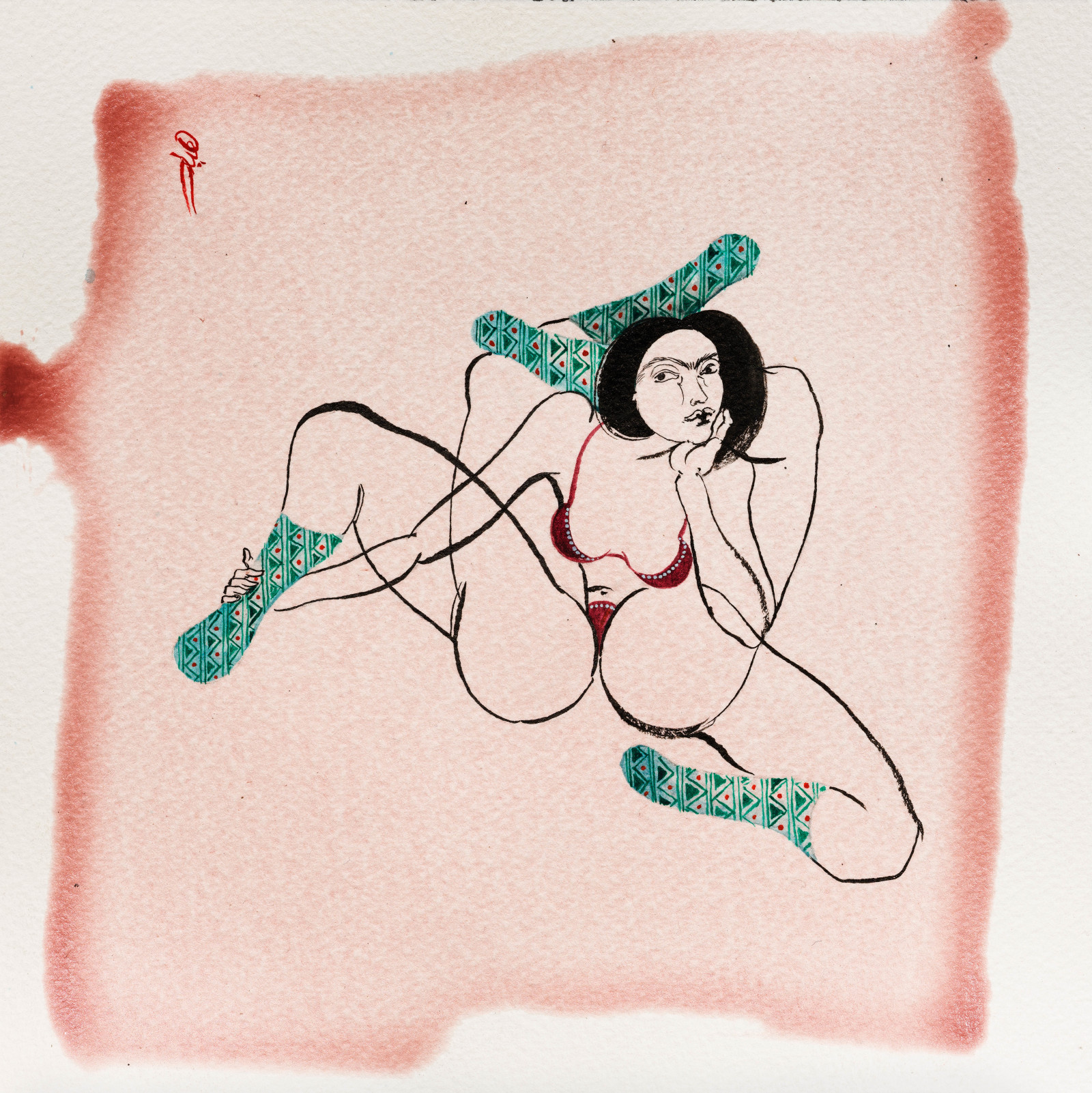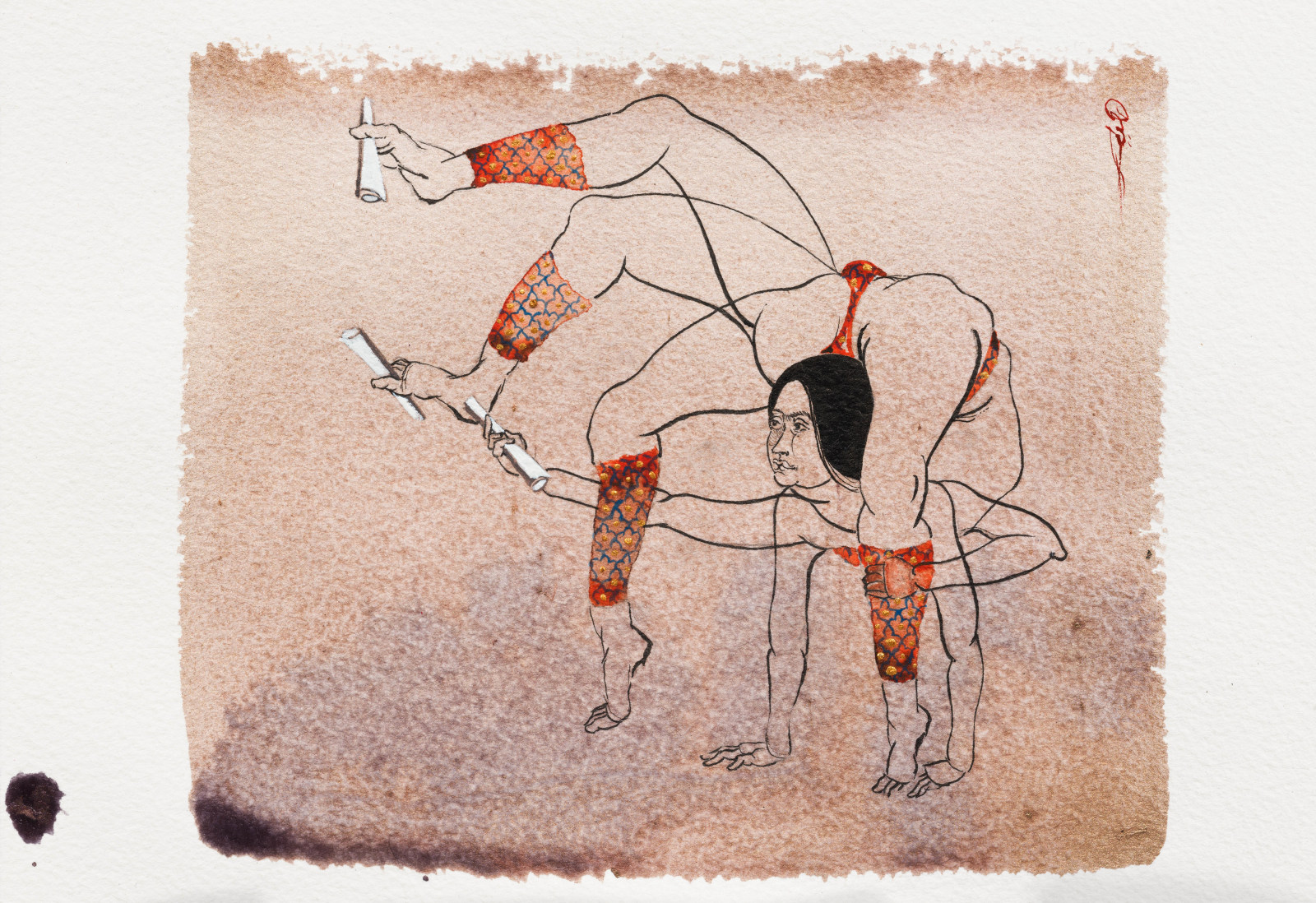 Hayv Kahraman
Kahraman's recent solo exhibitions include Shangri La Museum of Islamic Art, Culture, and Design, Honolulu, HI (2019); De La Warr Pavilion, Sussex, UK (2019); Pomona College Museum of Art, Claremont, CA (2018); and Contemporary Art Museum St, Louis, St. Louis, MO (2017). Her work will be included in the forthcoming exhibition New Time: Art and Feminisms in the 21st Century at the Berkeley Art Museum and Pacific Film Archive in Berkeley, CA (2021). Other recent group exhibitions include Henry Art Gallery, Seattle, WA (2019); ICA Boston (2019); and MASS MoCA, North Adams, MA (2019). Kahraman's work is in several important international collections including the British Museum, London, UK; San Diego Museum of Art, CA, USA; LACMA, CA, USA; Birmingham Museum of Art, AL, USA; The Rubell Family Collection, Miami, USA; The Barjeel Art Foundation Sharjah, UAE; MATHAF: Arab Museum of Modern Art Doha, Qatar; Pizzuti Collection, Columbus, Ohio, USA; North Carolina; Museum of Art, Raleigh, North Carolina, USA.